Phuket: Day 1
by Shalveena Rohde,
Travel date: 8 and 9 June 2013
On 8 June, at 9.45am New Zealand time we set out for our long awaited holiday in Phuket. After more than 12 hours of flying, we finally arrived there at 11.59pm local time (5pm New Zealand time).
Here is a very sleeping Max at around 10pm local time, at the domestic terminal of Bangkok airport, waiting for our flight from Bangkok to Phuket: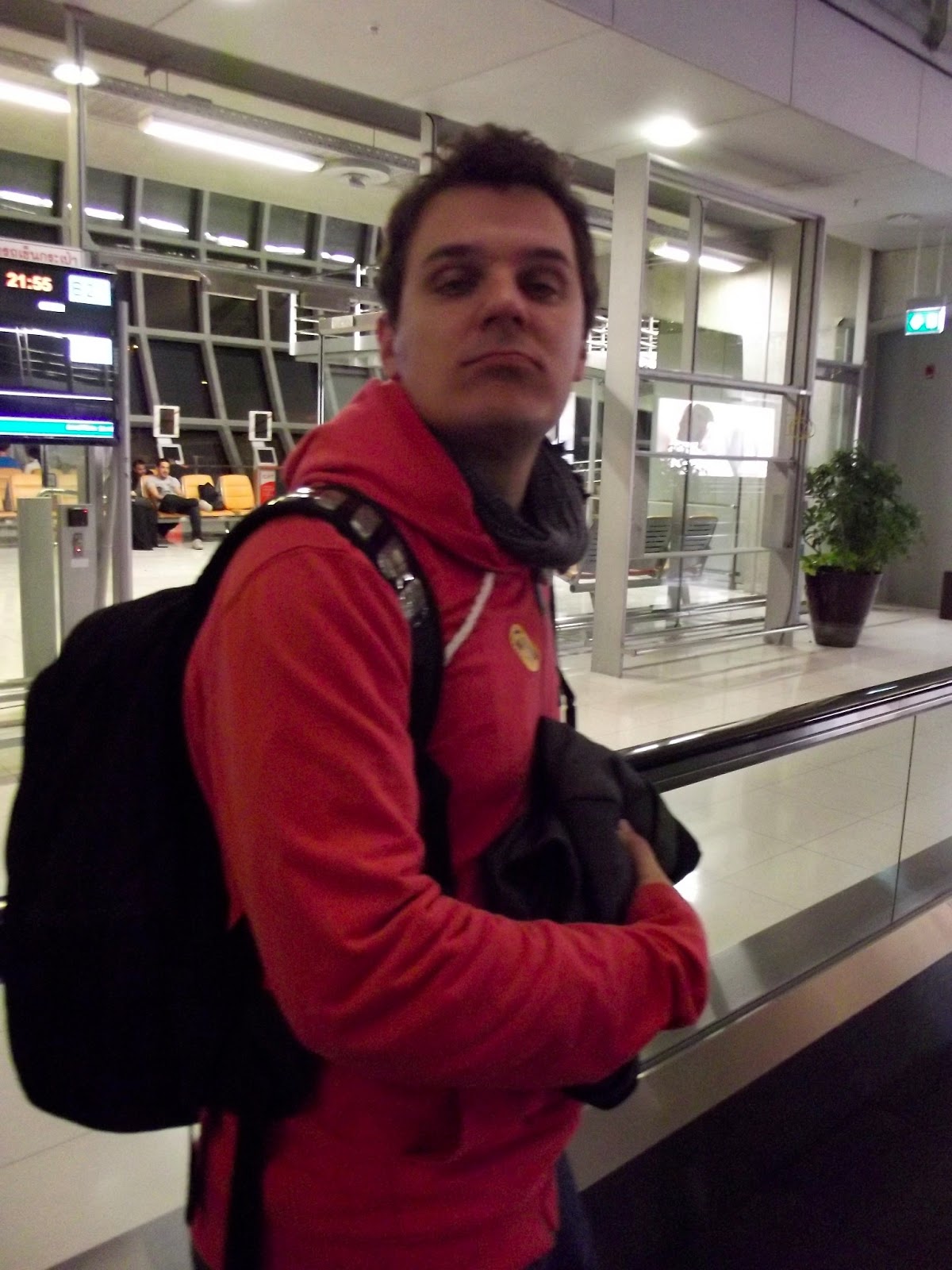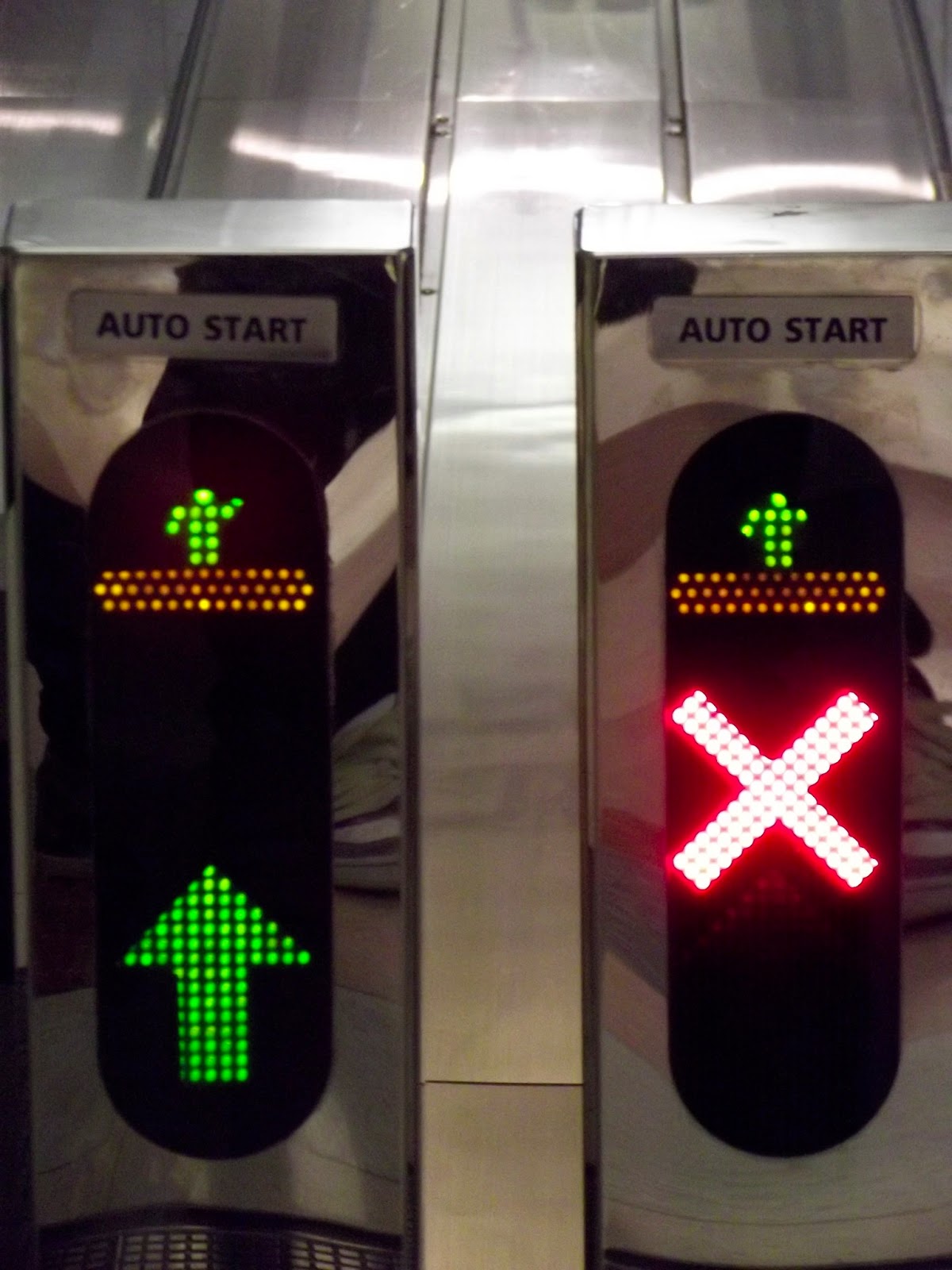 The signs on the moving walkway at the domestic terminal - with cute little men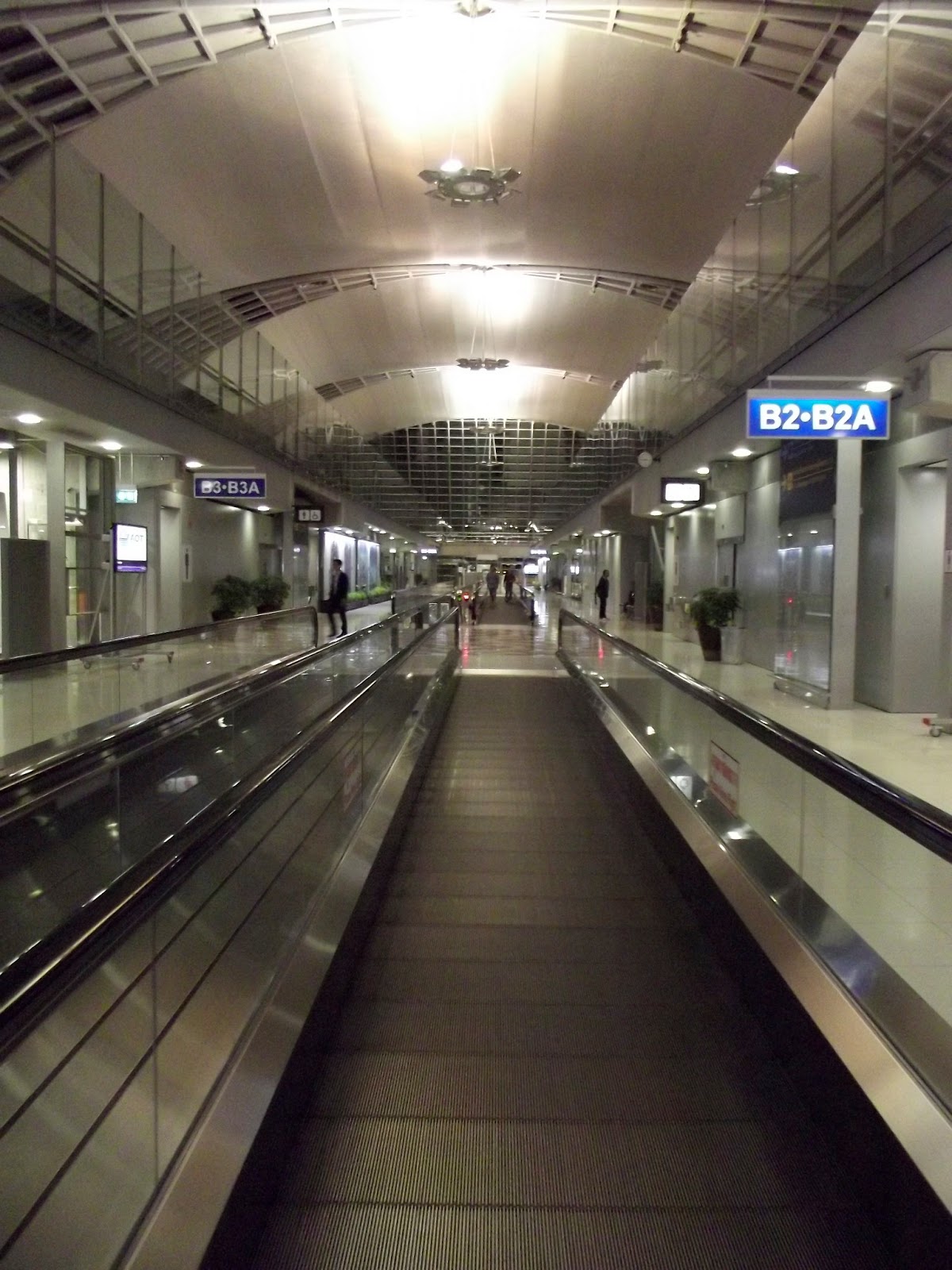 The Bangkok airport domestic terminal gates
Once we landed in Thailand, Bangkok, we walked down a flight of stairs from the aeroplane and straight into a bus. But even in those few step, the heat just gushed at us as we stepped out of the airconditioned aircraft. Ah, finally, warmth, humidity :)
The bus led us to the main terminal and from there we followed the signs for transit passengers. The domestic terminal was very small but we didn't have to wait there too long. At around 10.20 we boarded our aeroplane, finally bound for Phuket and just over one hour later we were landing. Max fell asleep on the aeroplane both times, right before (and during) landing.
(load pics from nexus).
At the Phuket airport, we had to follow these stickers on the ground, leading us to the international baggage claim area as we had originally come from Auckland and transited through Bangkok. The stickers matched the ones that the staff had put onto us back at Bangkok!
Upon stepping out of the airport, we were immediately surrounded by many many taxi drivers, all looking to get a customer. We finally found our taxi, after almost giving up hope, and were on our way.
That night, when we arrived it was already past midnight and it was too dark both on the way to the hotel and outside the hotel so we got ready for bed and went straight to sleep.
But the next morning. Wow, it was a beautiful day. I woke up at 6am local time but tried to sleep for a bit longer, without much success. At just before 7am we were awake and getting ready for the day. With only 4 or 5 hours of sleep, after having been awake for 24hours prior to that, we were very tired. Yet, because of the time difference, our body clock didn't let us sleep.
We decided to have breakfast at the hotel, being very sleepy at the time. It was a great choice! PS, I hope to have breakfast there again during our stay. The food was just amazing, the range impeachable. They had all the usual suspects for breakfast - mueslis, oat, bran, fresh and dried fruits, a variety of cheeses and breads, sausages, eggs, jams, juices. But some additions too - guava! Yum! Pork buns. Special Thai noodles with flat rice noodles, pork, chillies, spinach. Extra Yum. Max got a soup for himself but he made it too hot so I had to eat it - I'm glad I did! It was delicious. Max also got another one for him (this time with less chilli). They also had gourd with eggs and shrimp, fried noodles, poached eggs, and all this while sitting and enjoying your meal overlooking the ocean below.
Here are some pictures from breakfast: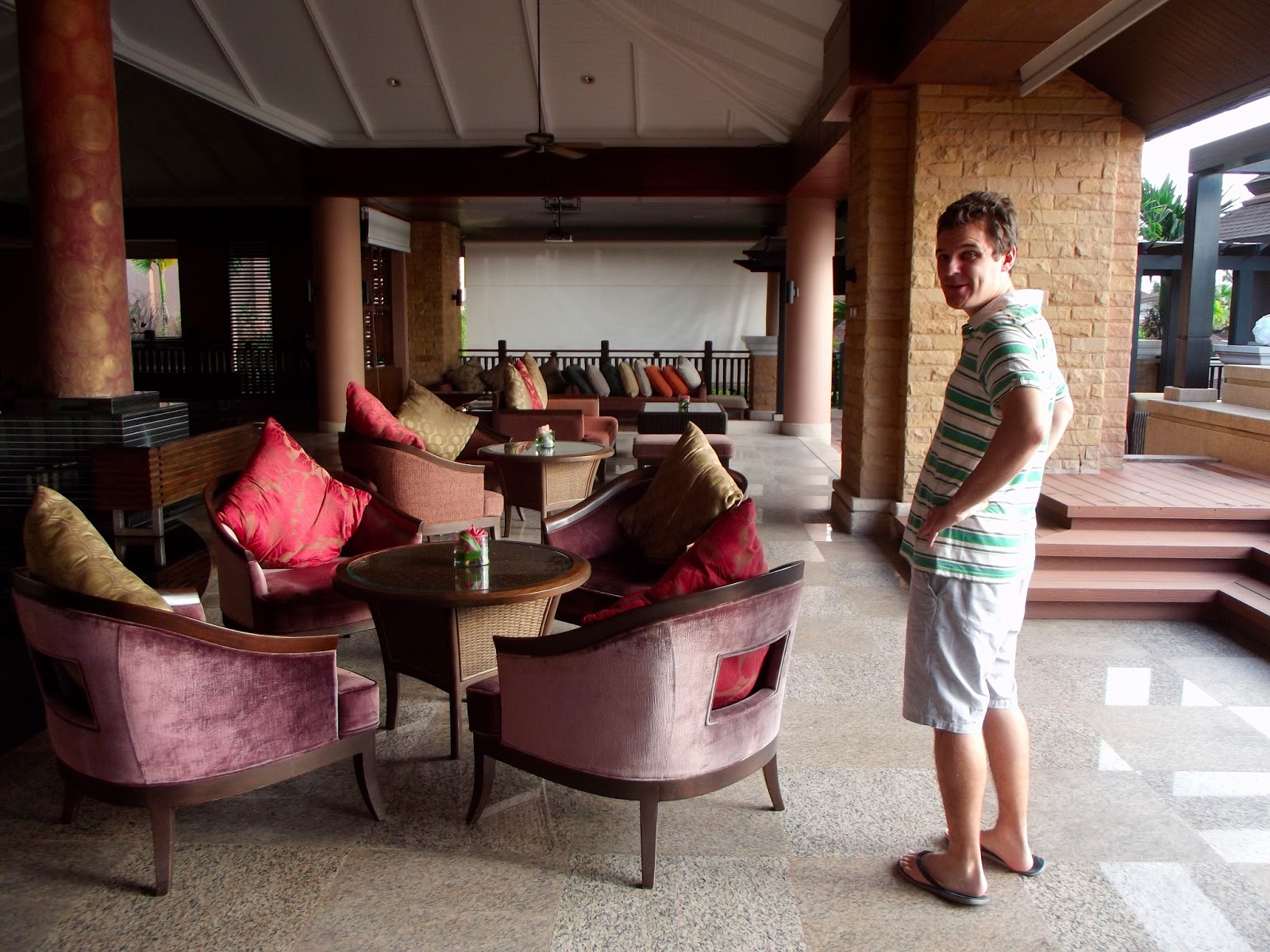 A sleepy Maxi on his way to breakfast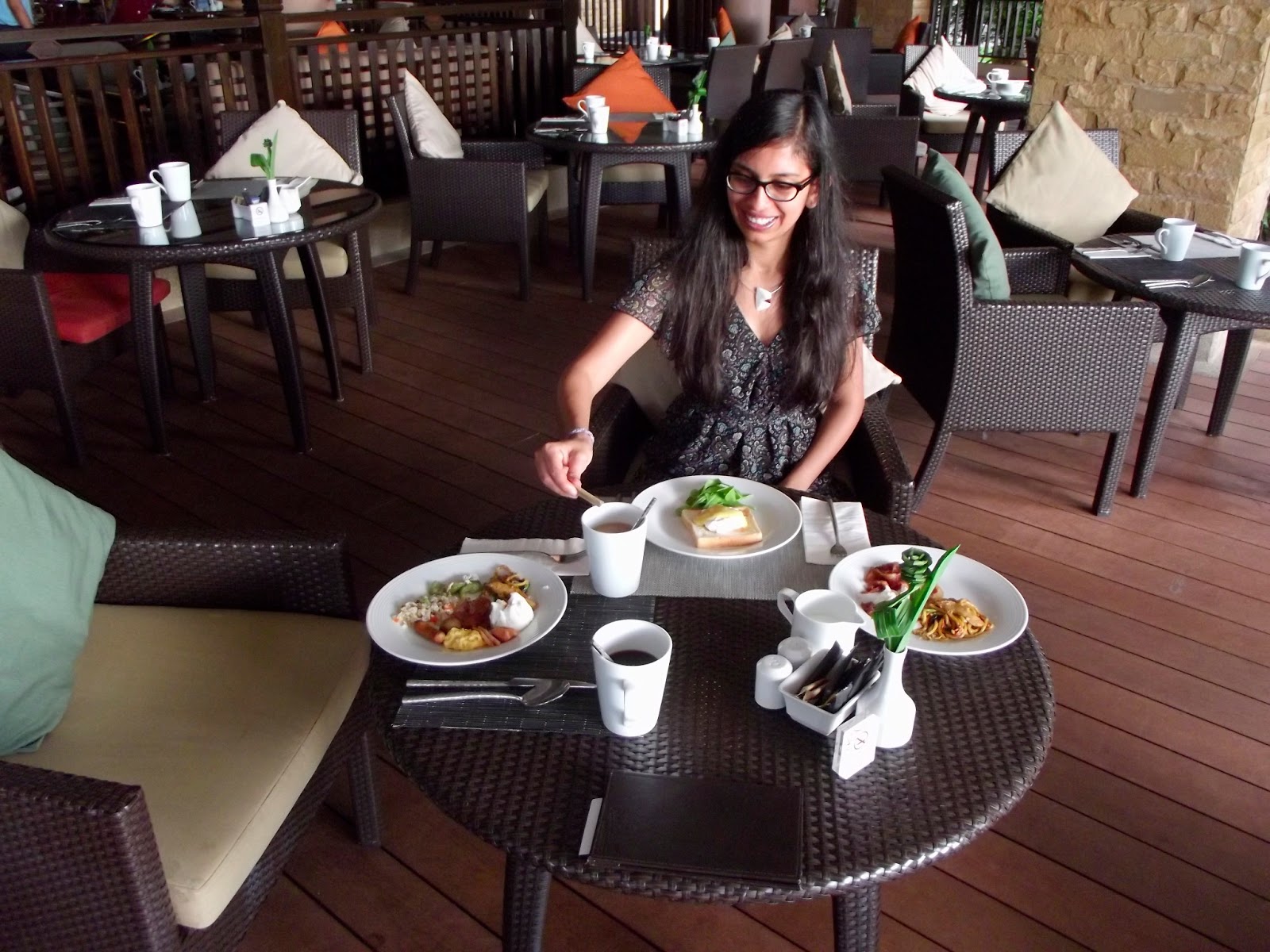 Yum Yum Yum!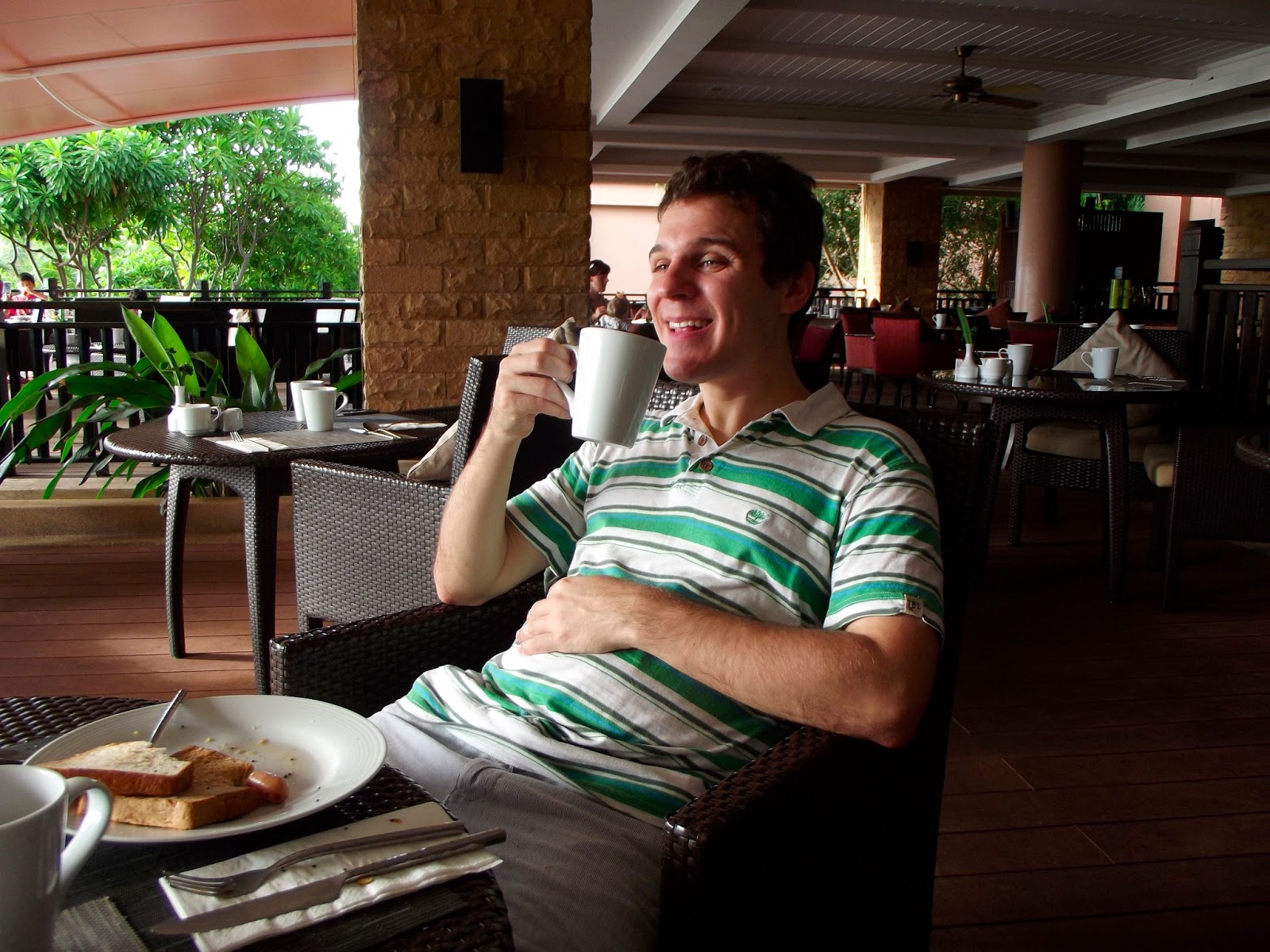 Slightly more awake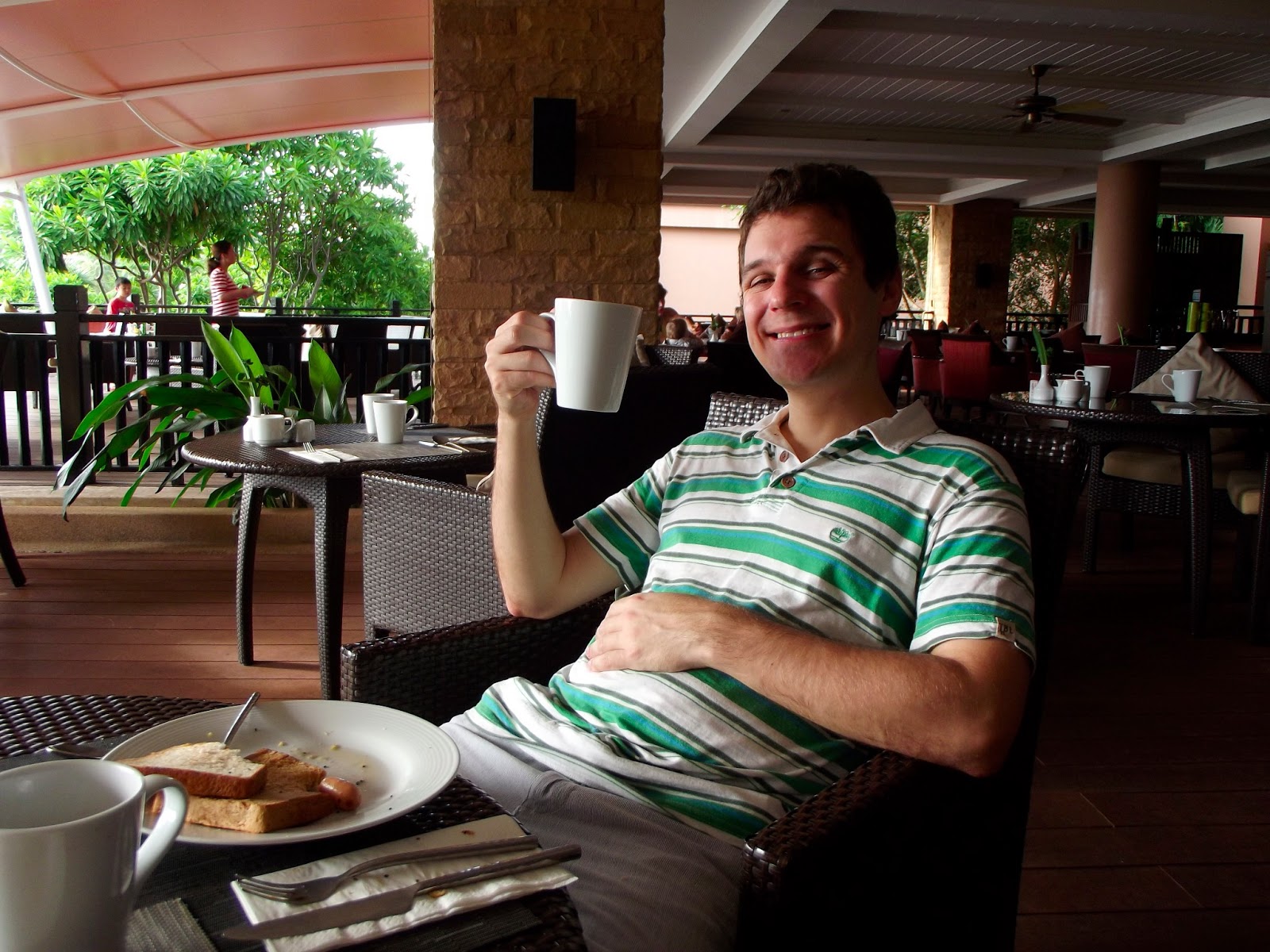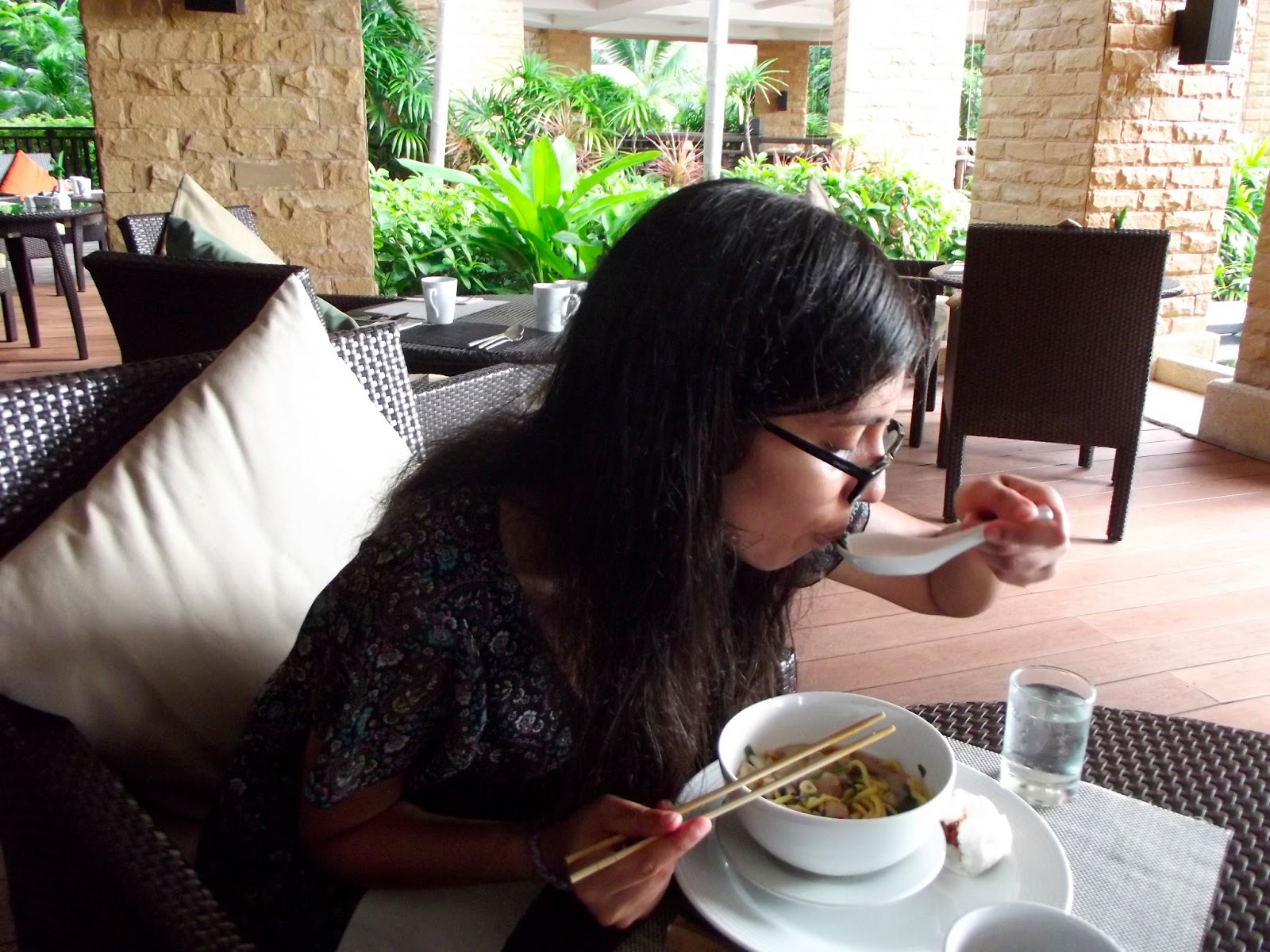 The heavenly soup!
After breakfast, it was back to our room to relax a bit after too much eating. Our room is very nicely located just by the "Landside Pool" - a large pool that stretches right in front of our room's balcony. The view is remarkable - the pool is usually empty as its entrance is hidden from the rest of the hotel. Here are some pictures from our room: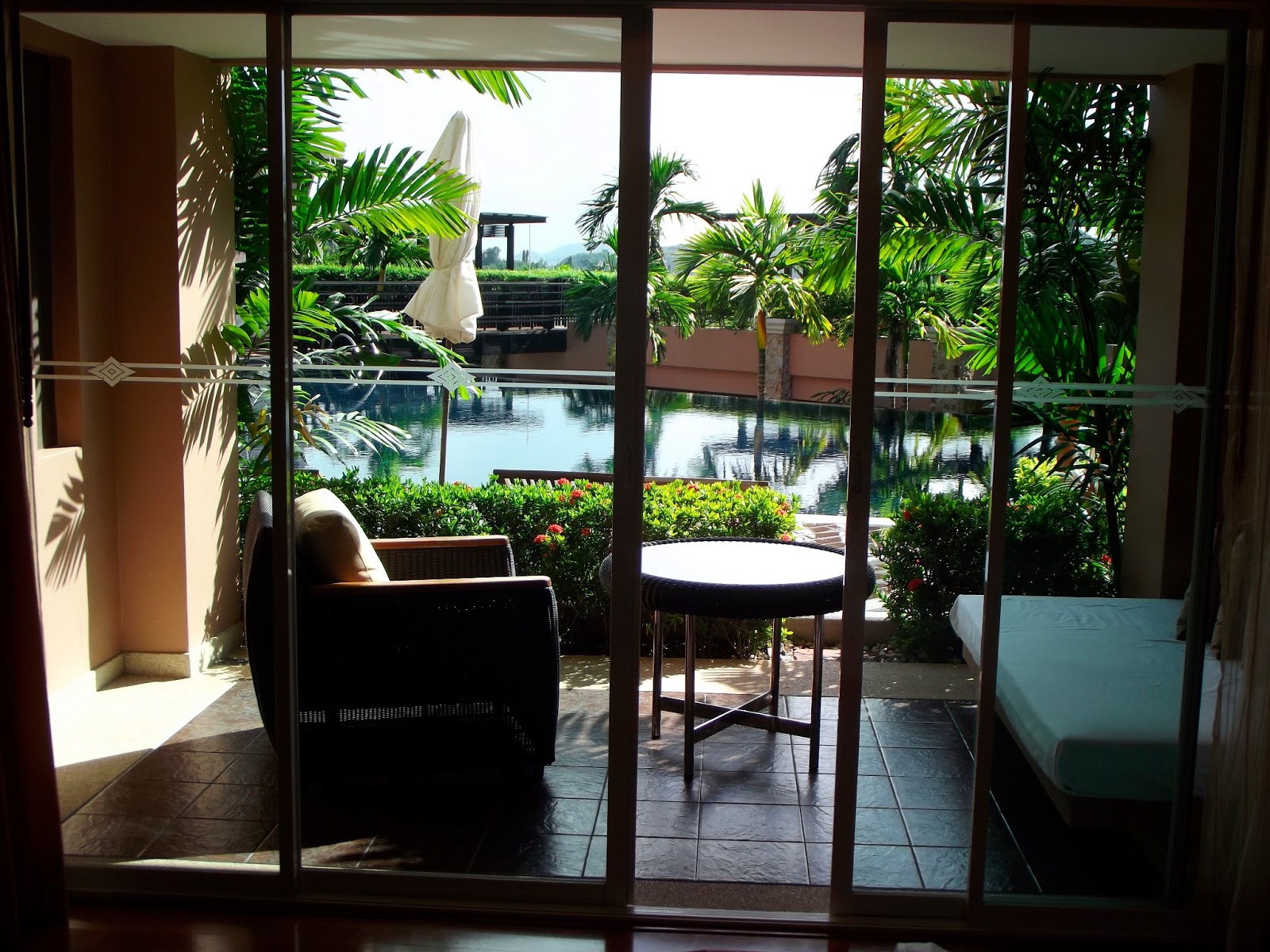 The view from our door - our balcony has a nice bed kind of thing we can lay on and the pool is literally a few steps away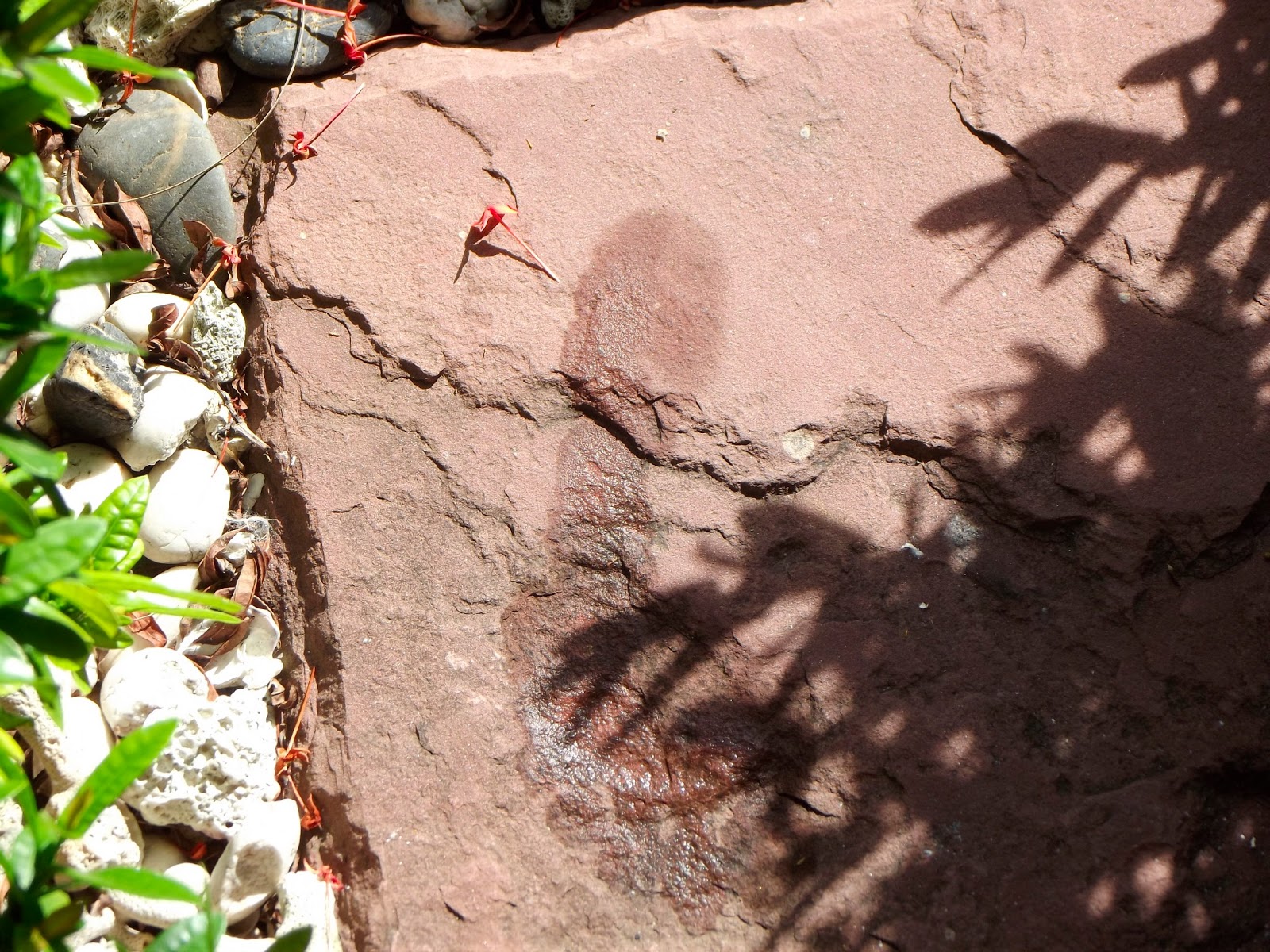 My footstep, from the pool on the way to the room
Thats the bed kind of thing right on our balcony. We spent lots of time just lounging around here and reading.
Ps, the hotel offers free wifi - which is great and it means I can blog away right as things happen instead of doing it afterwards from New Zealand.
Later in the day, we explored the resort grounds and the private beach. It was very beautiful: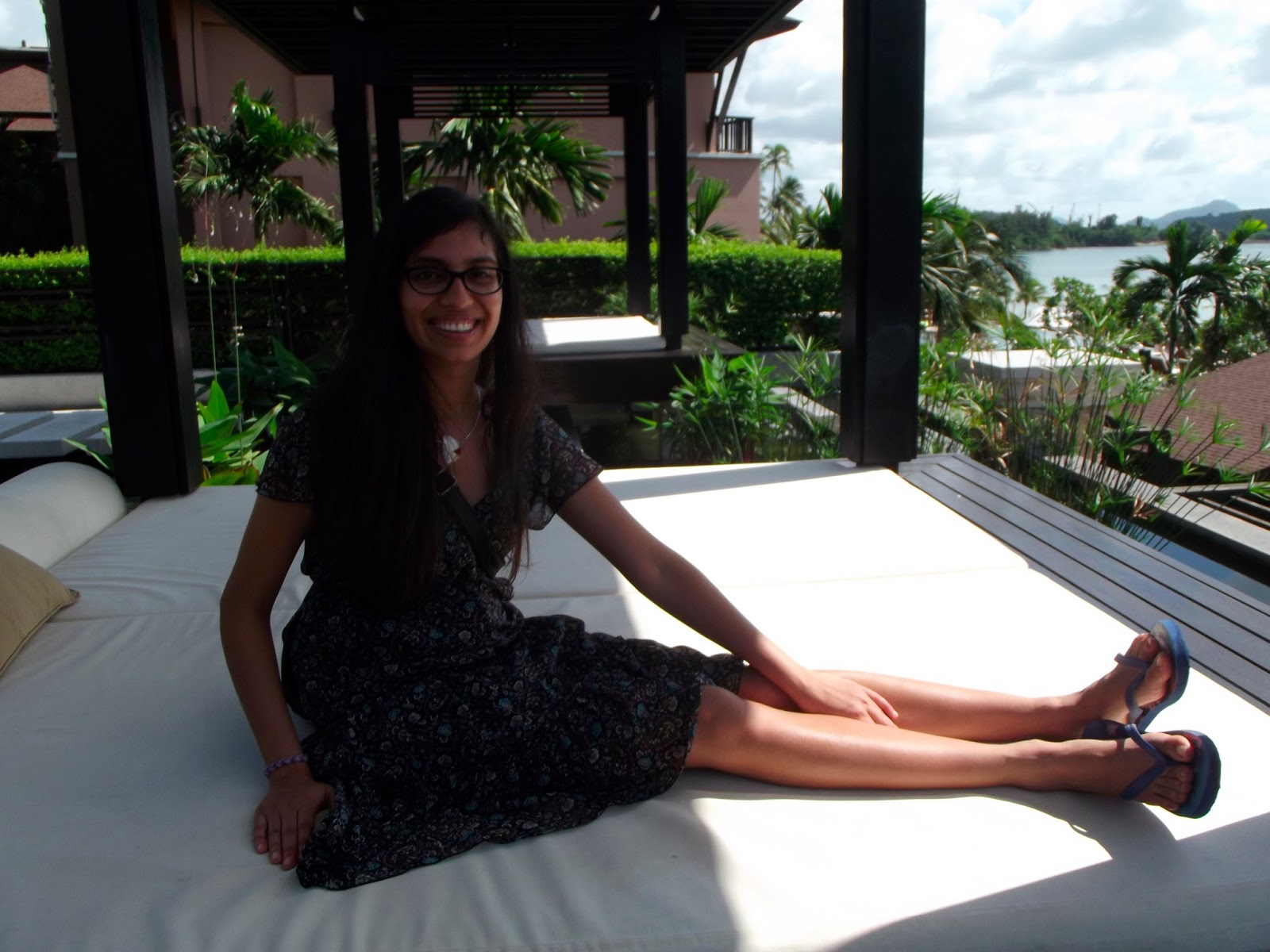 Our own private escape - no one else seems to come up here (its a bit hidden)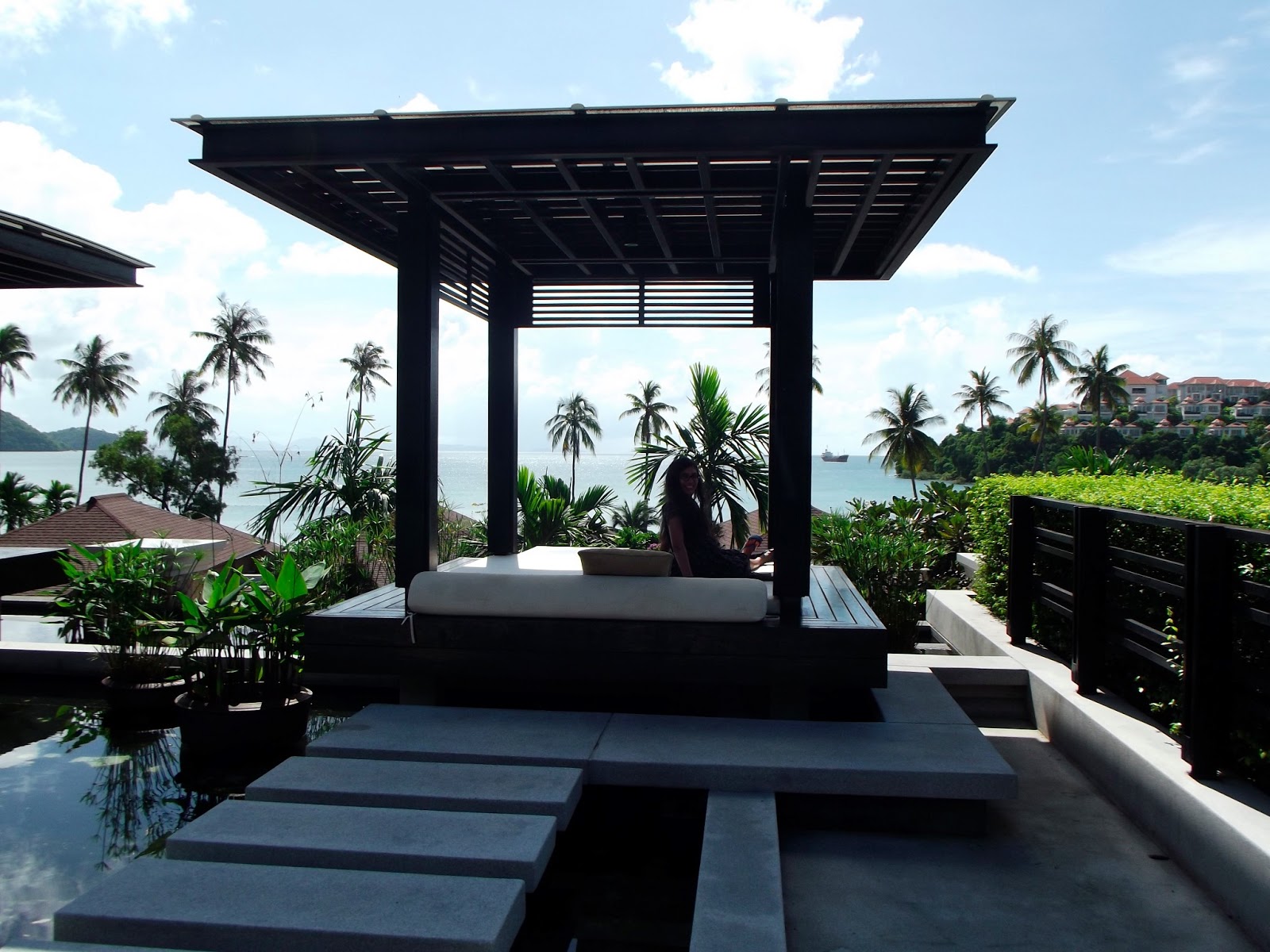 Our own private escape - no one else seems to come up here (its a bit hidden)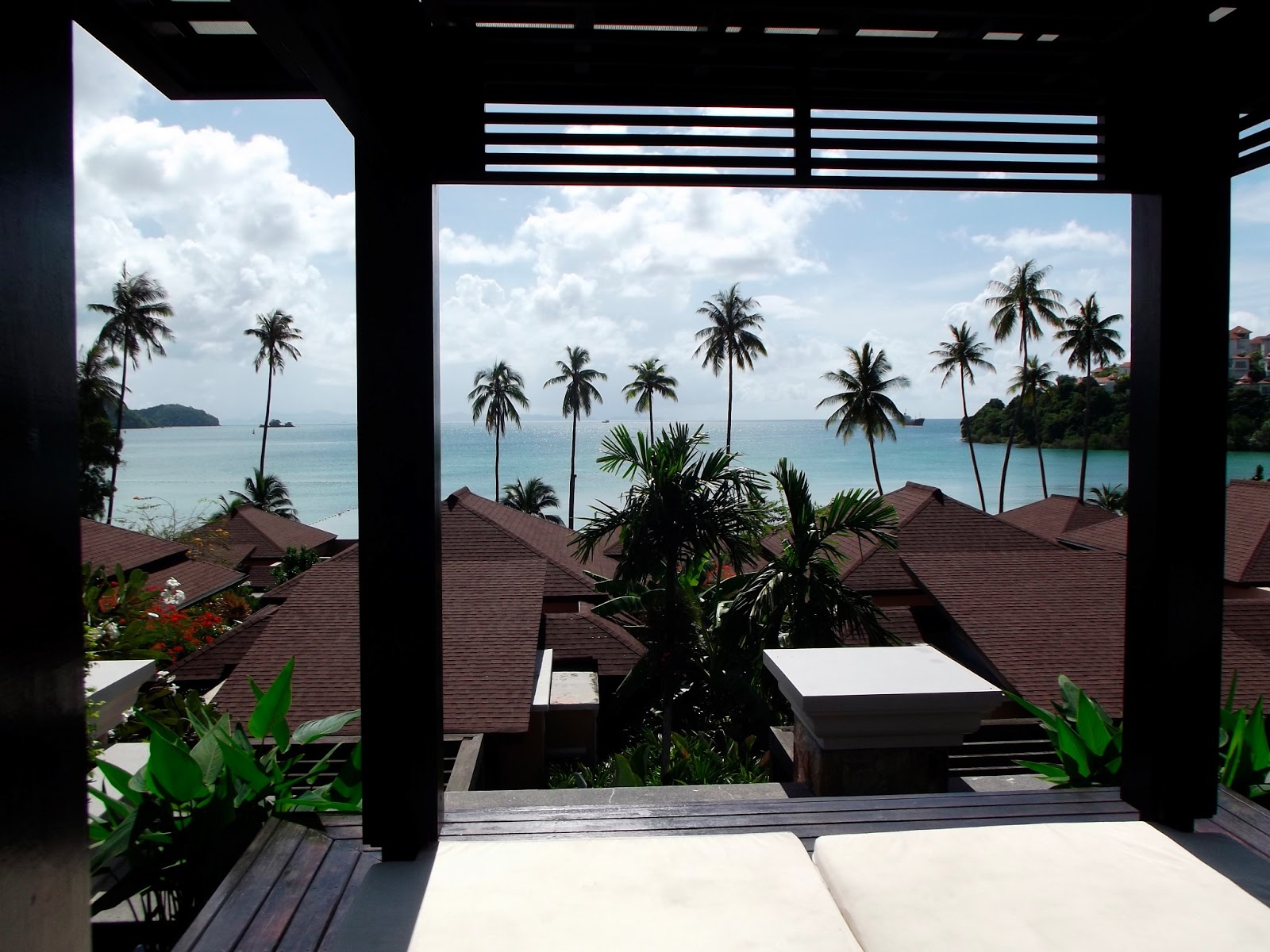 Our own private escape - no one else seems to come up here (its a bit hidden)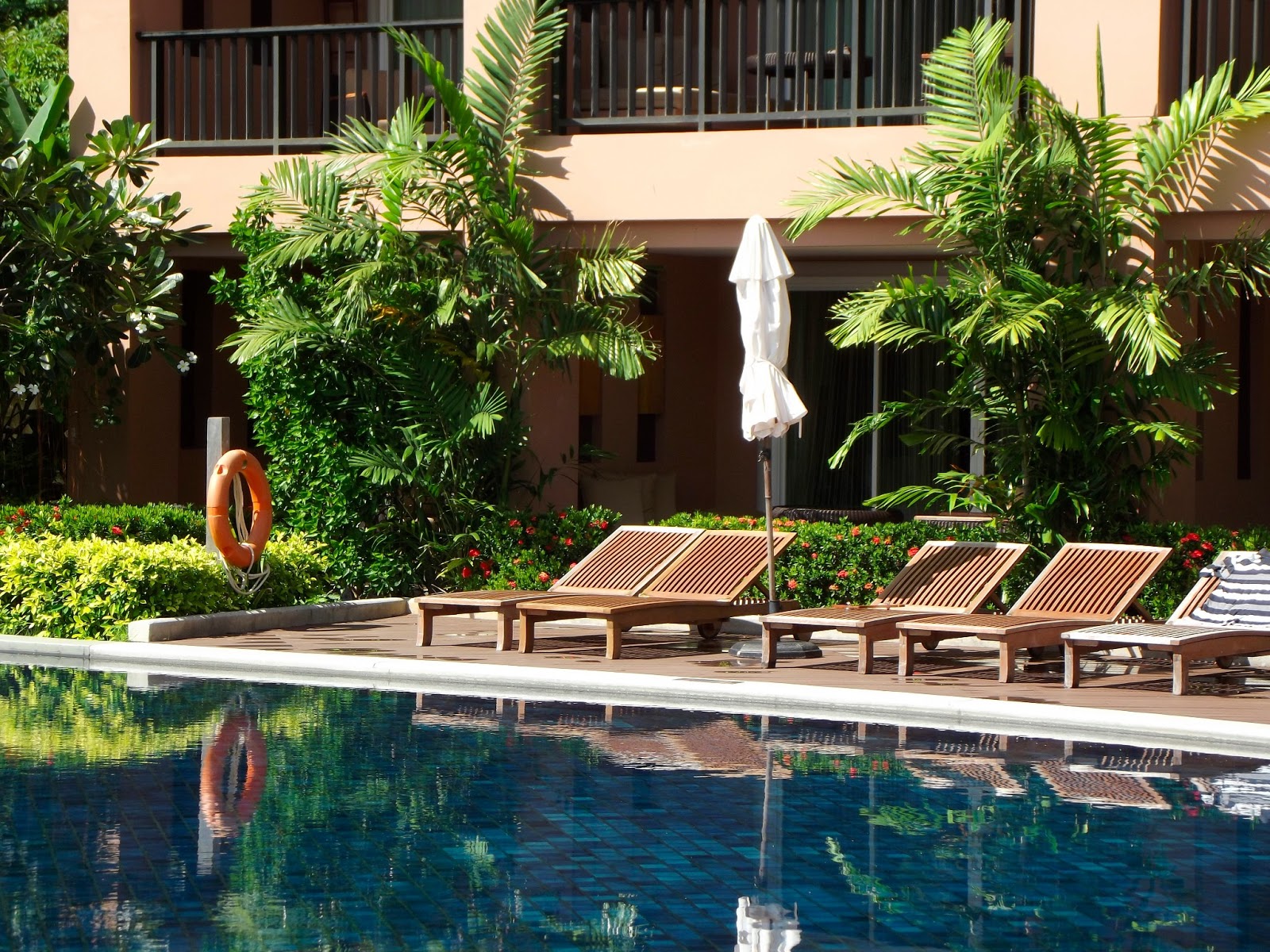 Thats our room there behind the 2 chairs on the left of the picture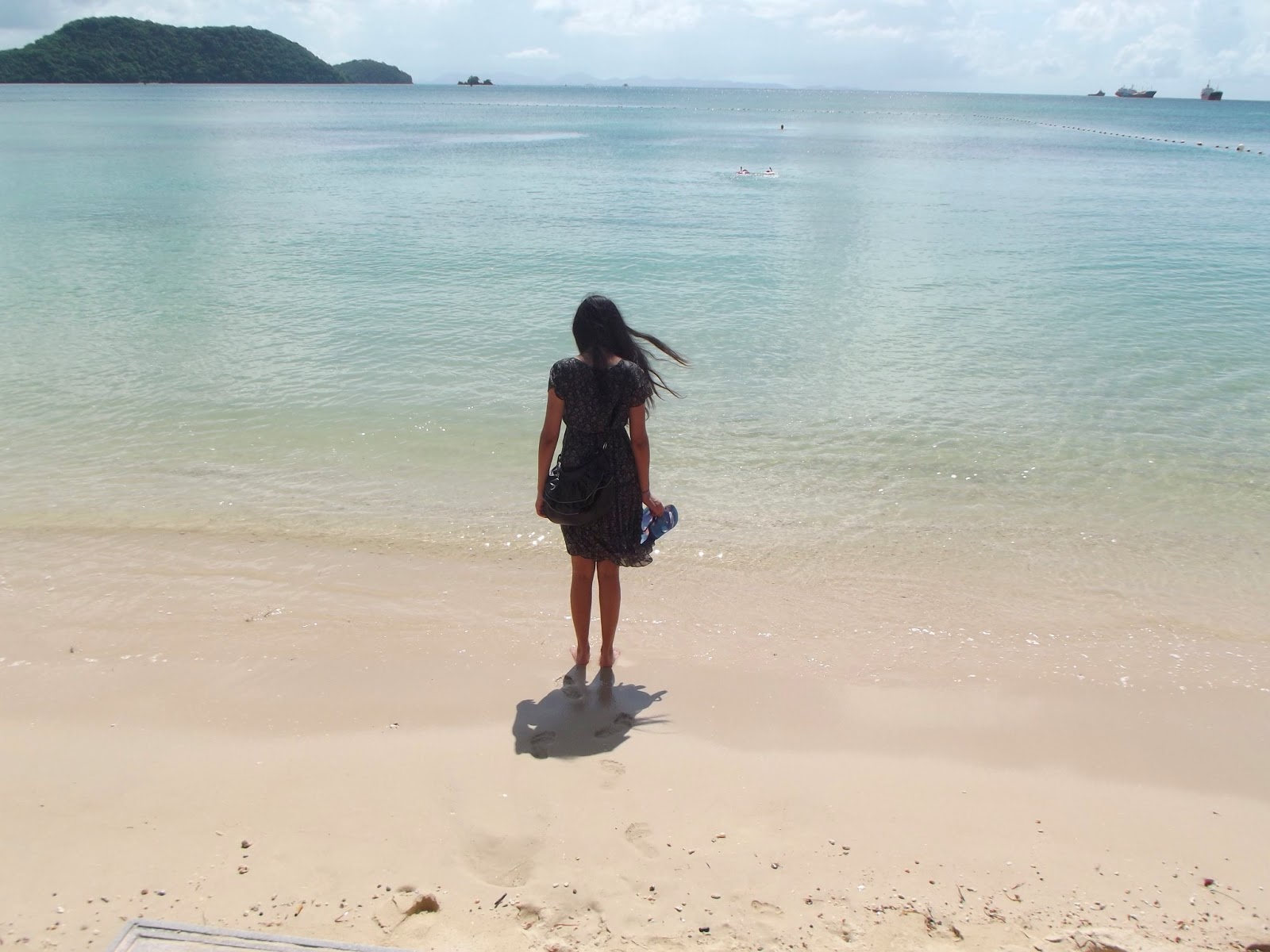 The resort's private beach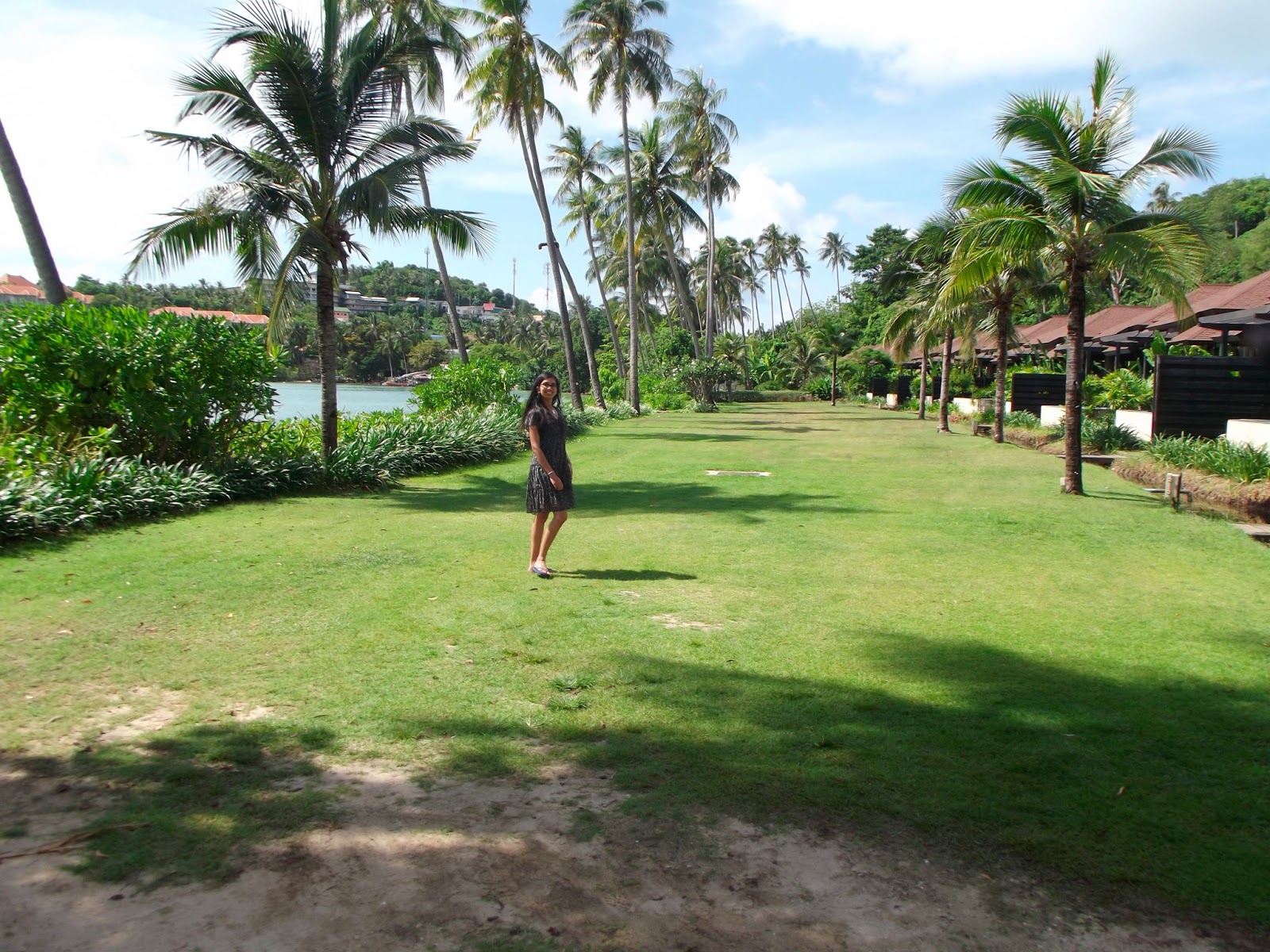 Very tall coconut trees, very small girl in comparison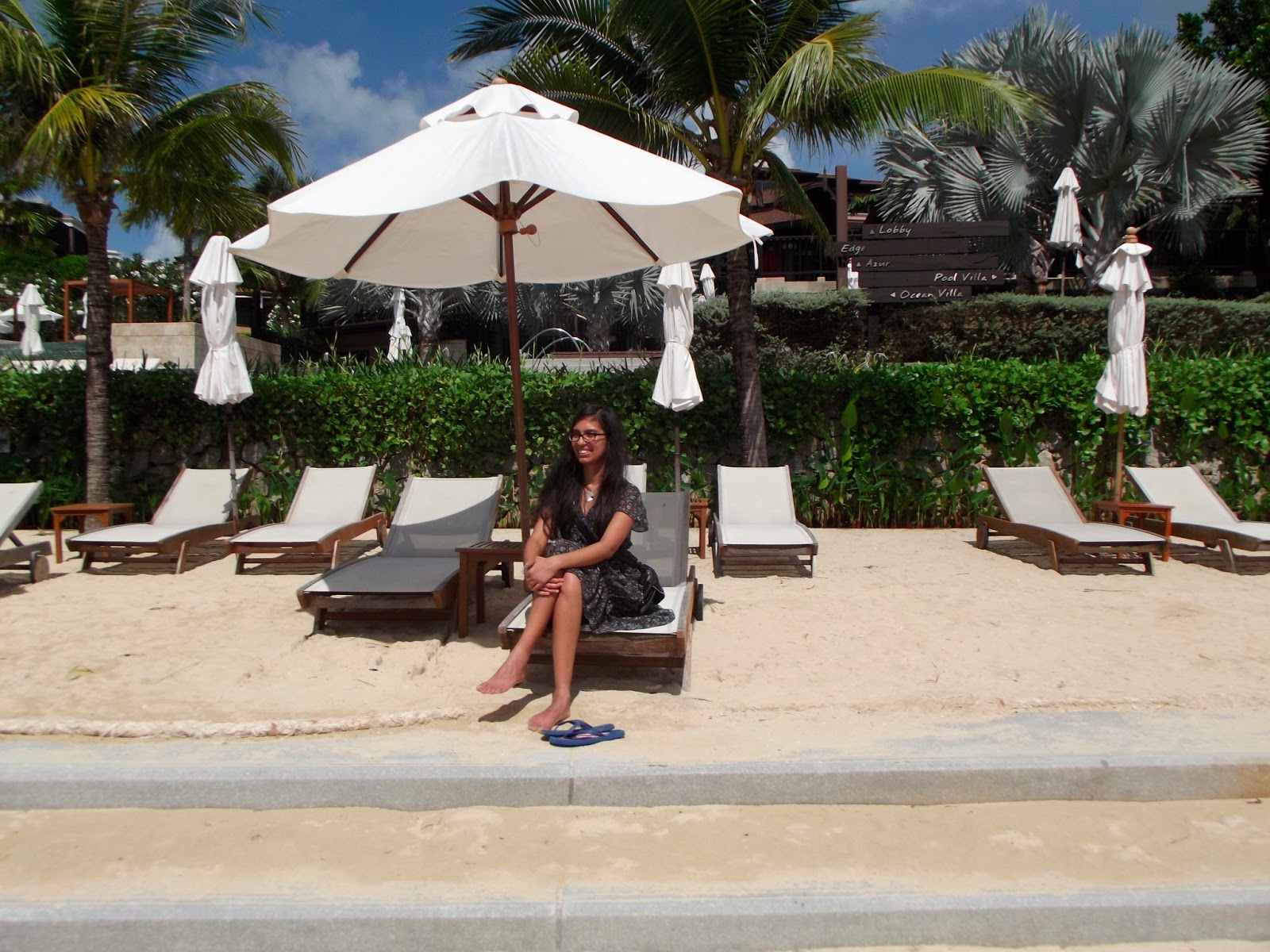 Sitting at the beach - with 30 degrees Celsius and sunshine :)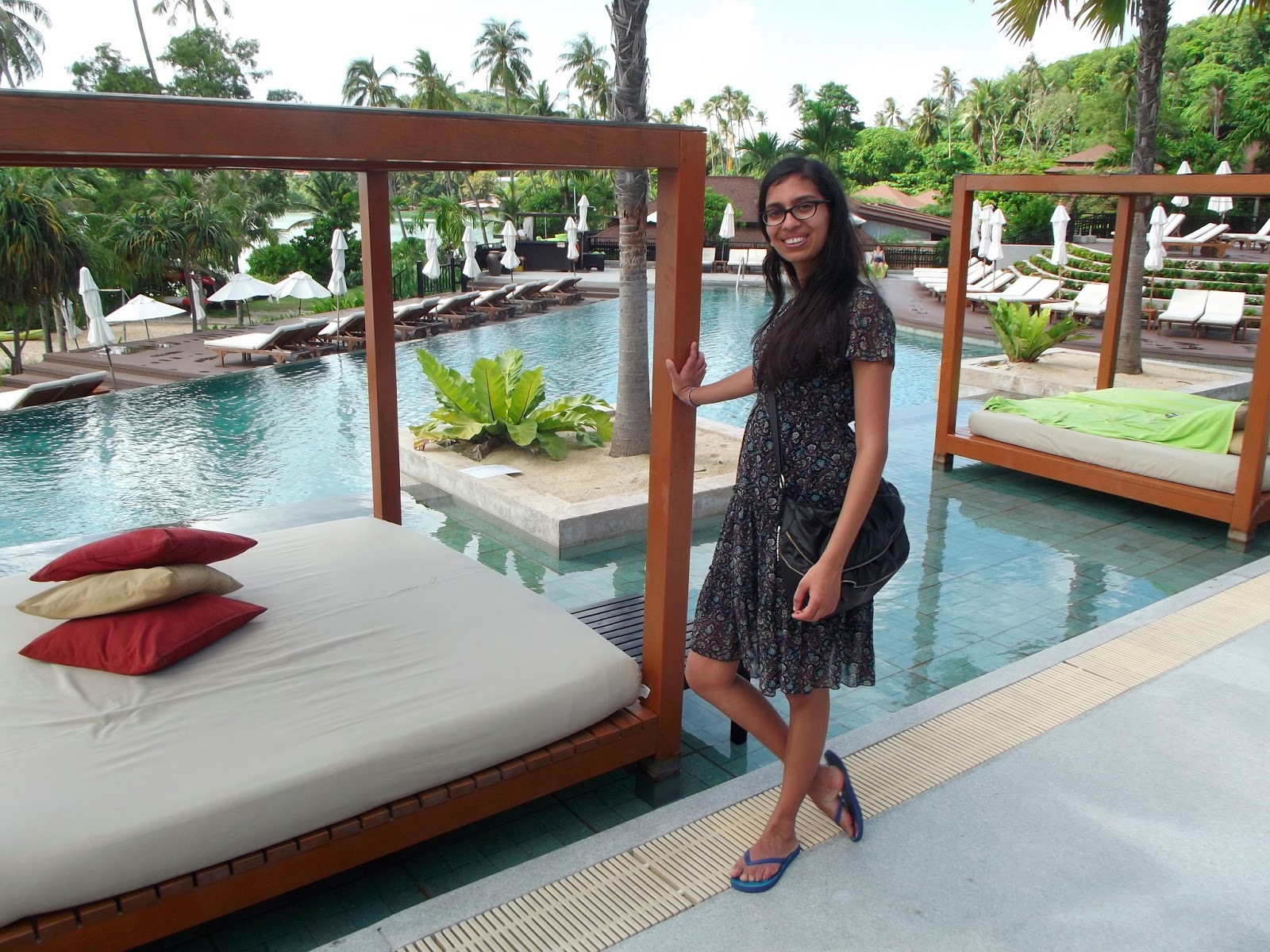 More places to lie down right by the Edge Pool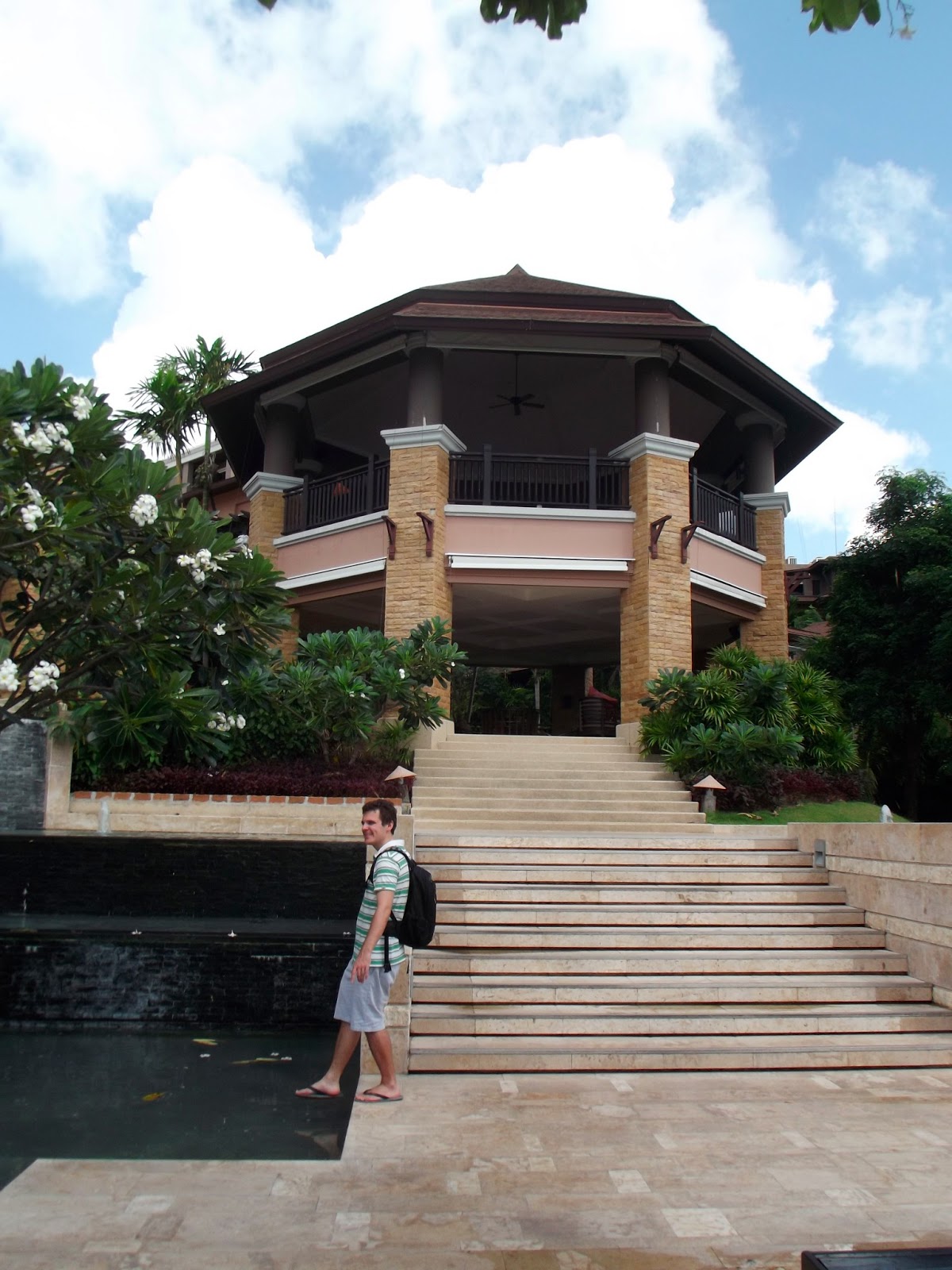 Max dipping his foot in the pond. Thats the lobby at the back.
After our little pool adventures, we returned to our room to find this: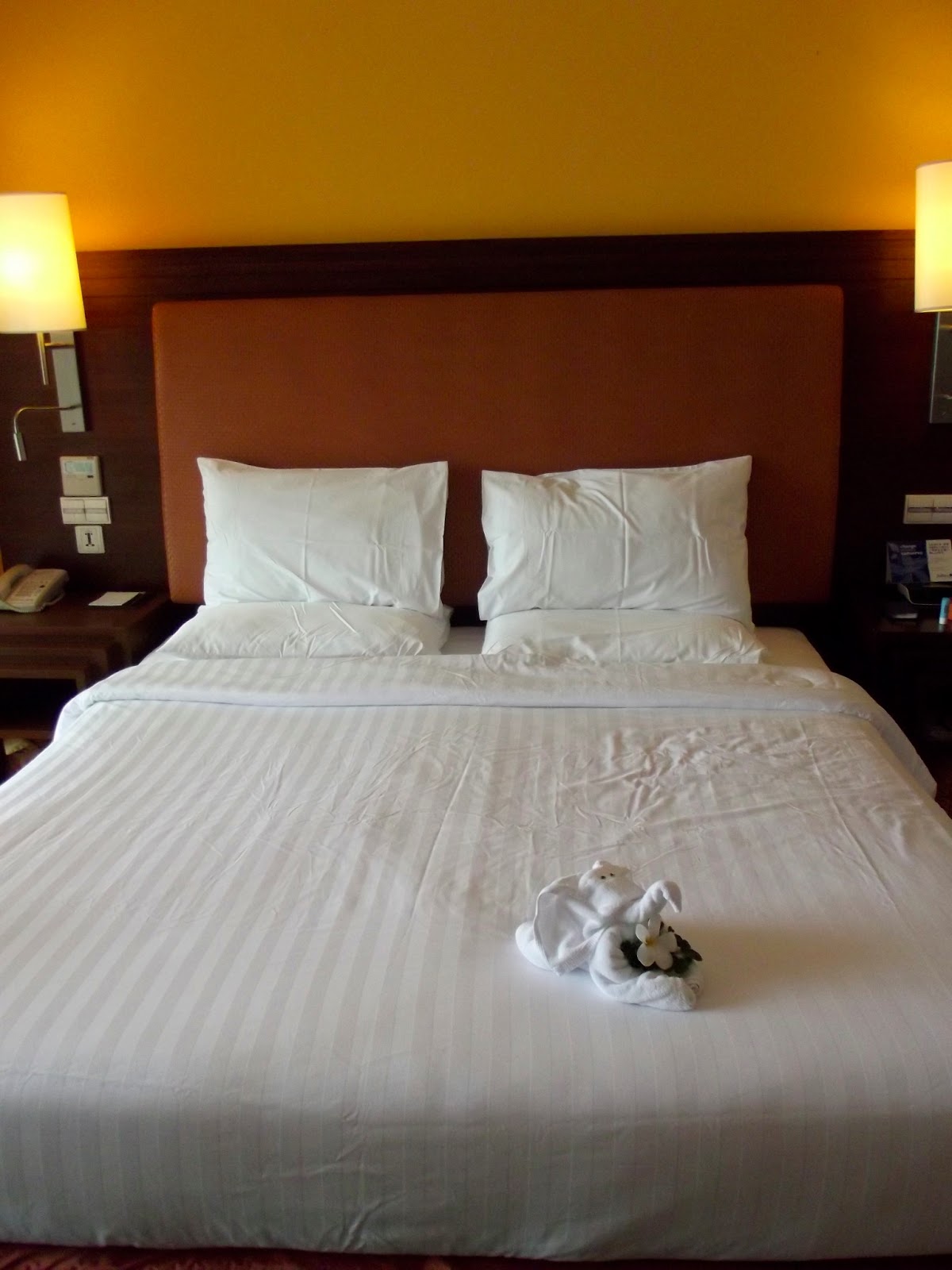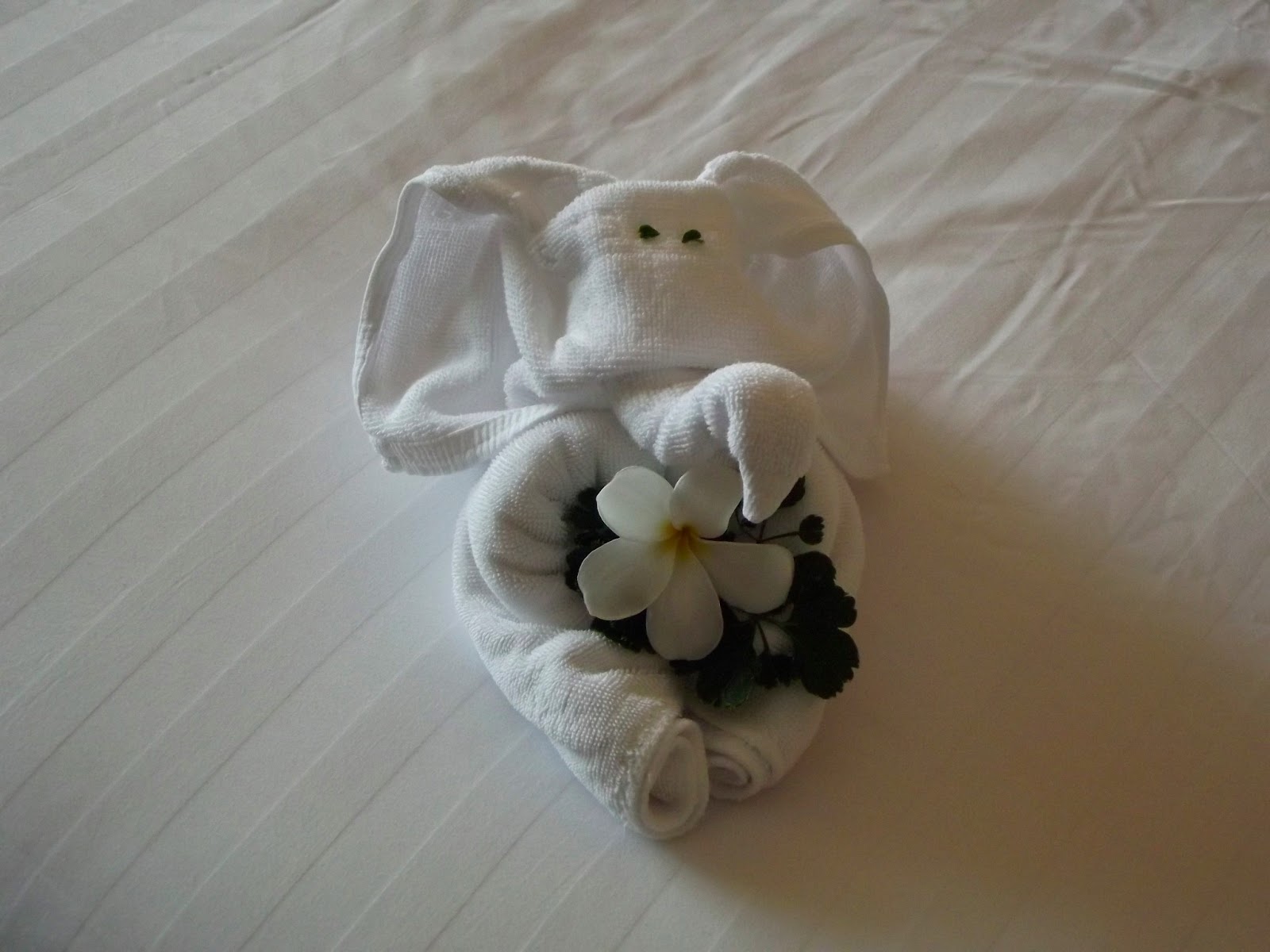 For dinner, we headed to the pool bar - unfortunately the margerita pizza was not 50% off as we had hoped but the food was nonetheless decent. Though not as nice as our breakfast. Max had pizza and I had pad thai - slightly sweet, nutty and spicy with prawns.
We walked around the grounds a bit after that and finally returned to our room to have a relaxing night at our balcony. Max with his beer, me with my tea, sitting at the balcony hearing the rain fall into the pool, the sound of winds rustling through the palm trees. Ah, blissful :) A perfect day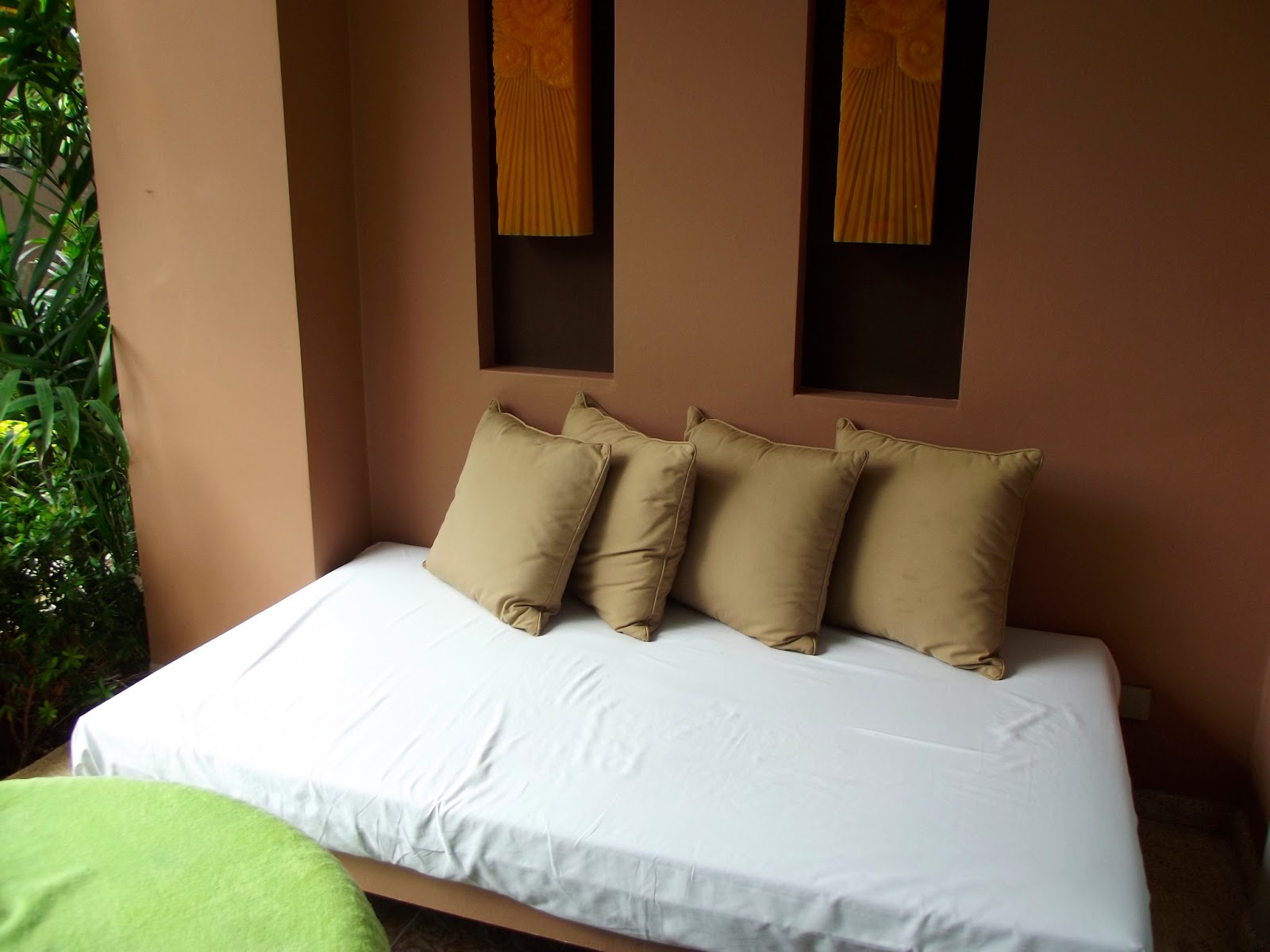 Our balcony again - usually we found balconies to be uncomfortable or windy, well not this one!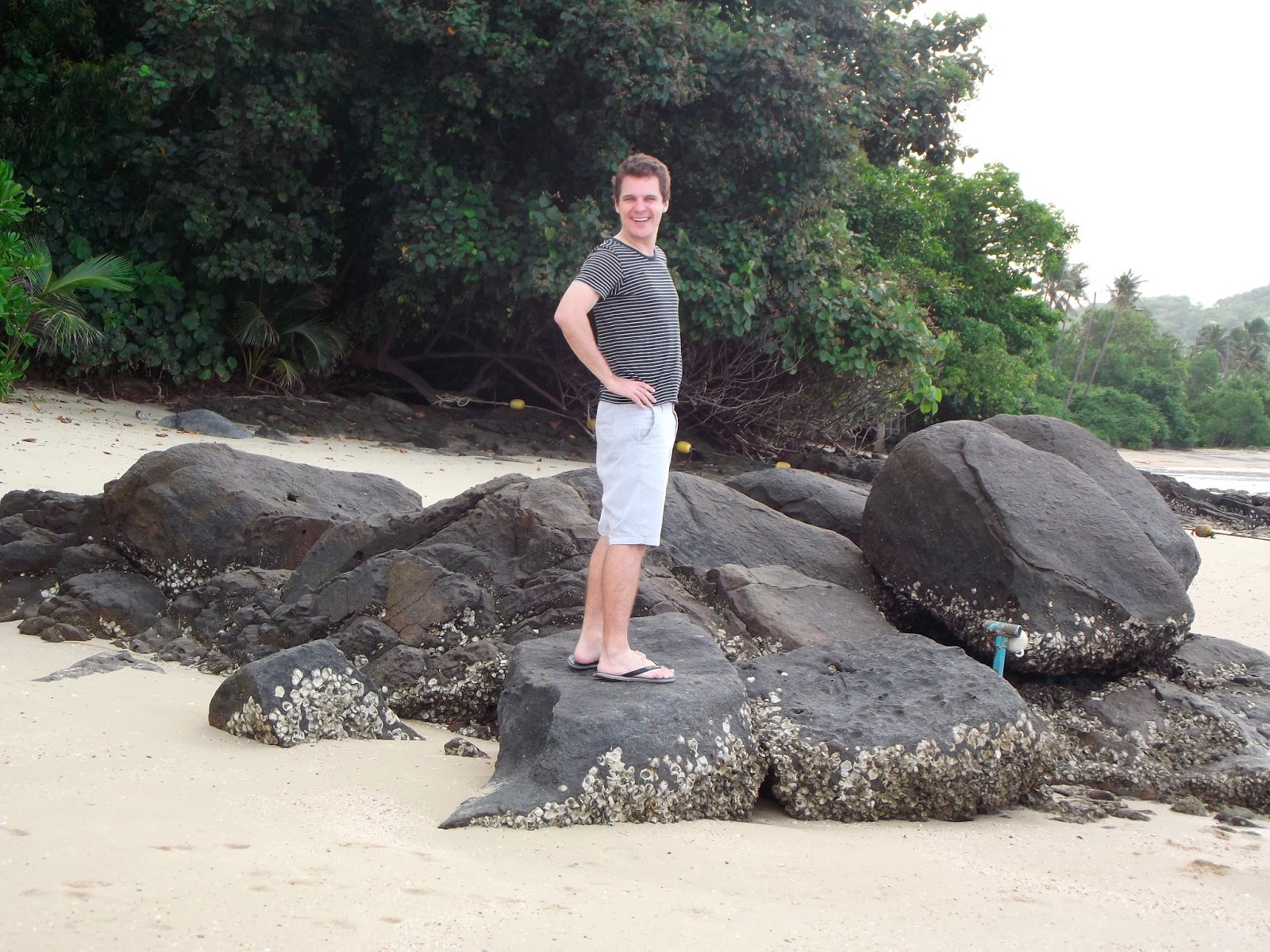 The king of the beach!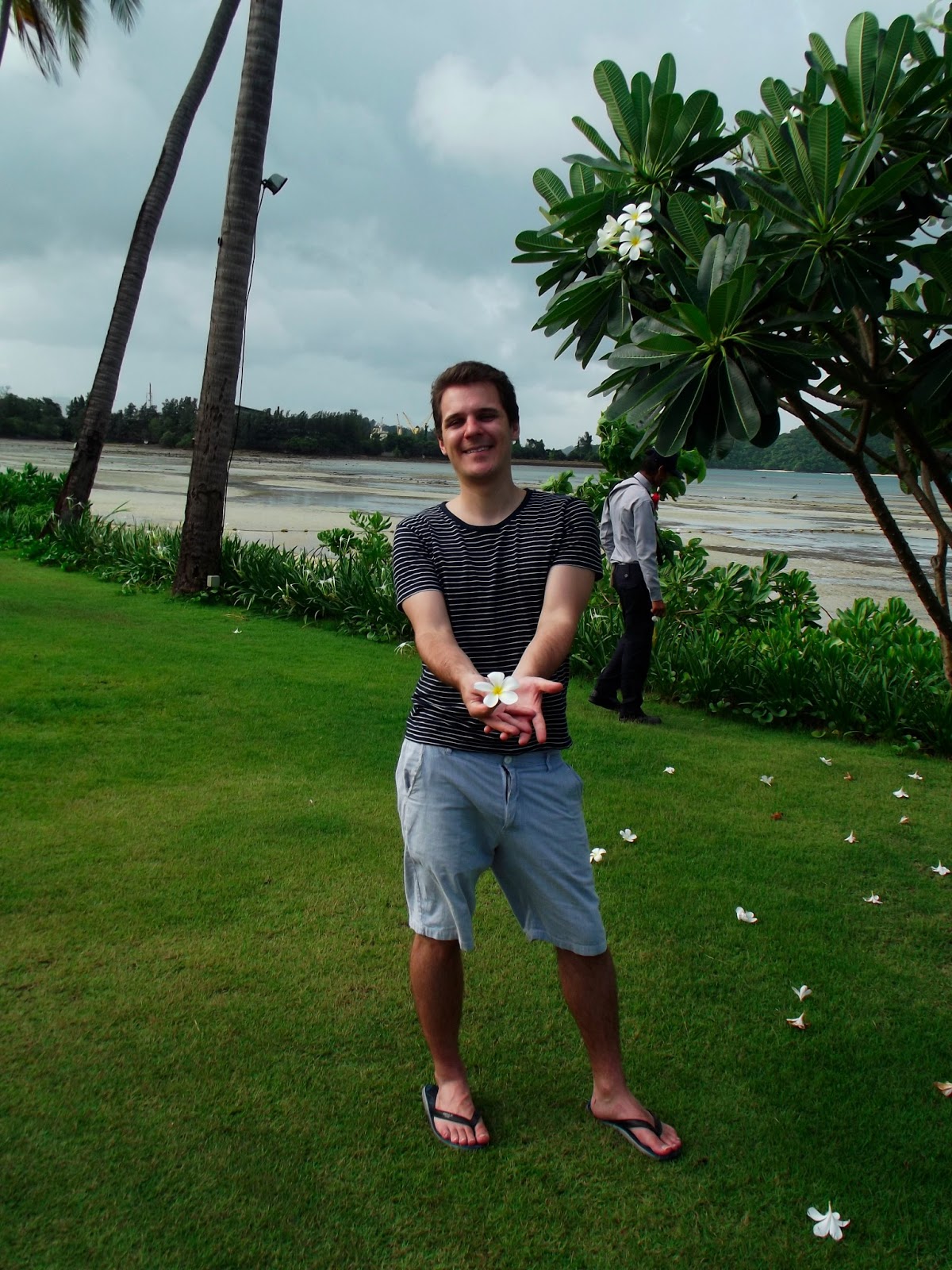 An offering of flowers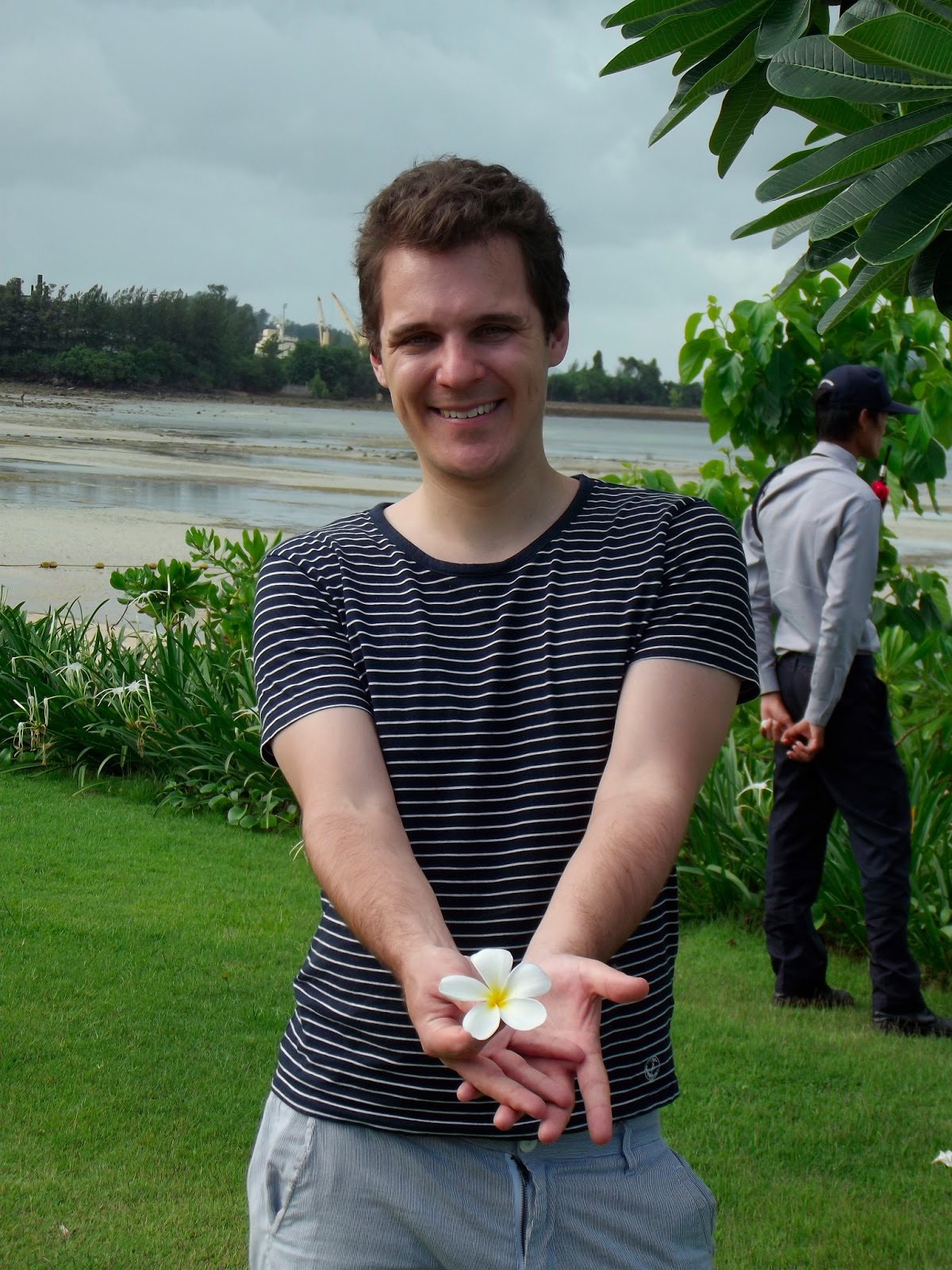 Max in the tropics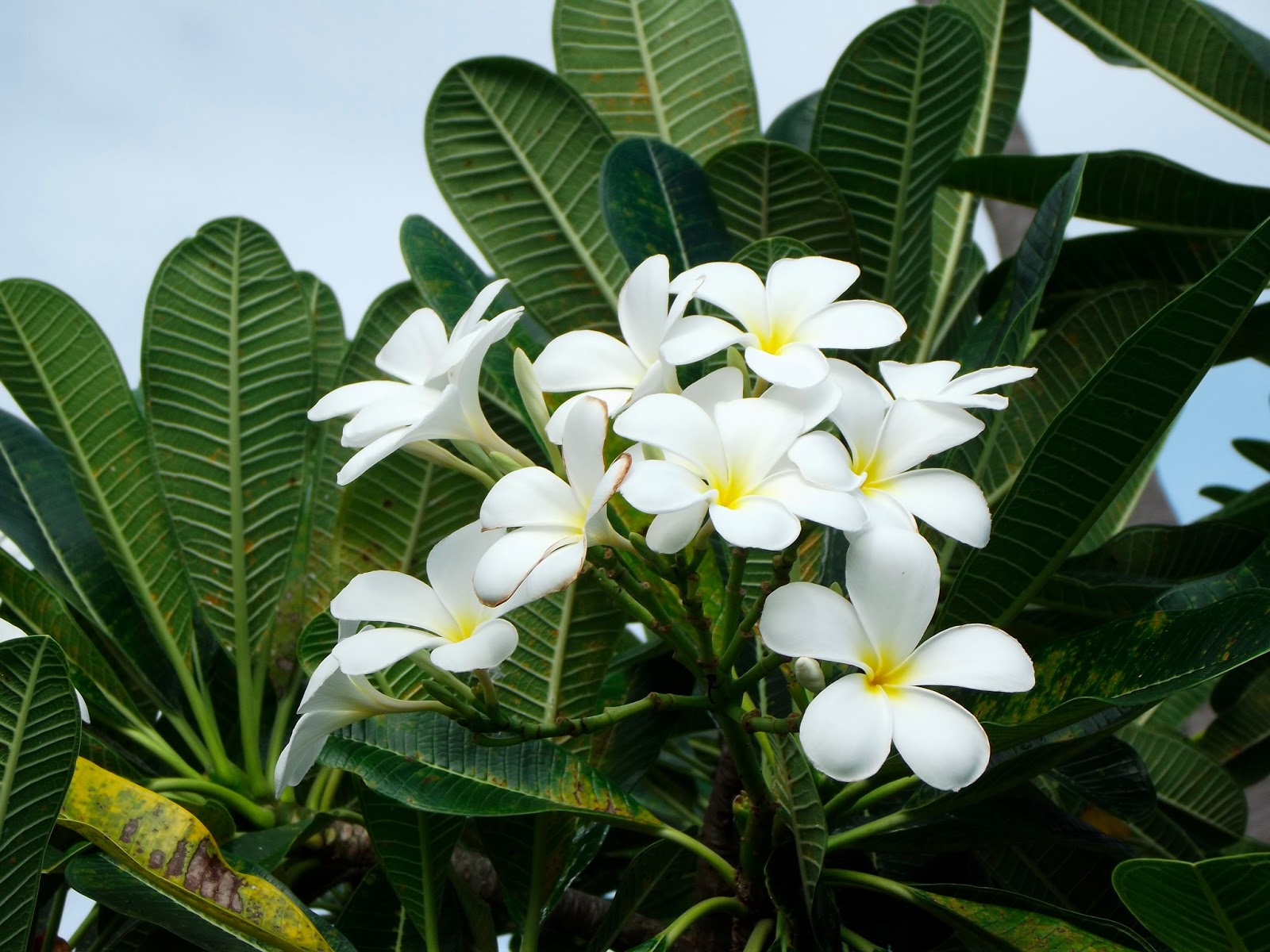 These flowers are growing on the trees around here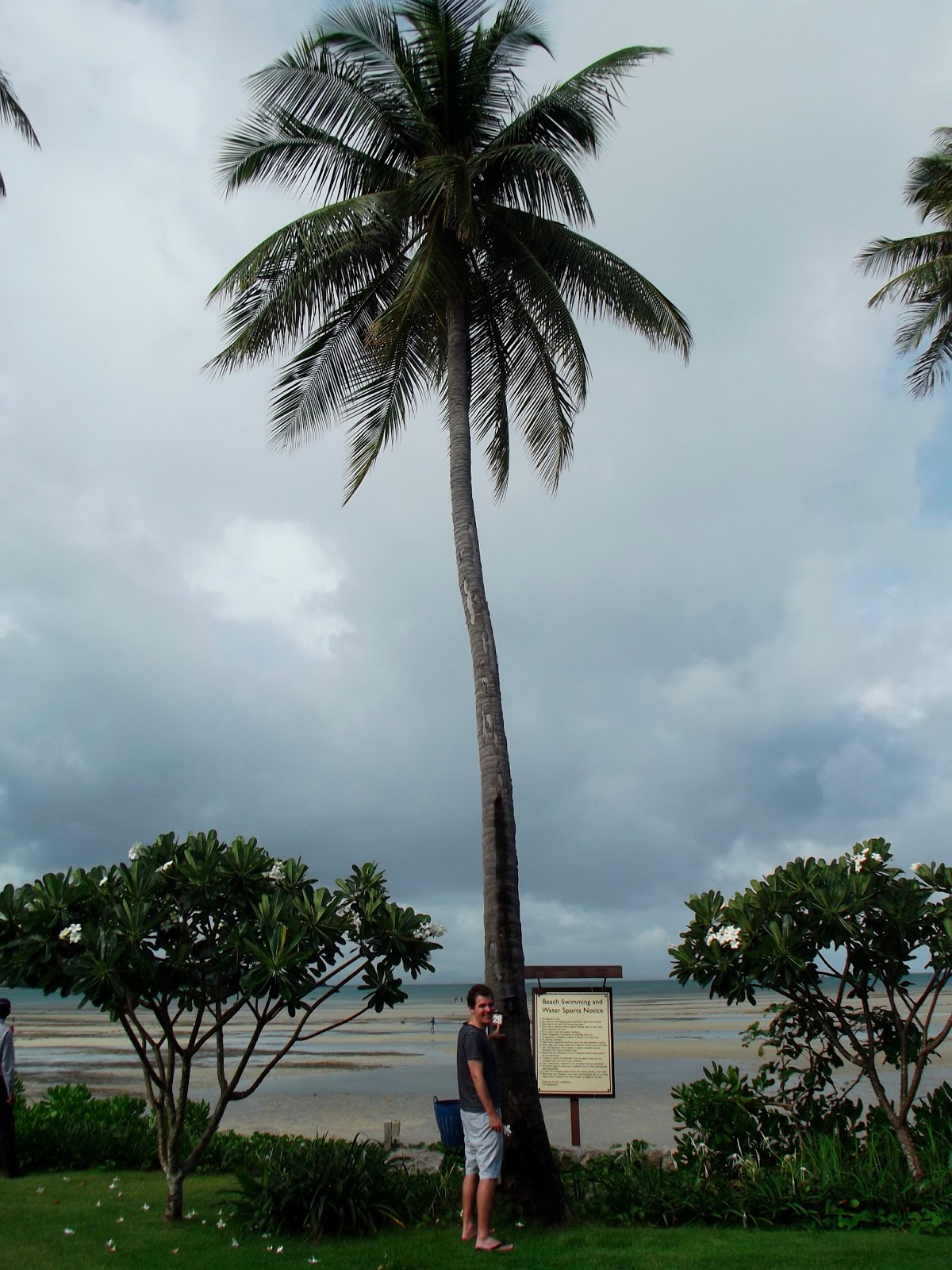 The tall coconut tree and small Maxi - the trees all had numbers on them. Max thinks its to keep an eye on the coconuts on each tree so they can be removed before they fall on someone. One of the trees was making creaking sounds with the wind.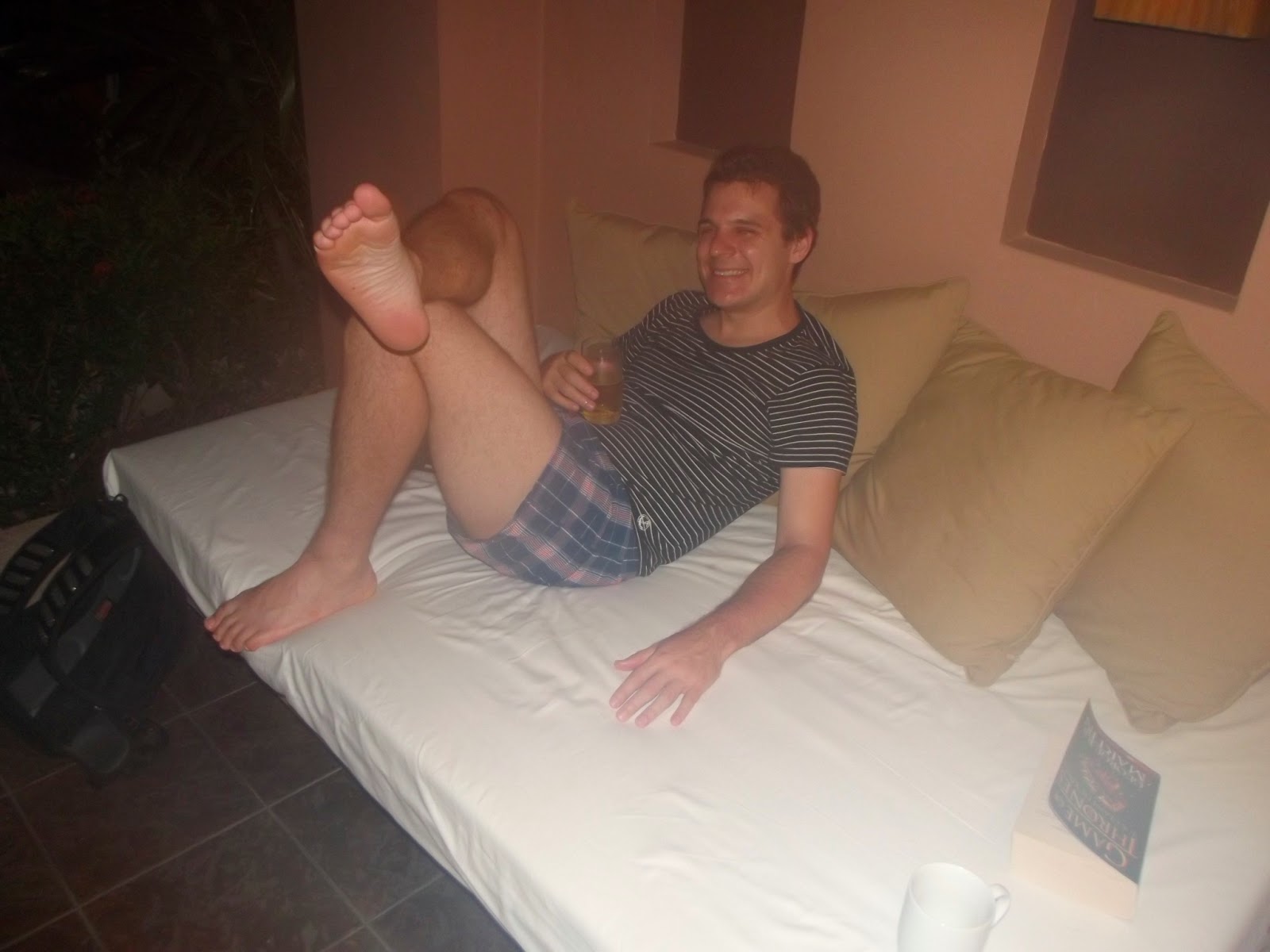 A glass of beer, warm weather, relaxing by the pool. What more to want?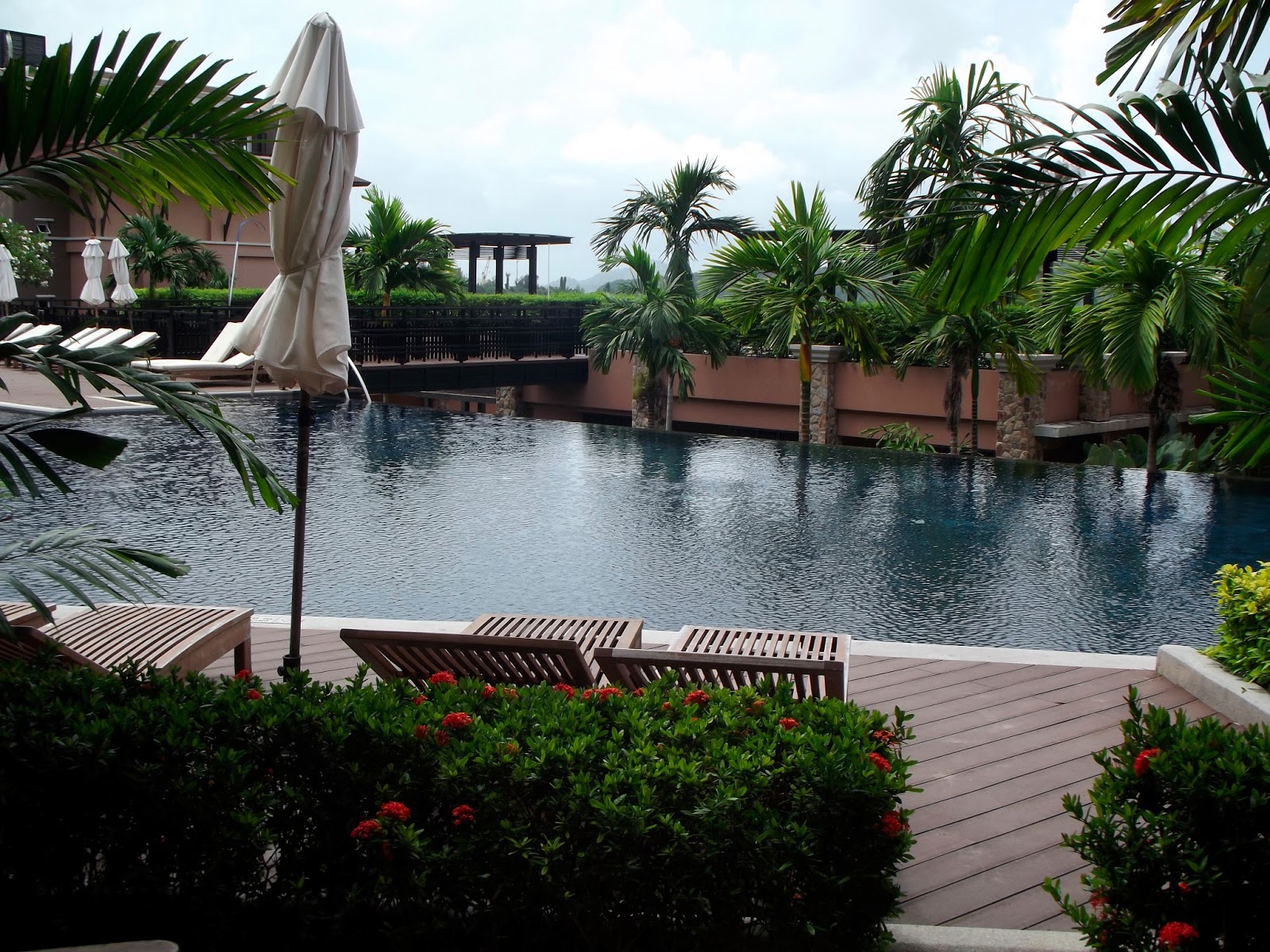 Our view - again