Phuket Day 2 - Tropical Rain
by Shalveena Rohde,
Date: 10 June 2013
Our second day in Phuket was a rainy one. And not just the little drizzles like in New Zealand, but big fat drops of warm rain.
We started the morning with breakfast at the hotel - it was delicious as usual. After breakfast, we decided to go kayaking in the ocean in front of the hotel. Alas, I had not expected the ocean to be so stormy (as it had been calm and clear the previous day) but I braved the waves and we kayaked right to the edges of the marked area. It was especially fun riding the waves :) When we had been kayaking for some time, the rain started to pour and we quickly got back to the beach. There was also an Indian couple who went kayaking at the same time but they came back after a minute or so, possibly after seeing the big waves hehehehe.
We stayed in the rain a little and had a rain bath - it reminded me of my childhood in Fiji. This part of Phuket is so much like Fiji - with the little houses (that have open porches like back at home), the small shacks where people sell things, the narrow roads, the trees lining the roads, the humid and island feel. Wonderful :) I'm so glad we got to see this part of Phuket, I don't think it is one where tourists usually venture too.
Here are pictures from breakfast and our morning: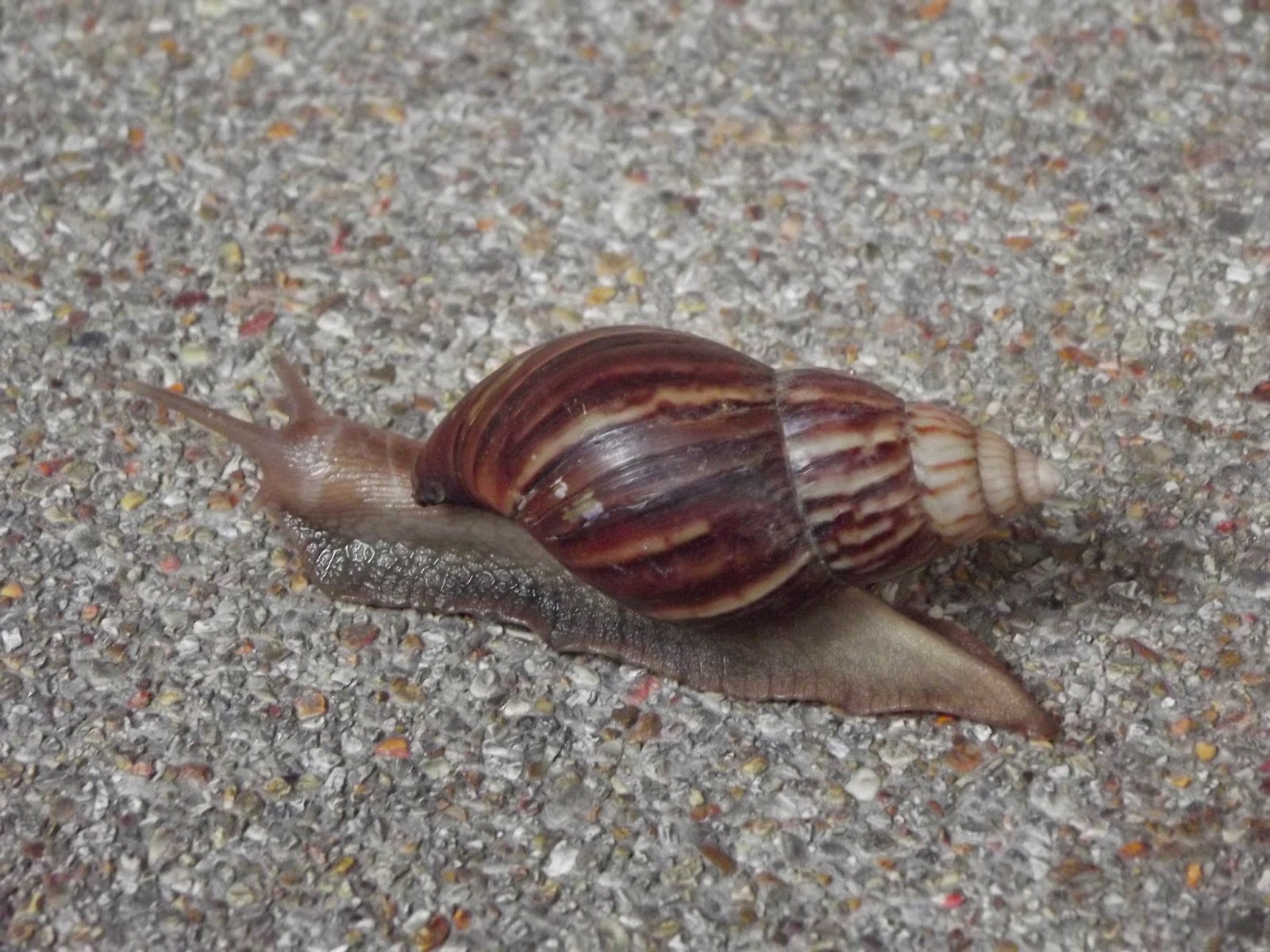 I have never seen such a large snail before. He was right in front of our path on the way to breakfast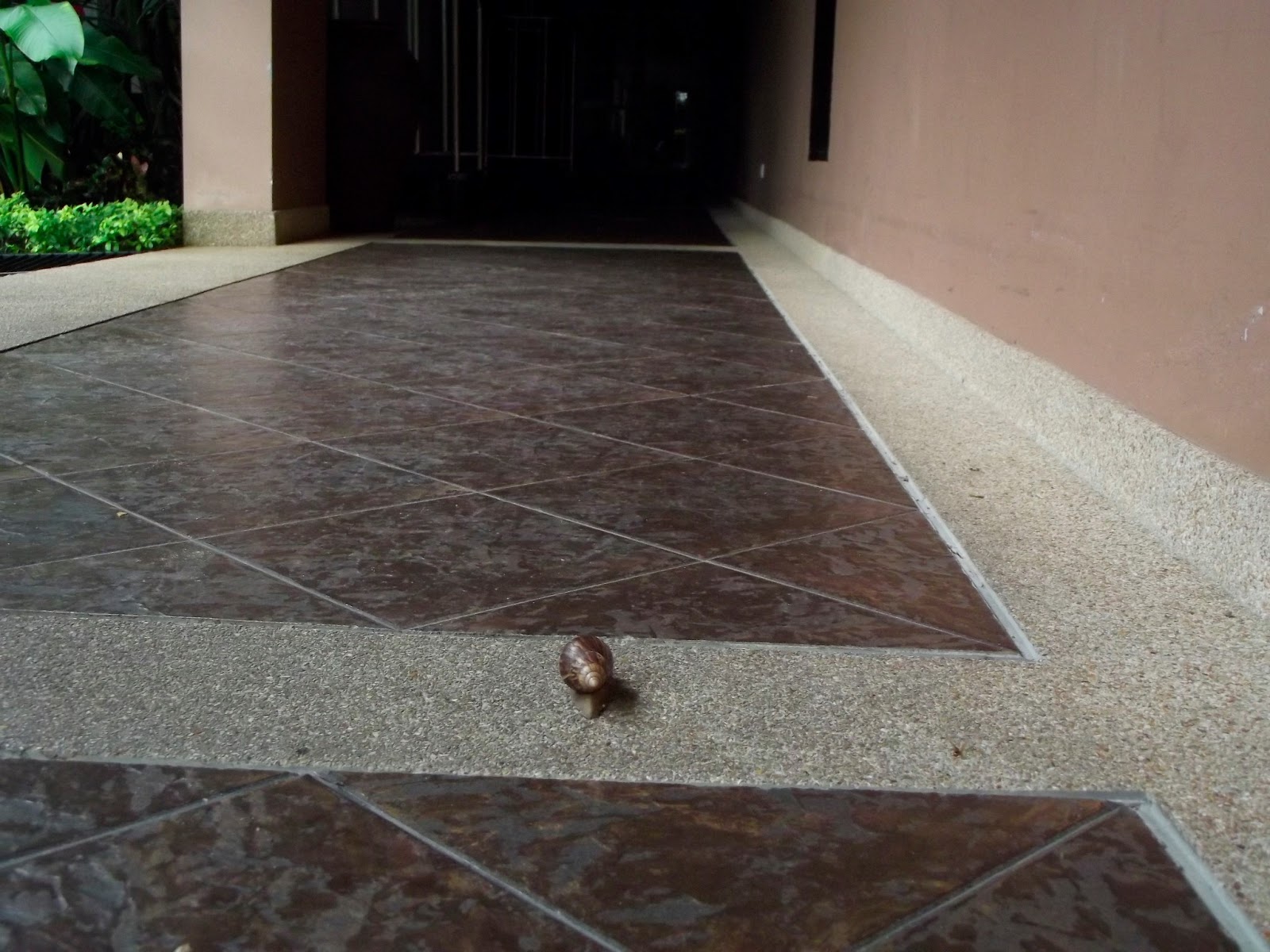 This little guy was on the move towards an appropriate sleeping place. When we came back from breakfast, he had already reached his chosen destination - the wall - and was fast asleep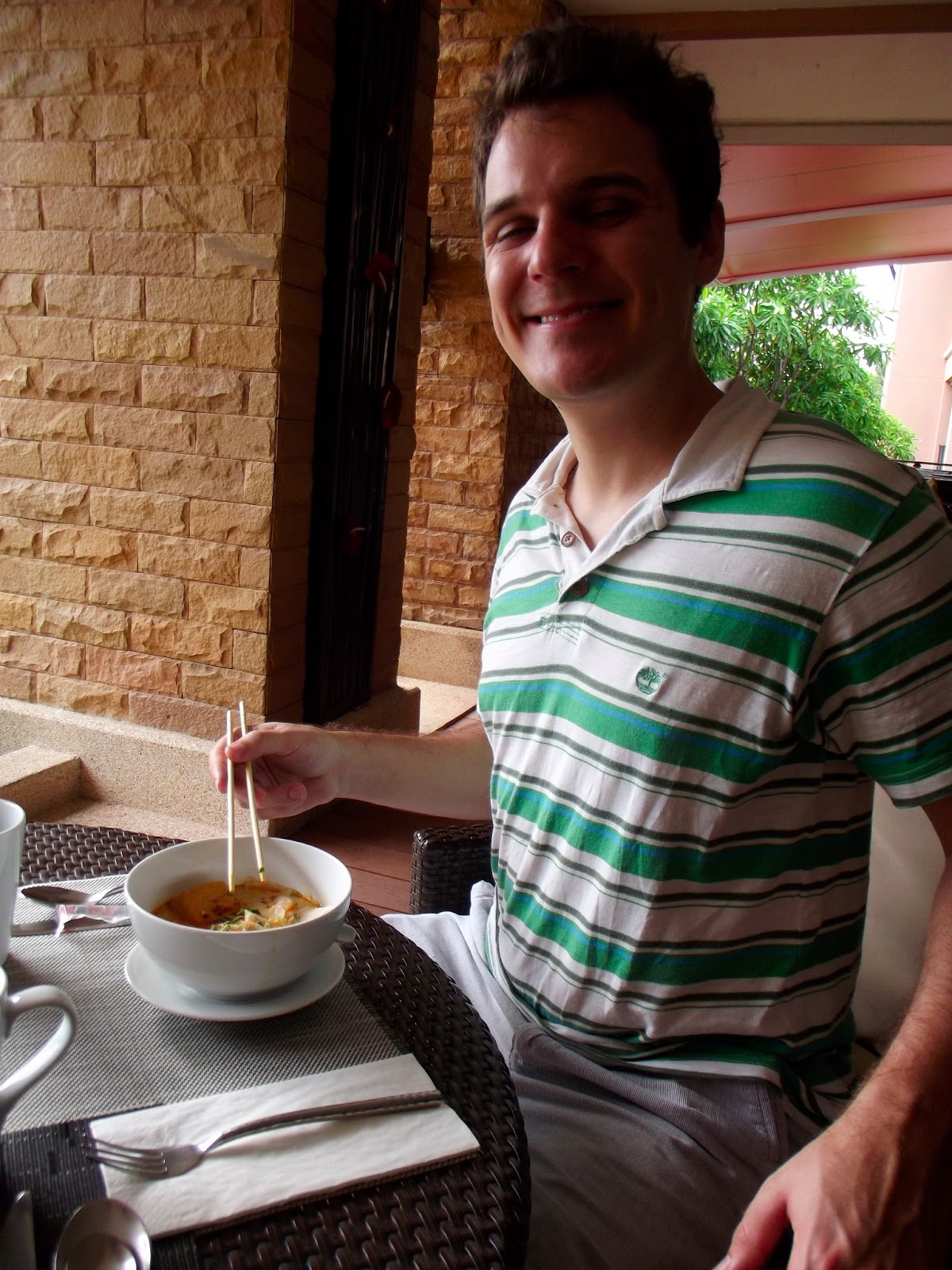 Sleepy morning Max with curry vegetable soup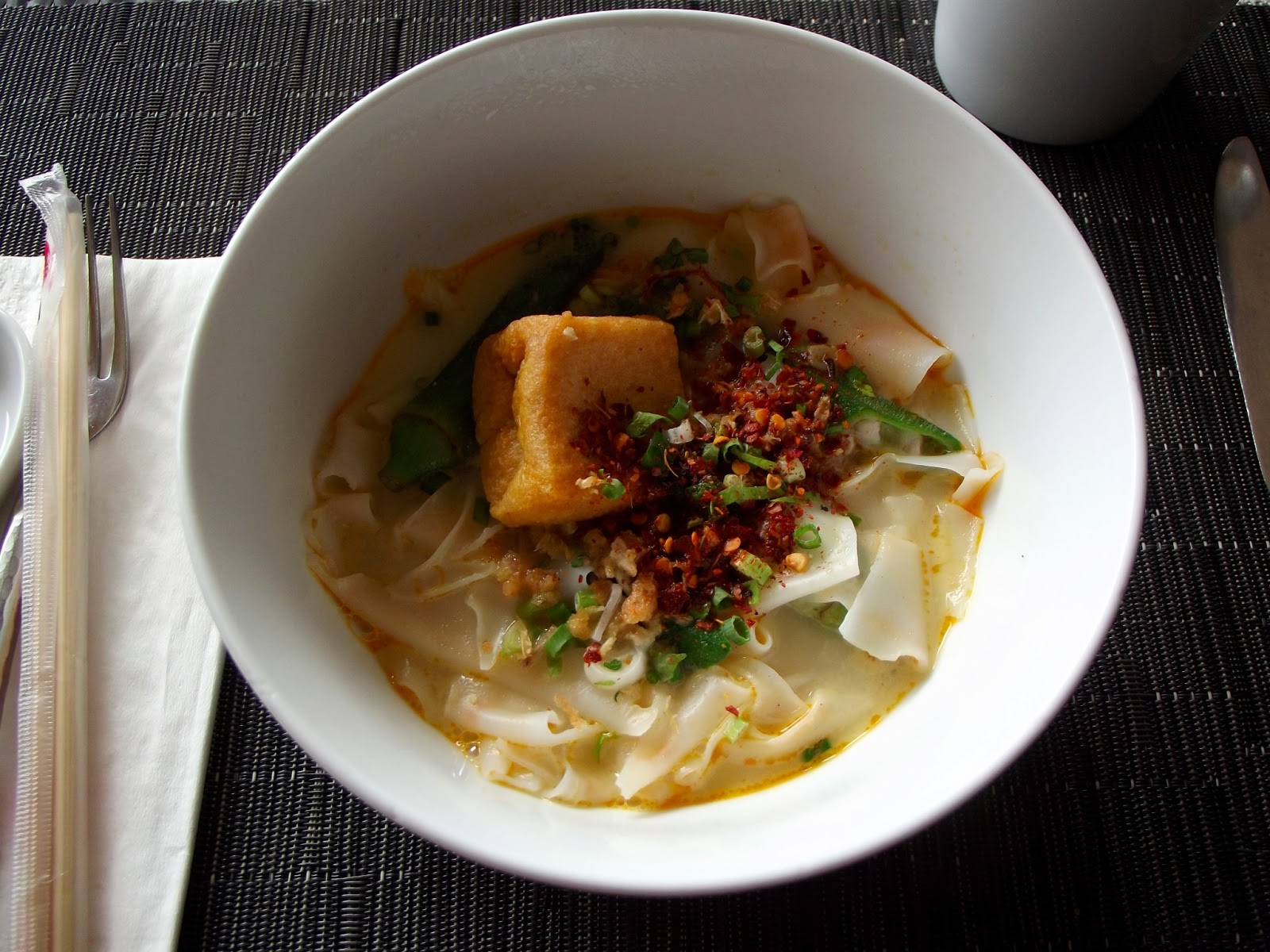 Curry vegetable soup, with tofu, okra, flat rice noodles and fresh herbs and spices.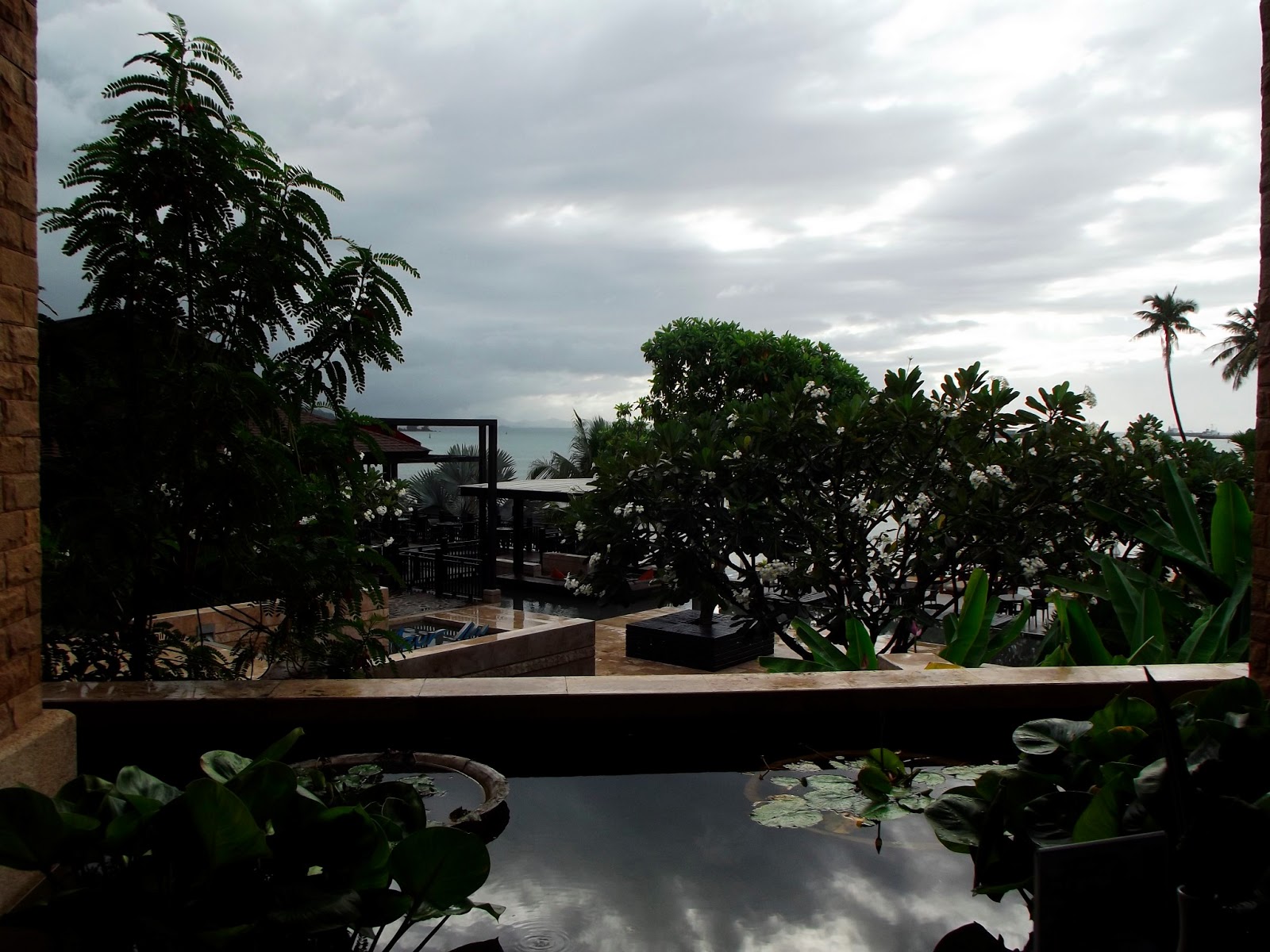 Our view for breakfast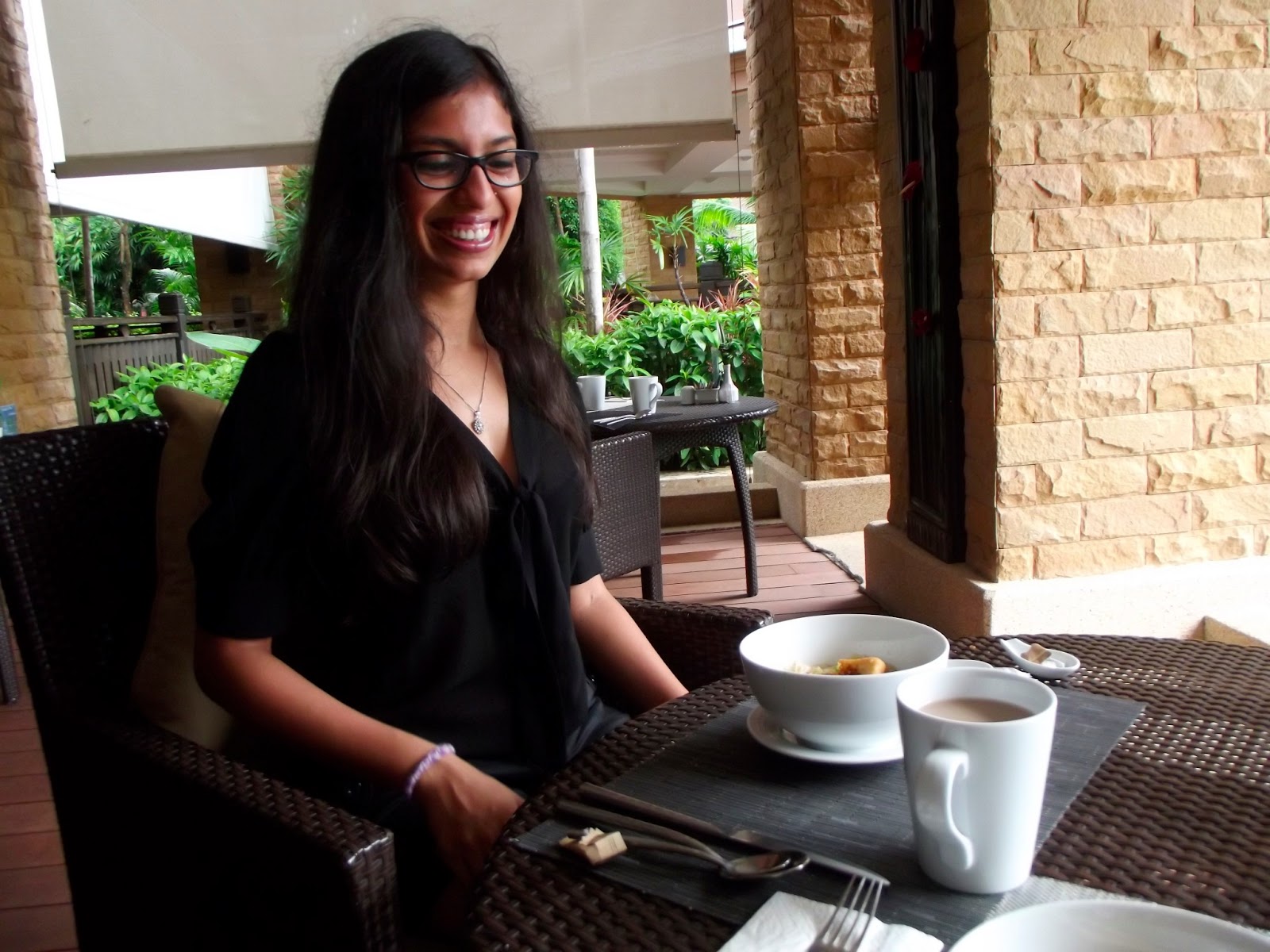 A happy me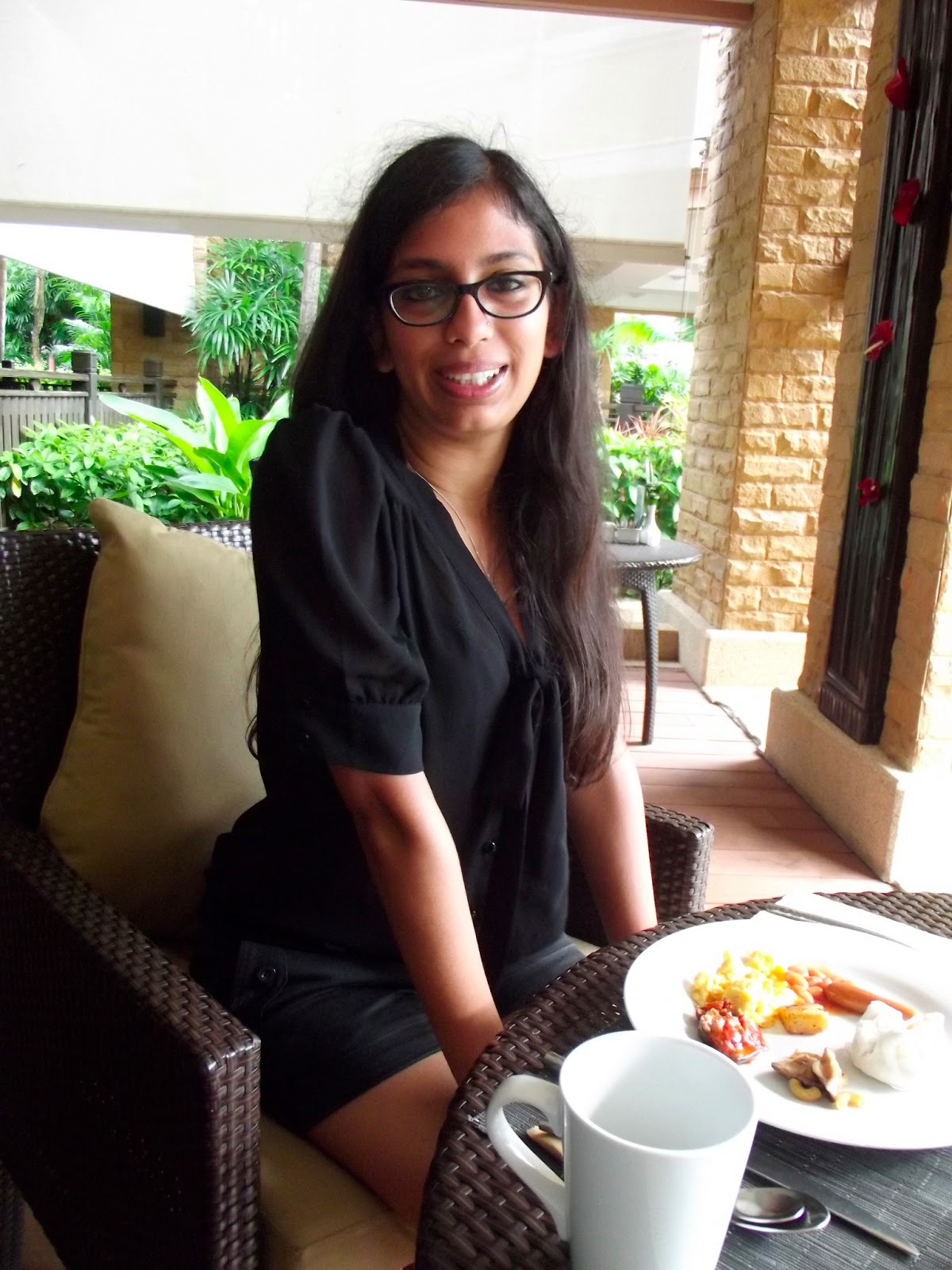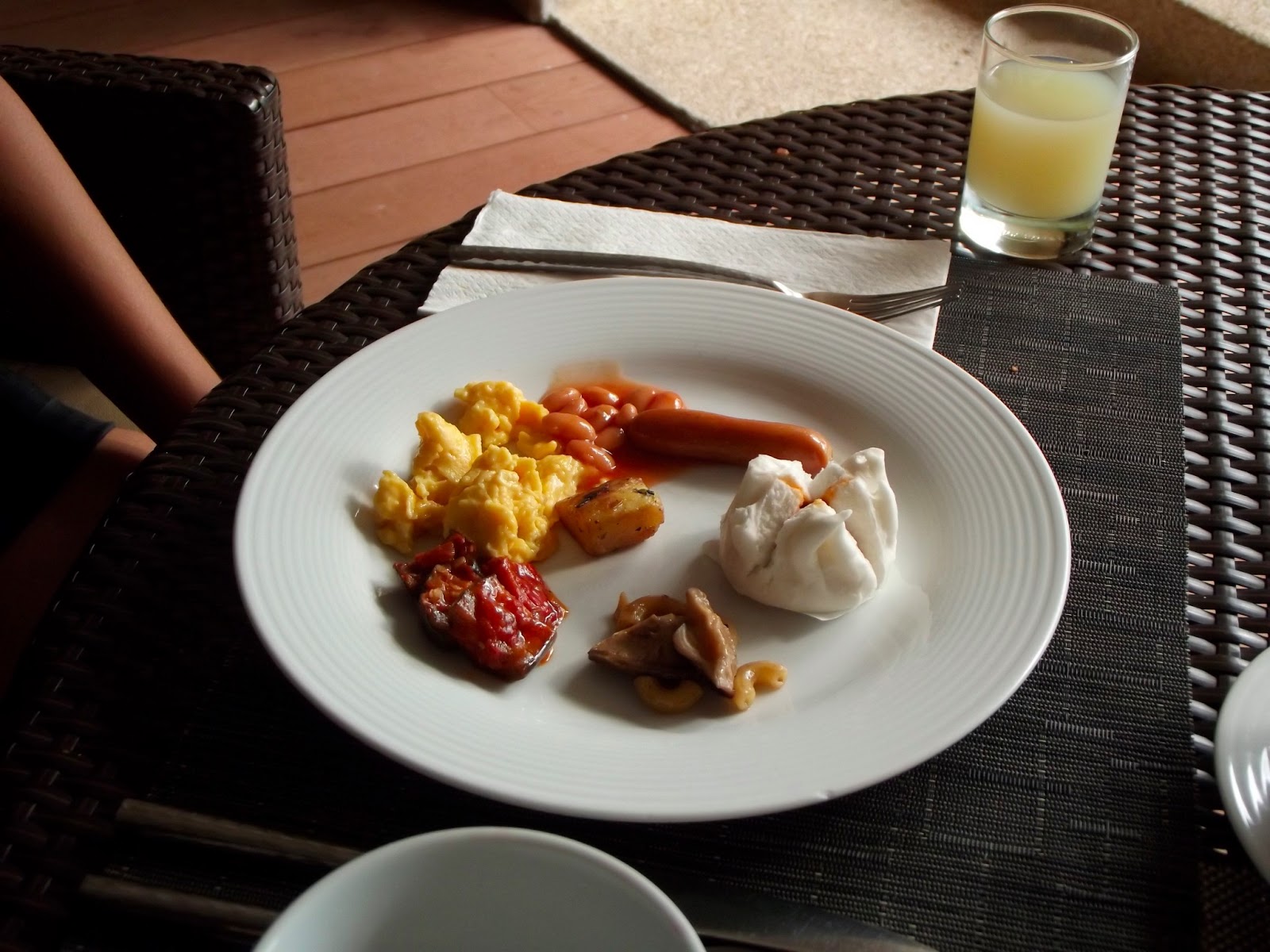 My second plate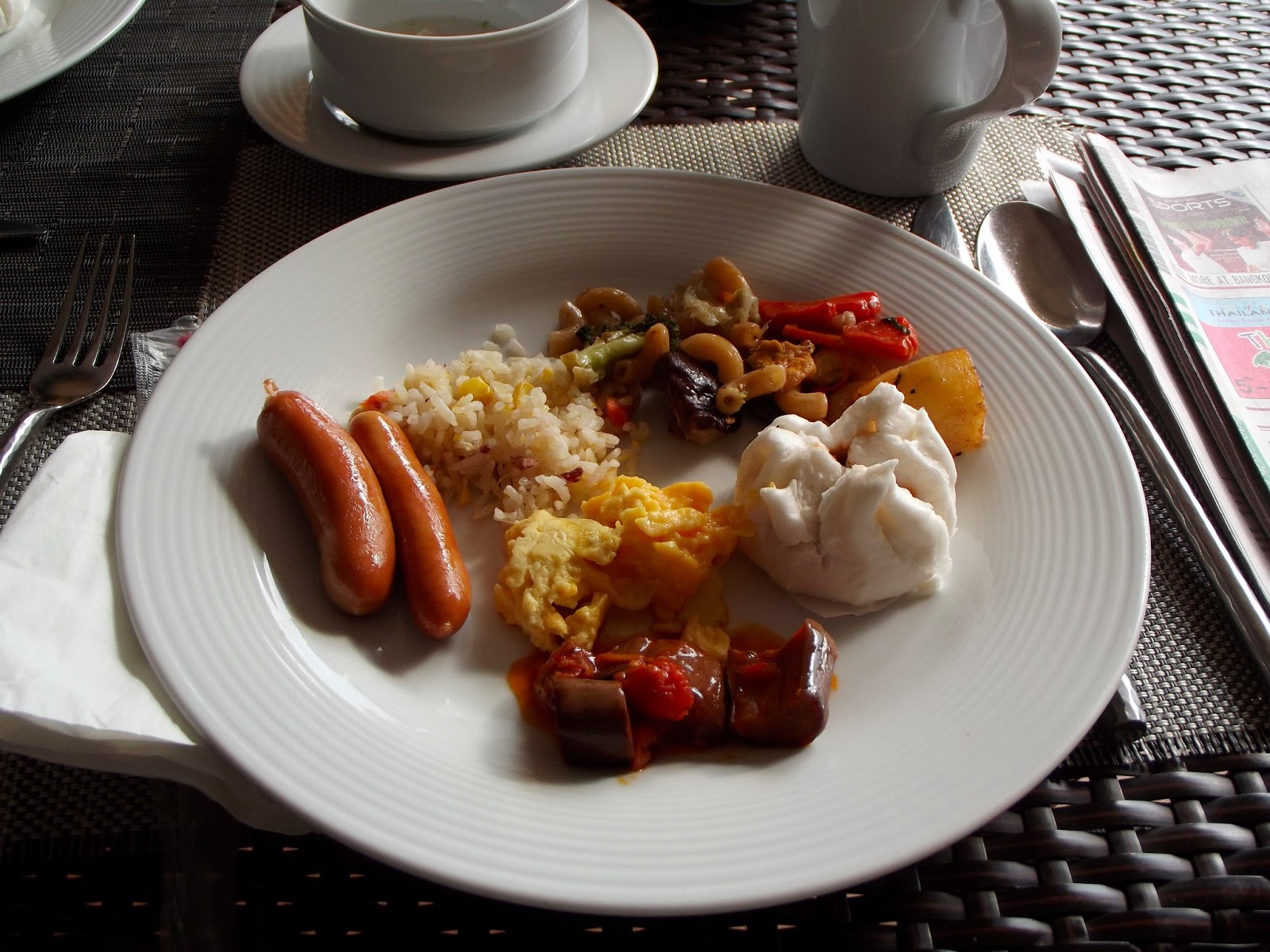 Maxi's second plate
After breakfast, we lounged around on our balcony and read a bit and all the while the rain was pouring outside. I tried to check whether our favourite place was maybe dry so we can sit there but it was not - below are pictures of me with the beach towel covering my head (to avoid getting wet in the rain, as I'm still feeling a bit sick).
We also went to check out the surrounding area - there are a few little shops around here, and some houses. The area is very lush and green and farther down to the left of the hotel is an army base and the ocean, and also Phuket Aquarium. Unfortunately we could not take pictures of these as it was pouring with rain and our camera was in danger of getting wet.
Some of the shops are so very local, even too local for us - we wanted to have lunch at one of them but did not think it was a good idea after closer inspection as we won't even know what to order and it was unlikely anyone spoke English there. Another restaurant, at the end of the road, was also very busy and Max was inclined to go inside (it was upstairs) but there was a dog inside and I was not brave enough.
Here are pictures from our adventures on Day 2 in Phuket: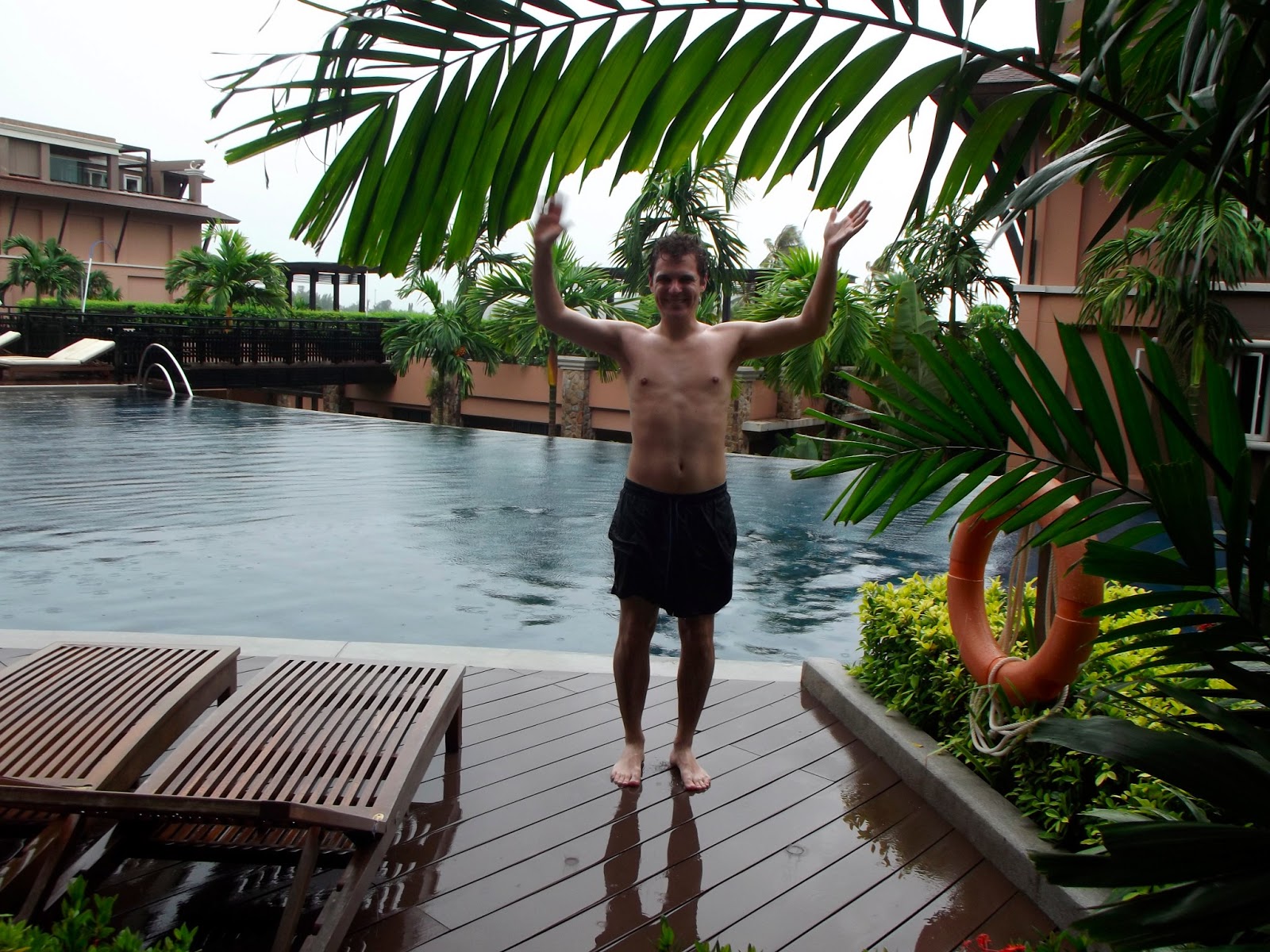 Preparing for a swim in our own private pool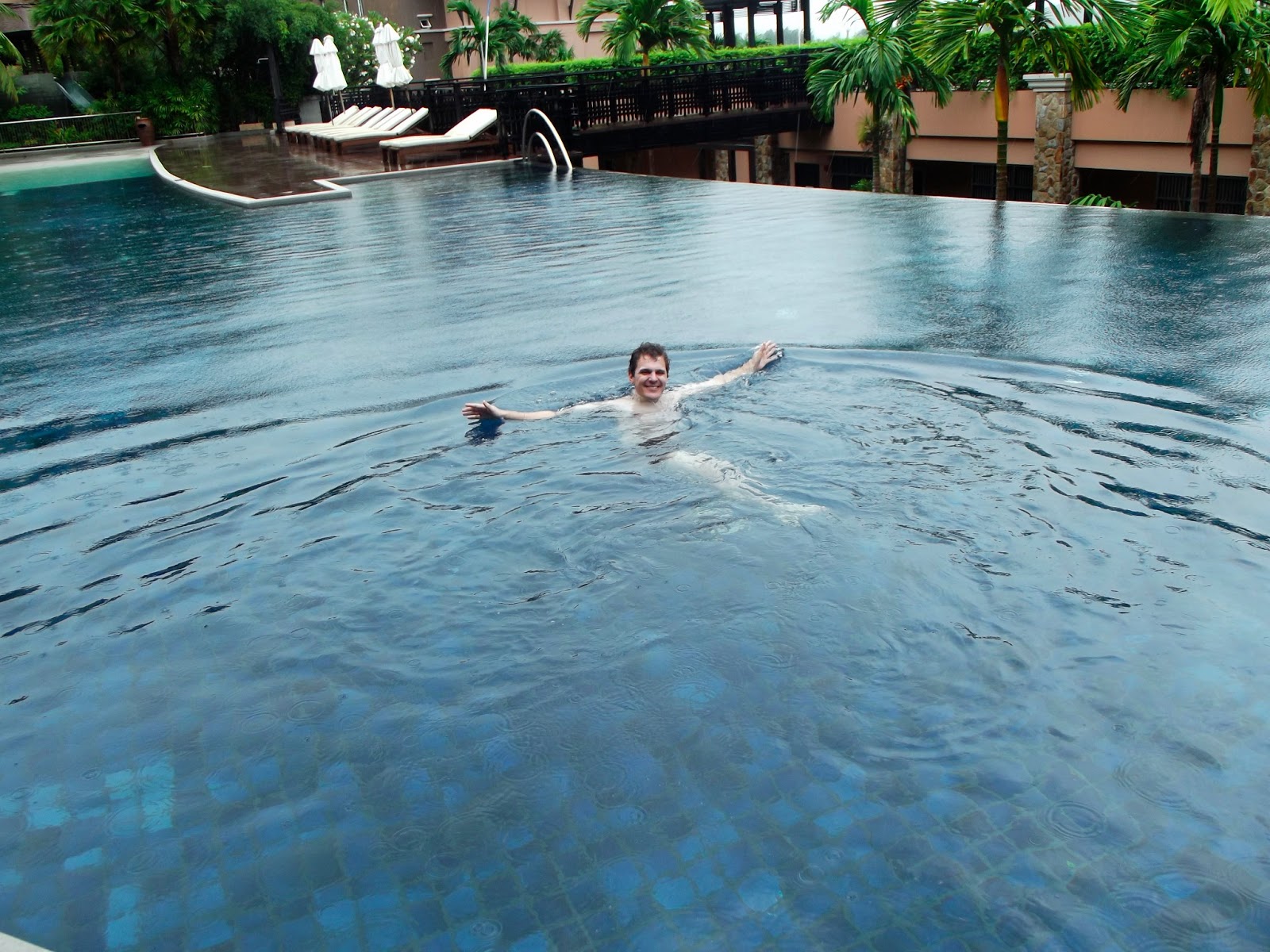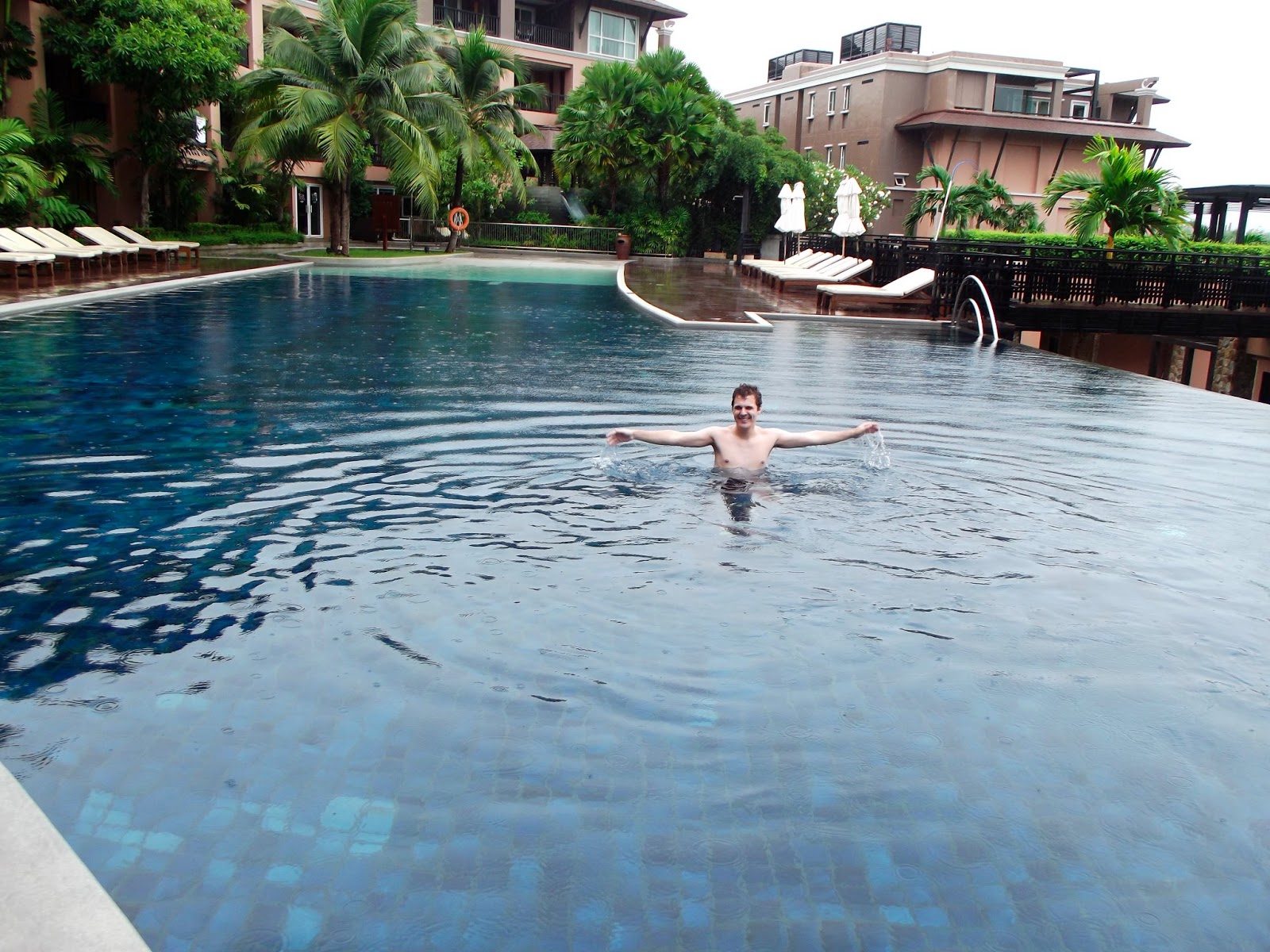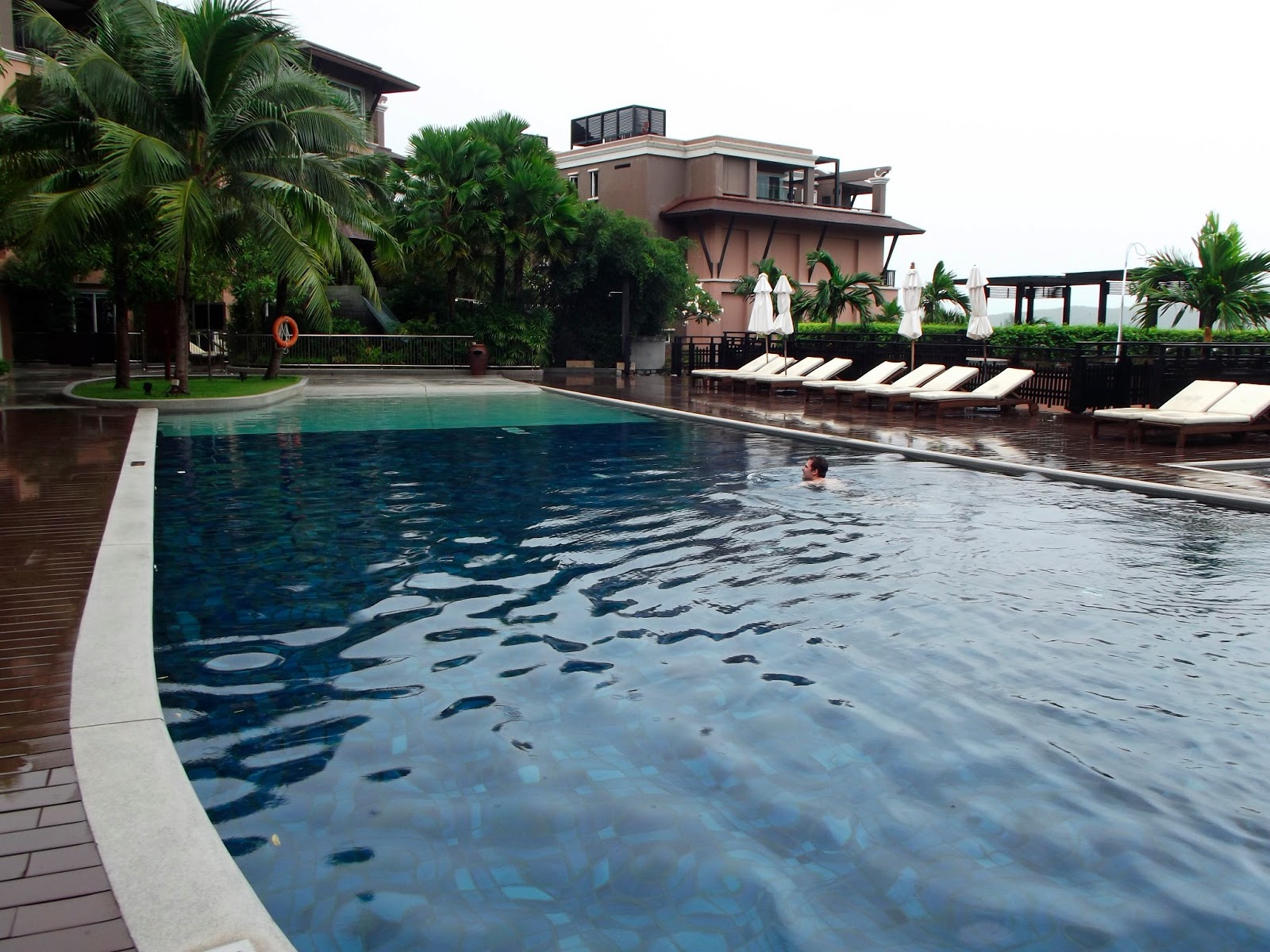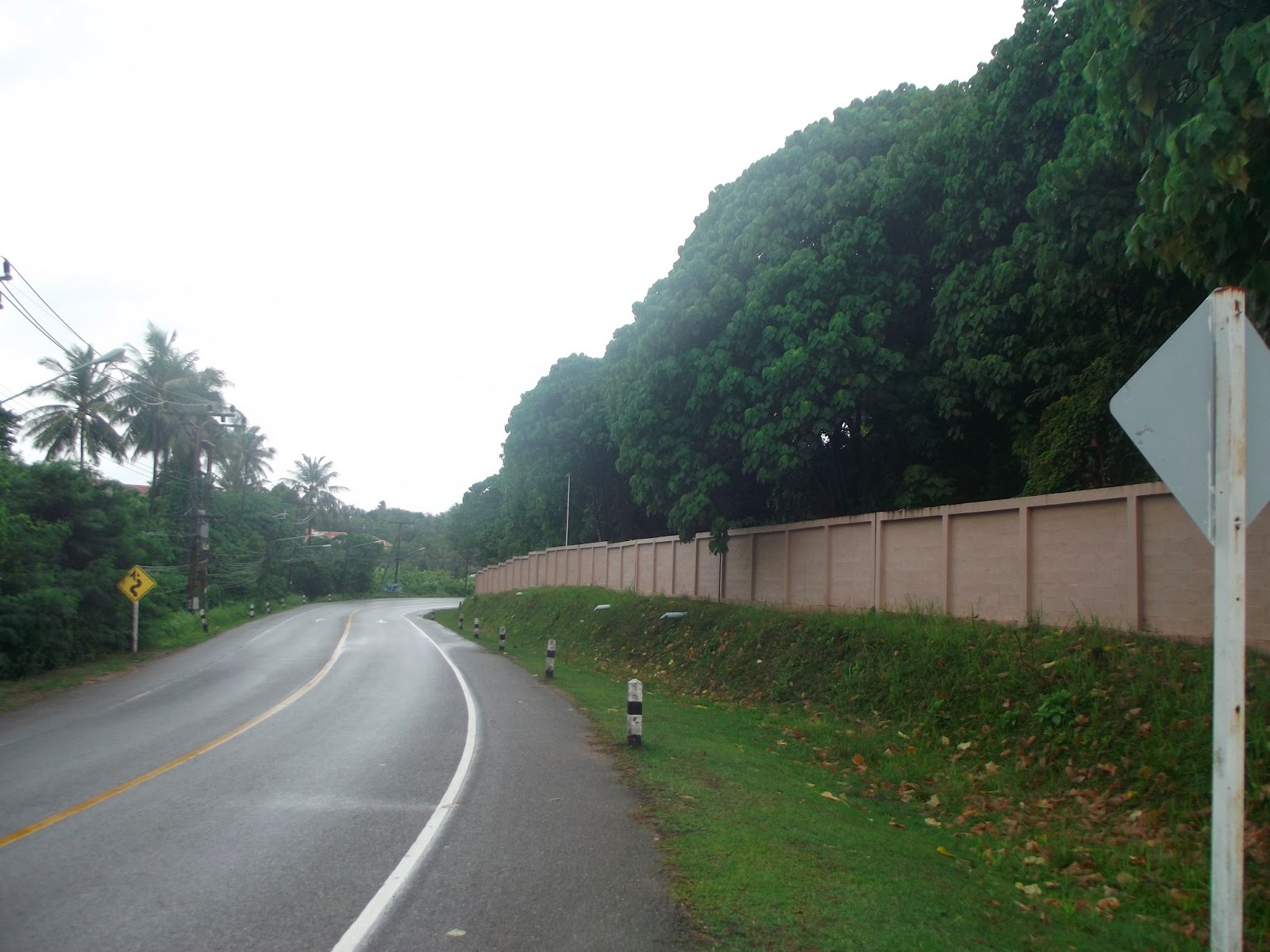 The road outside the Radisson Blu Resort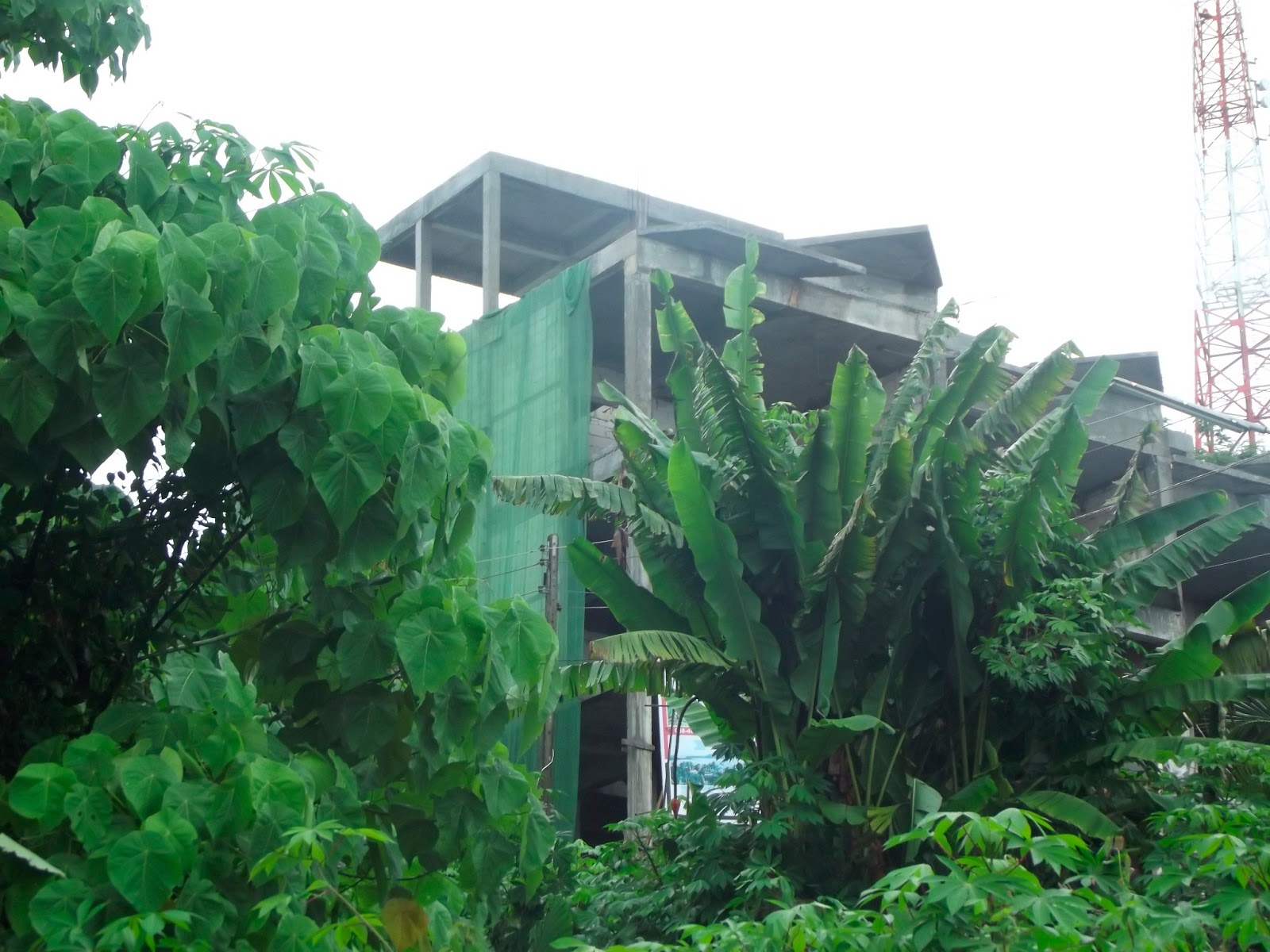 Another side of Phuket - different from the Resort?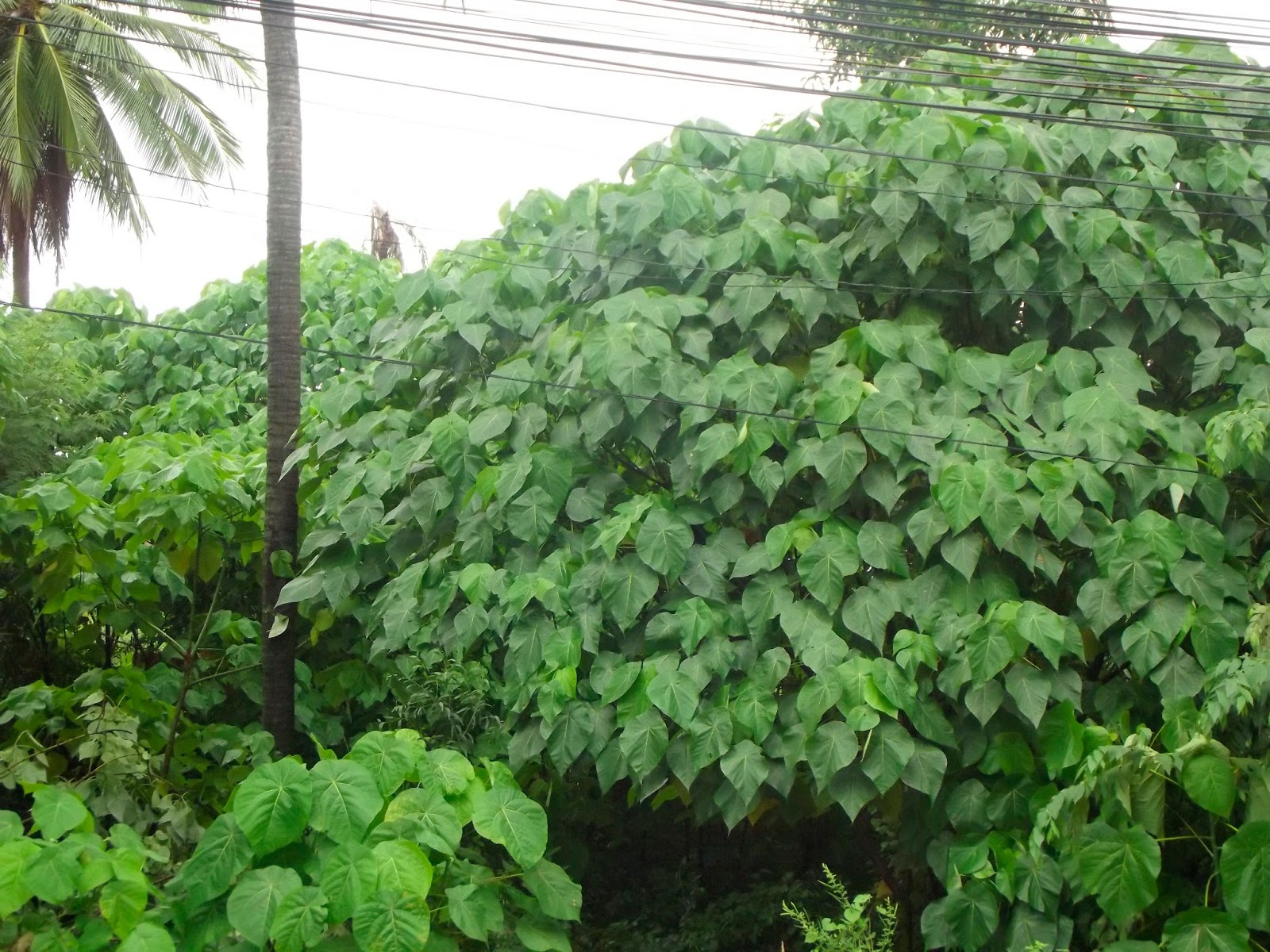 Lush greenery all around
We even got to complete our tropical feel by having a real power cut during the day (just like home in Fiji!). After a few minutes though the back up generator came alive, complete with his own humming and all. But we still couldn't use electronic devices until a few hours later, when the power finally came back. Looking at the pictures below, we were surprised the power even stays on!
The power lines made a funny buzzing sound outside on the roads and we saw one power post where someone had diverted a line to his own shack, to power his electronic fan (stealing power? noooooo!).
A power failure waiting to happen!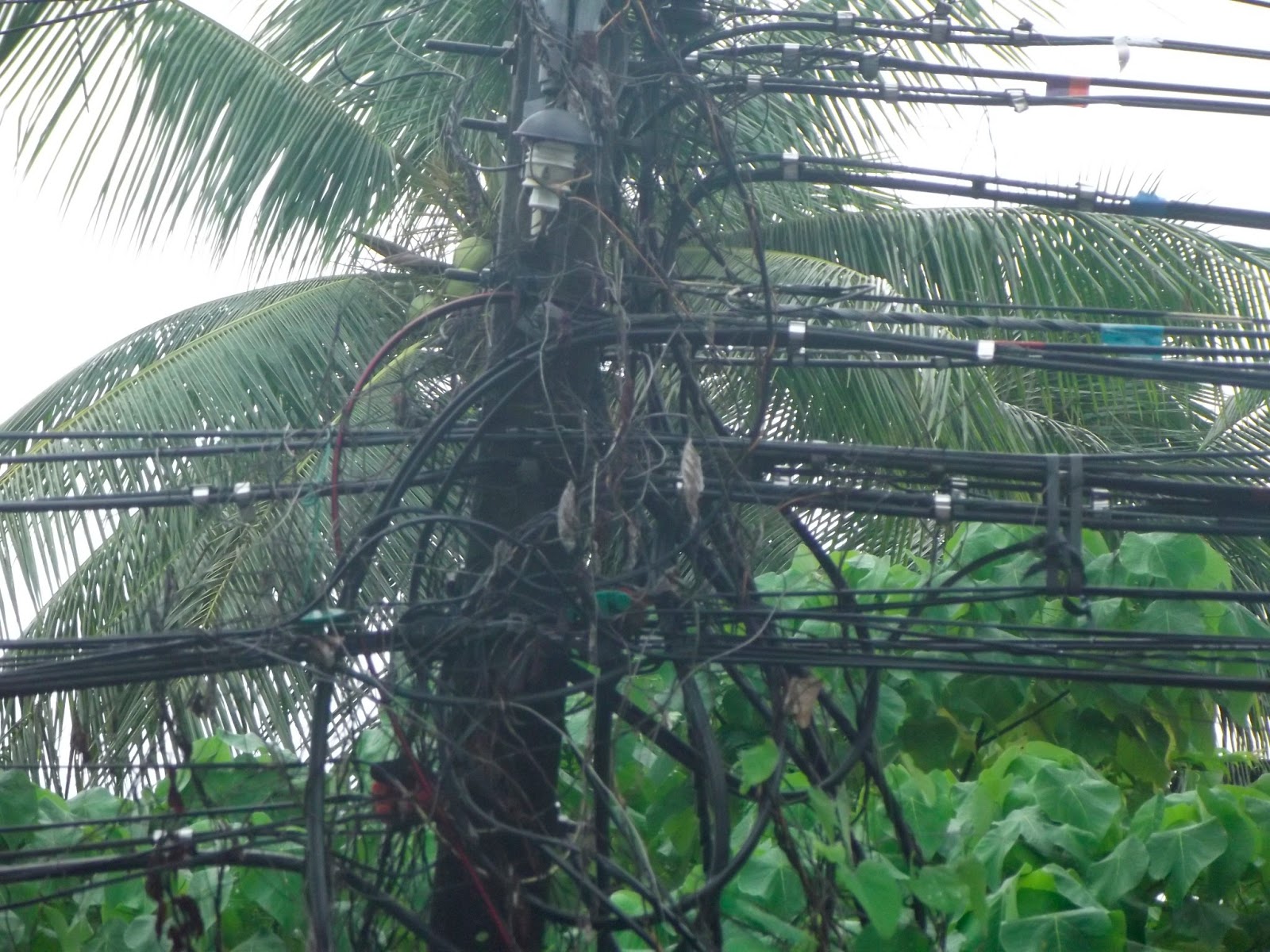 A little dangerous, but it seems to work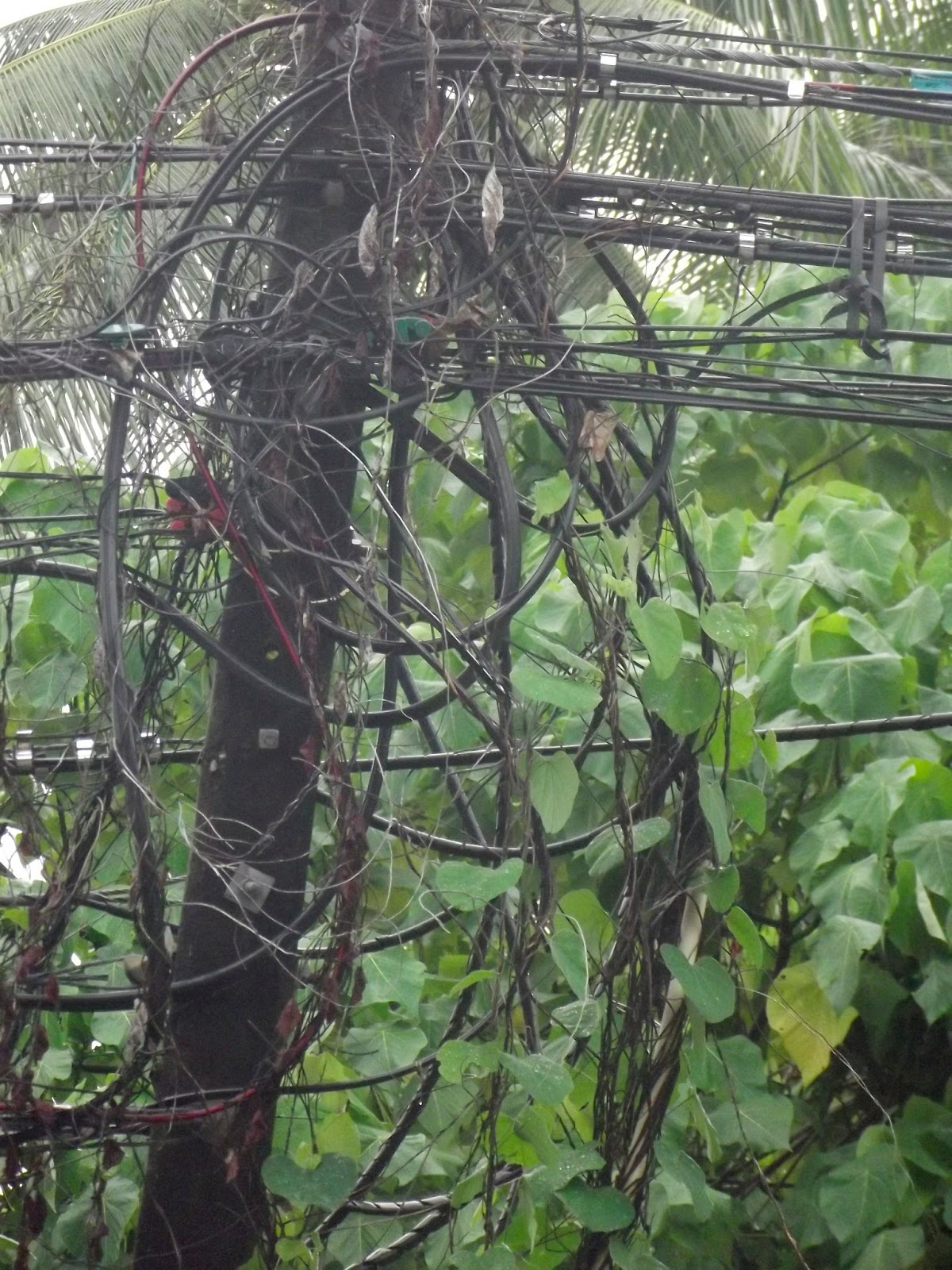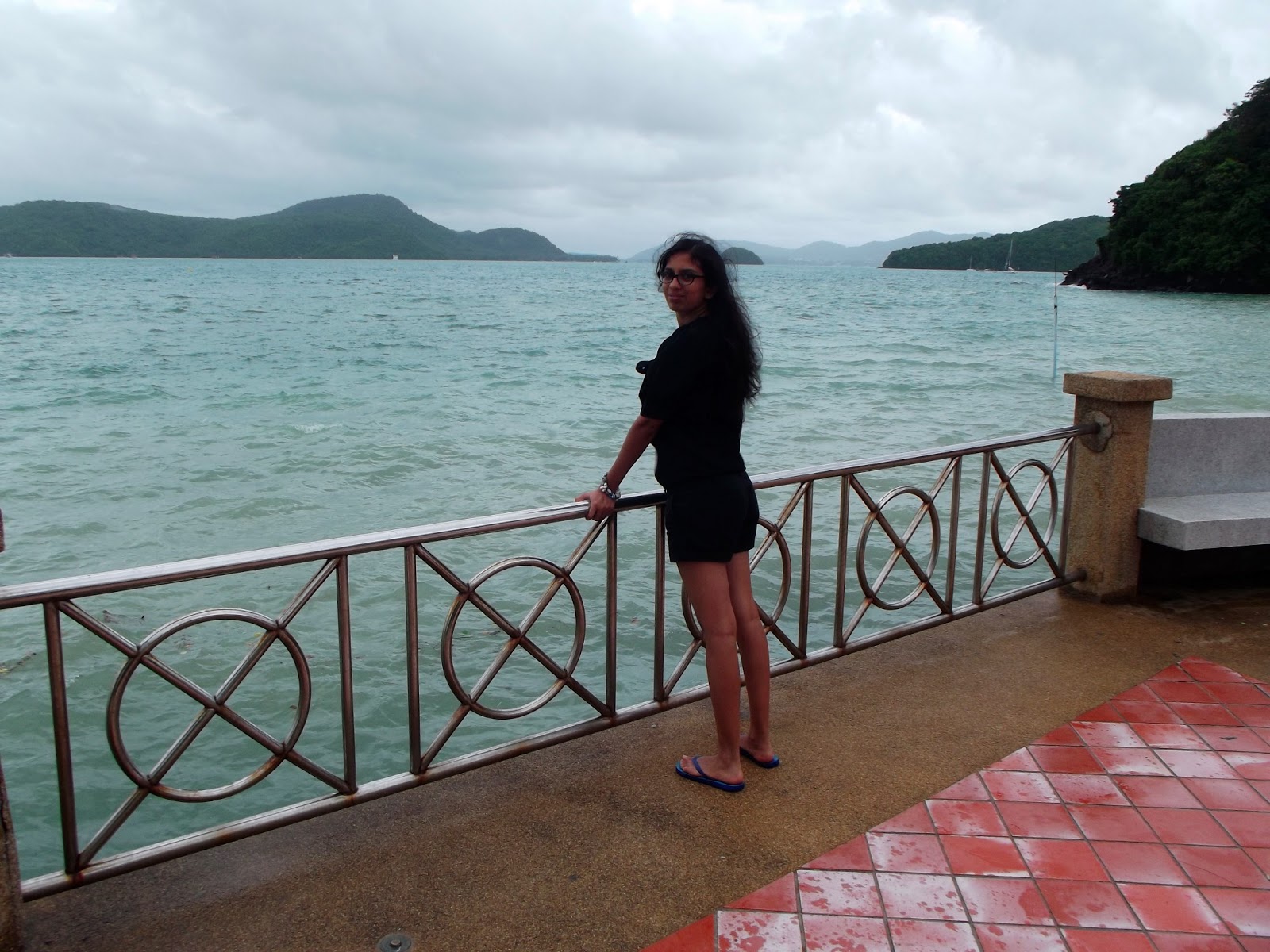 The walkway next to the ocean. It was very very windy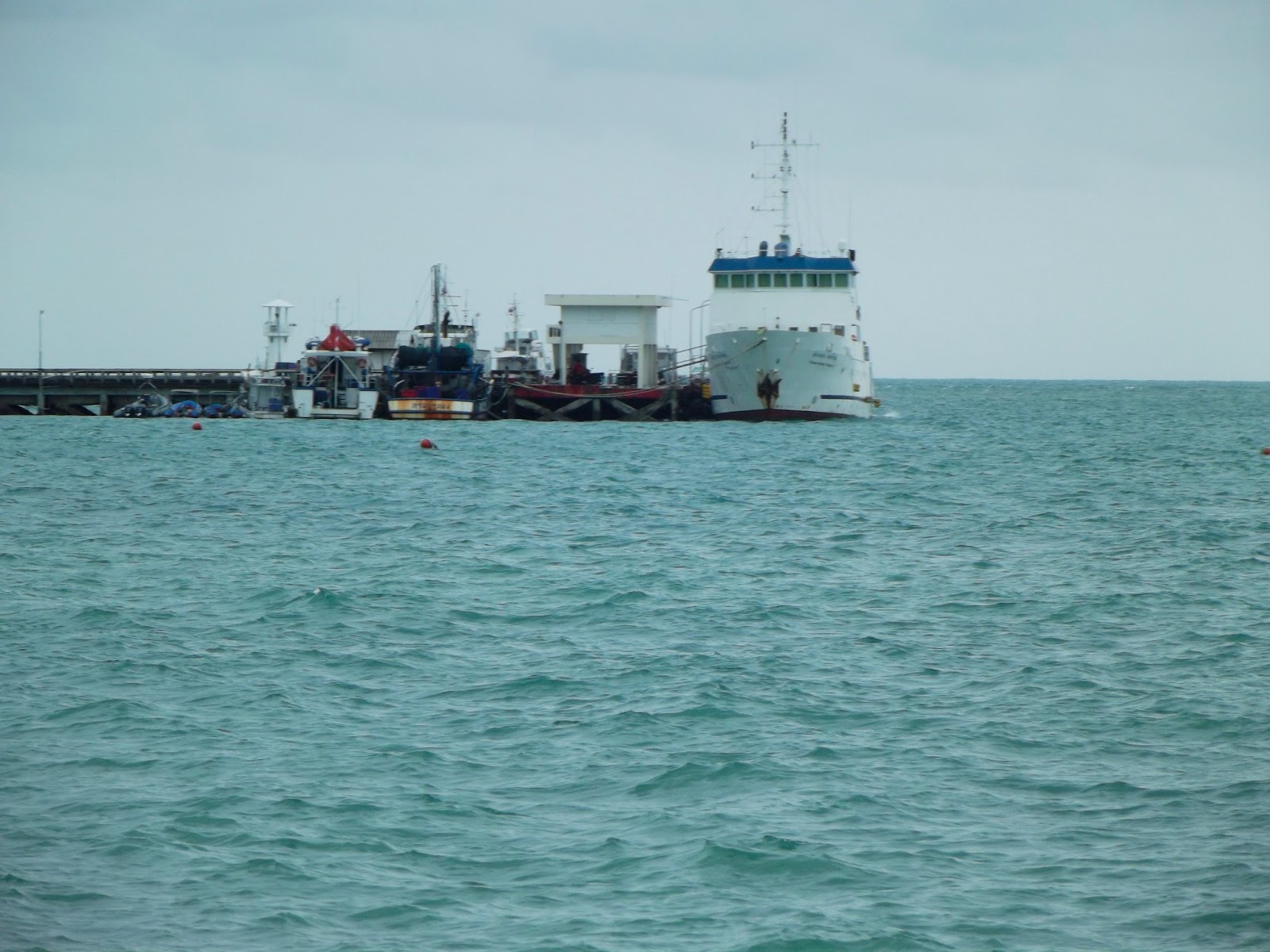 Cruise ship at the port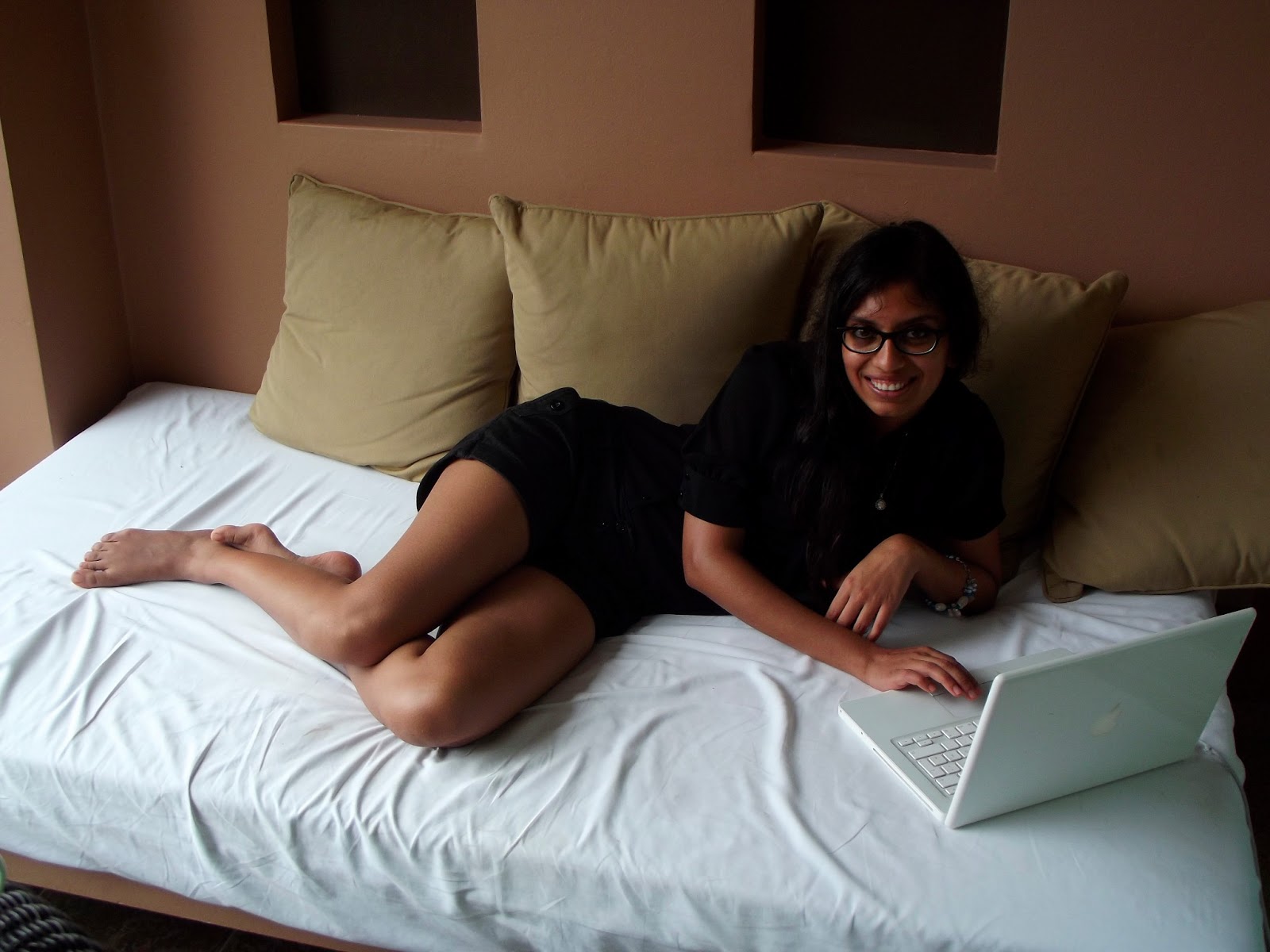 Looking for possible venues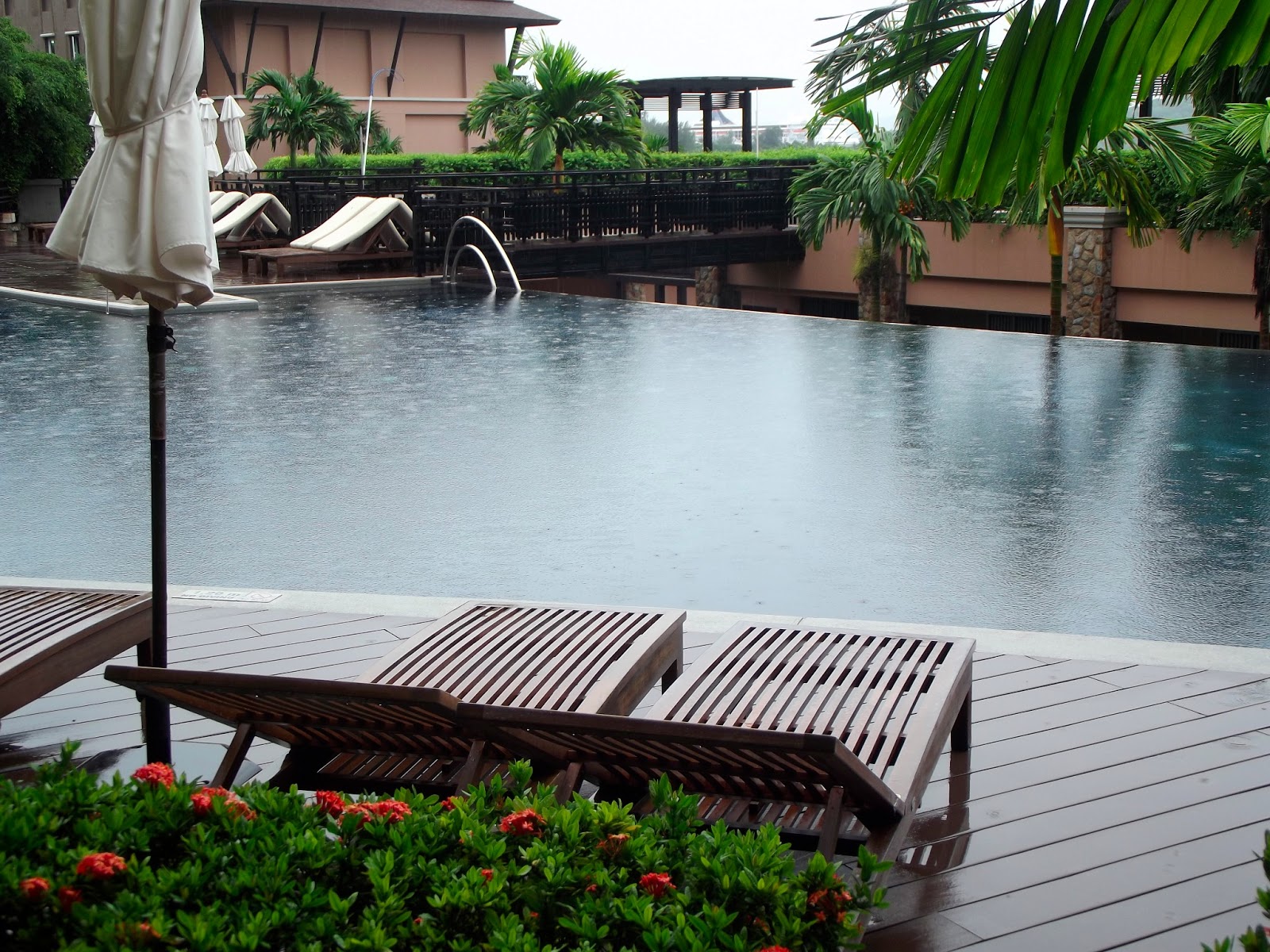 Rain drops on the pool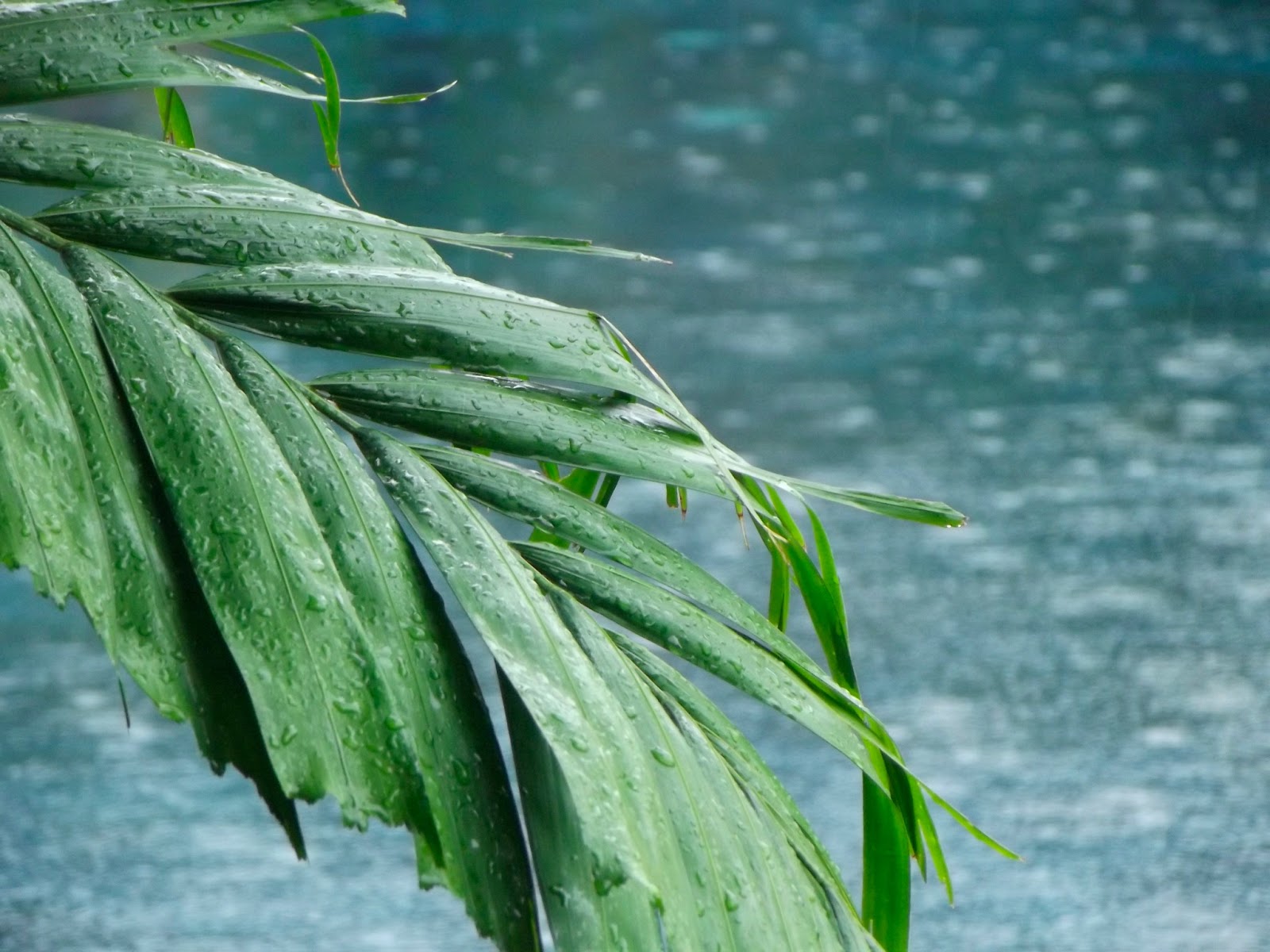 Max's amazing photography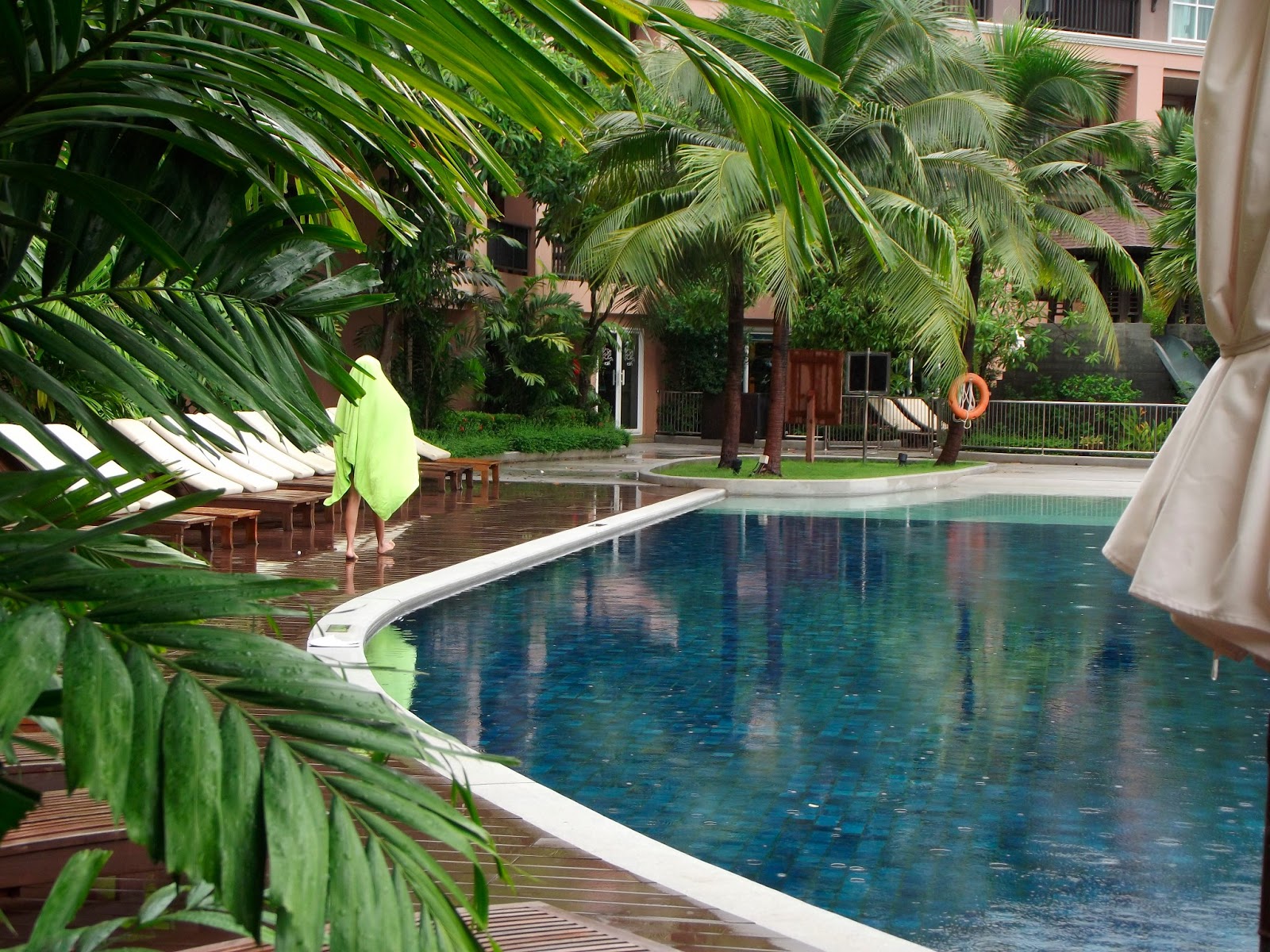 Jedi on the move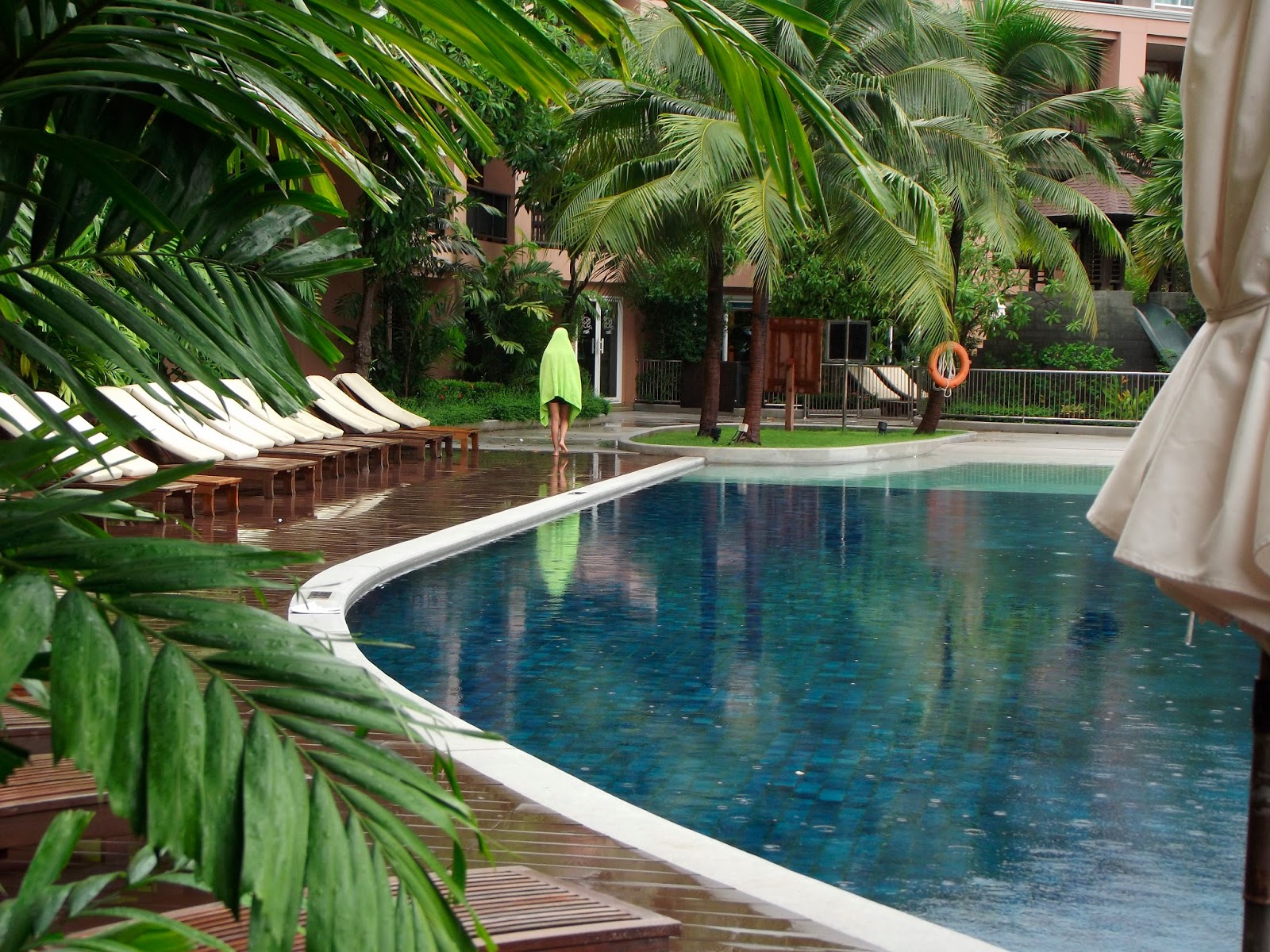 Padowan Shalveena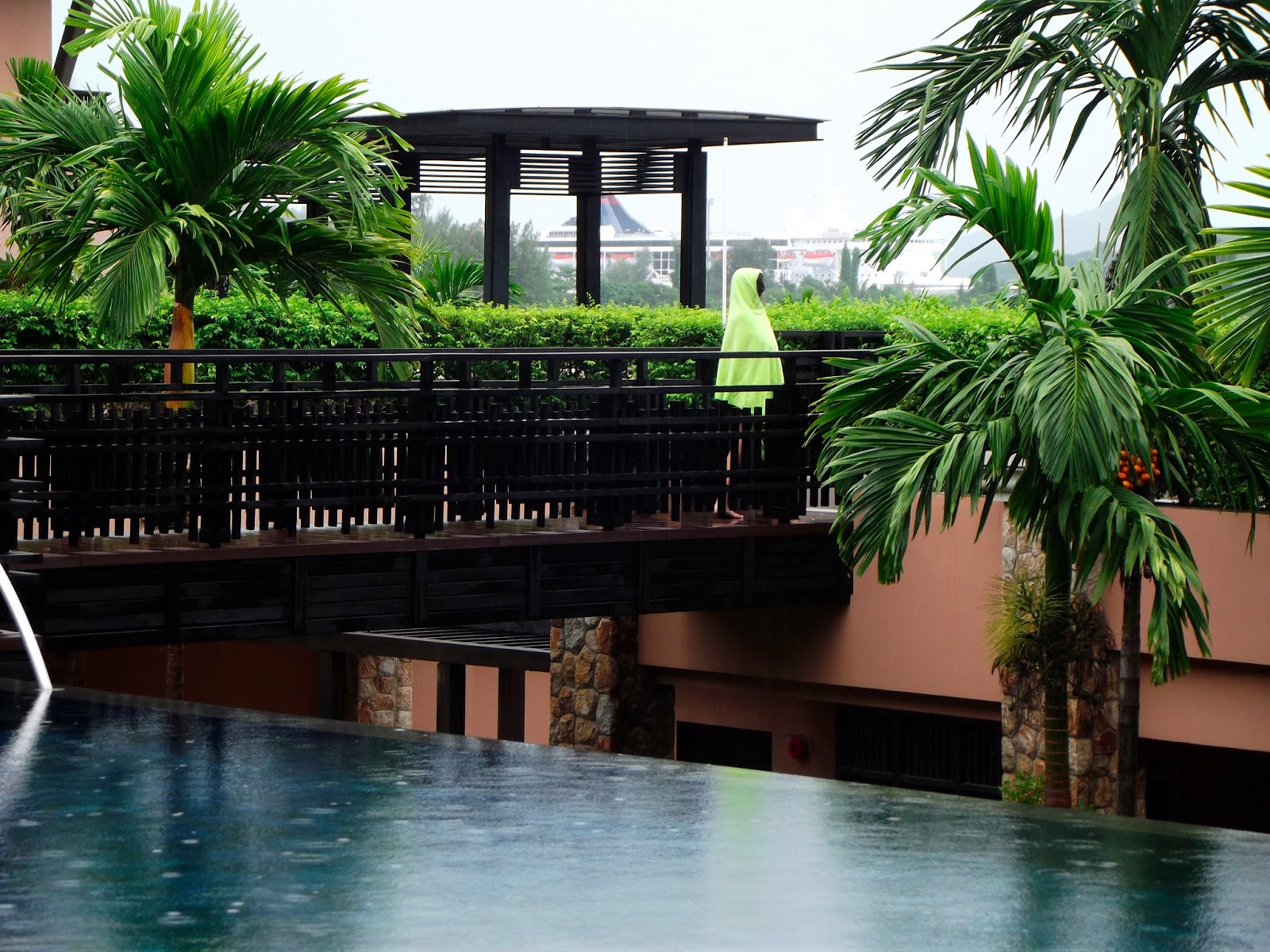 Jedi on a mission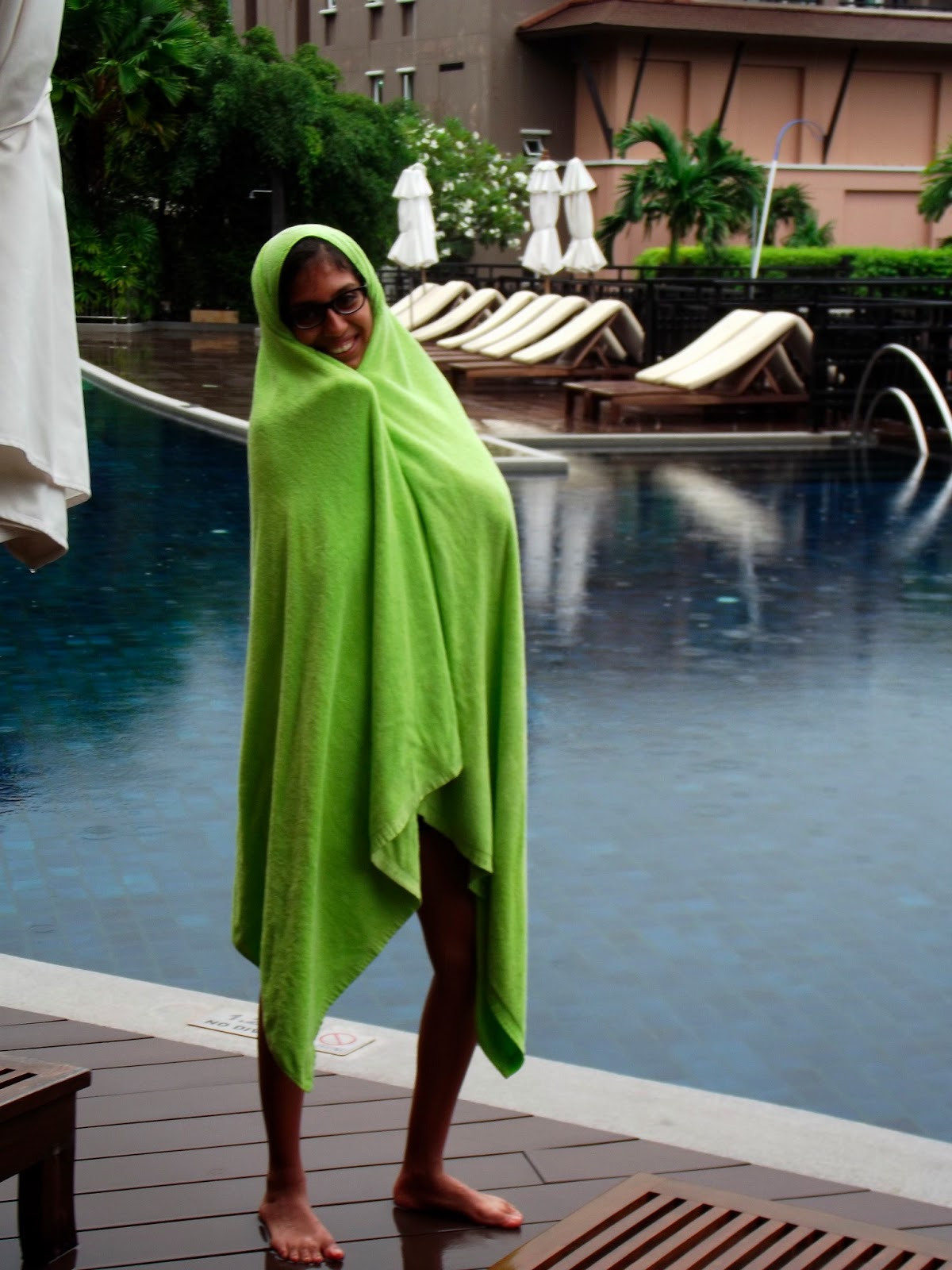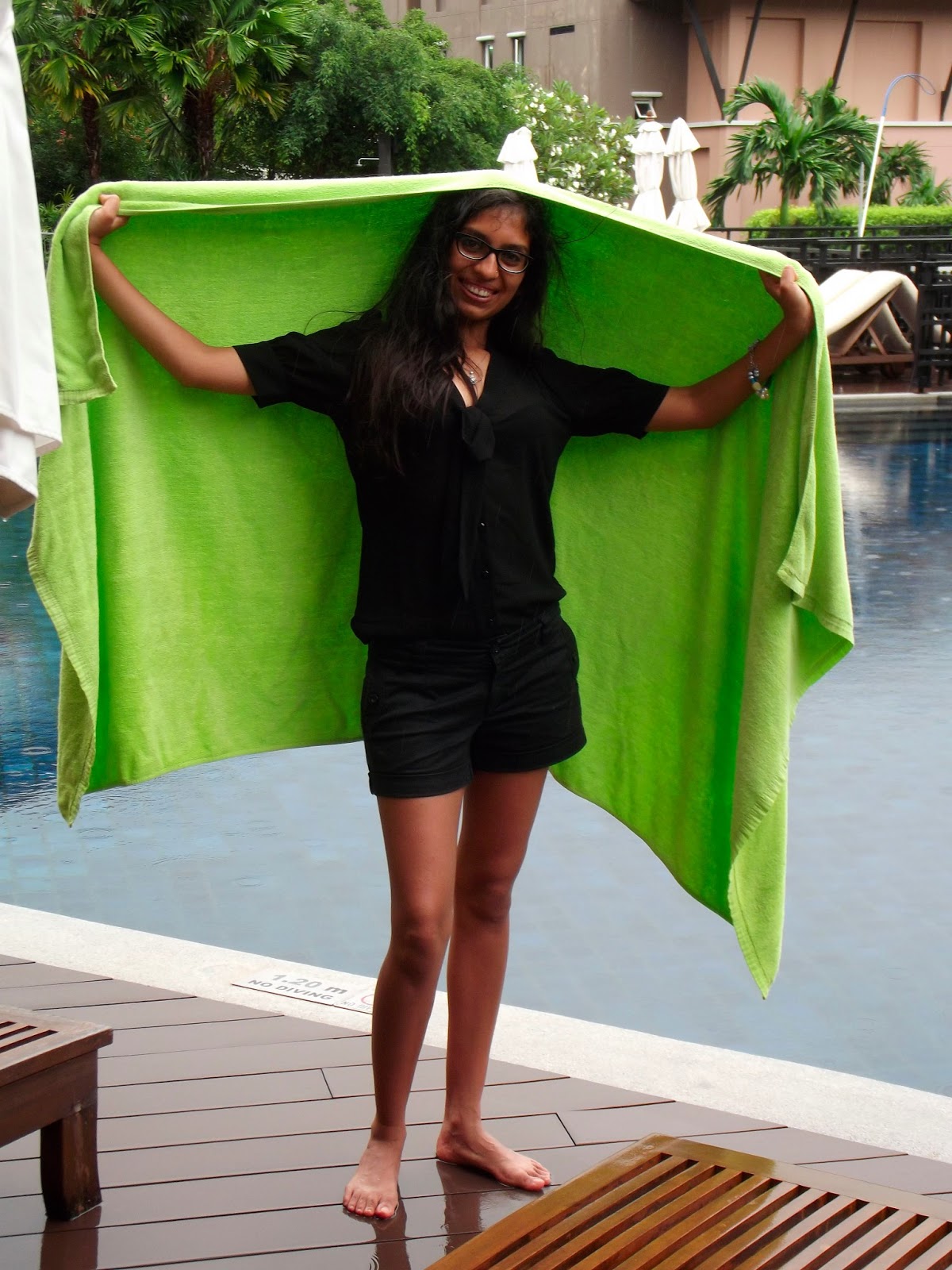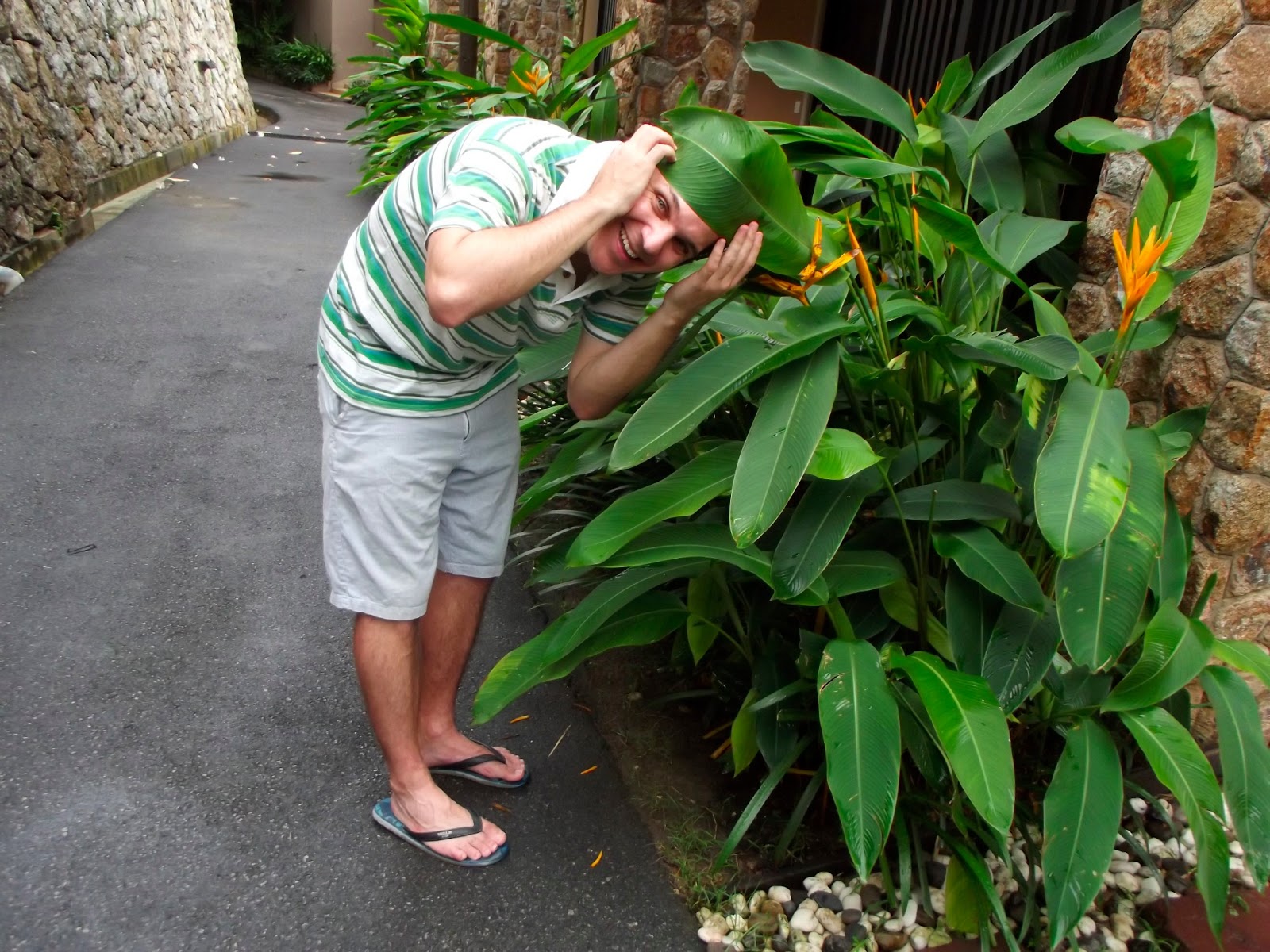 The leaf king?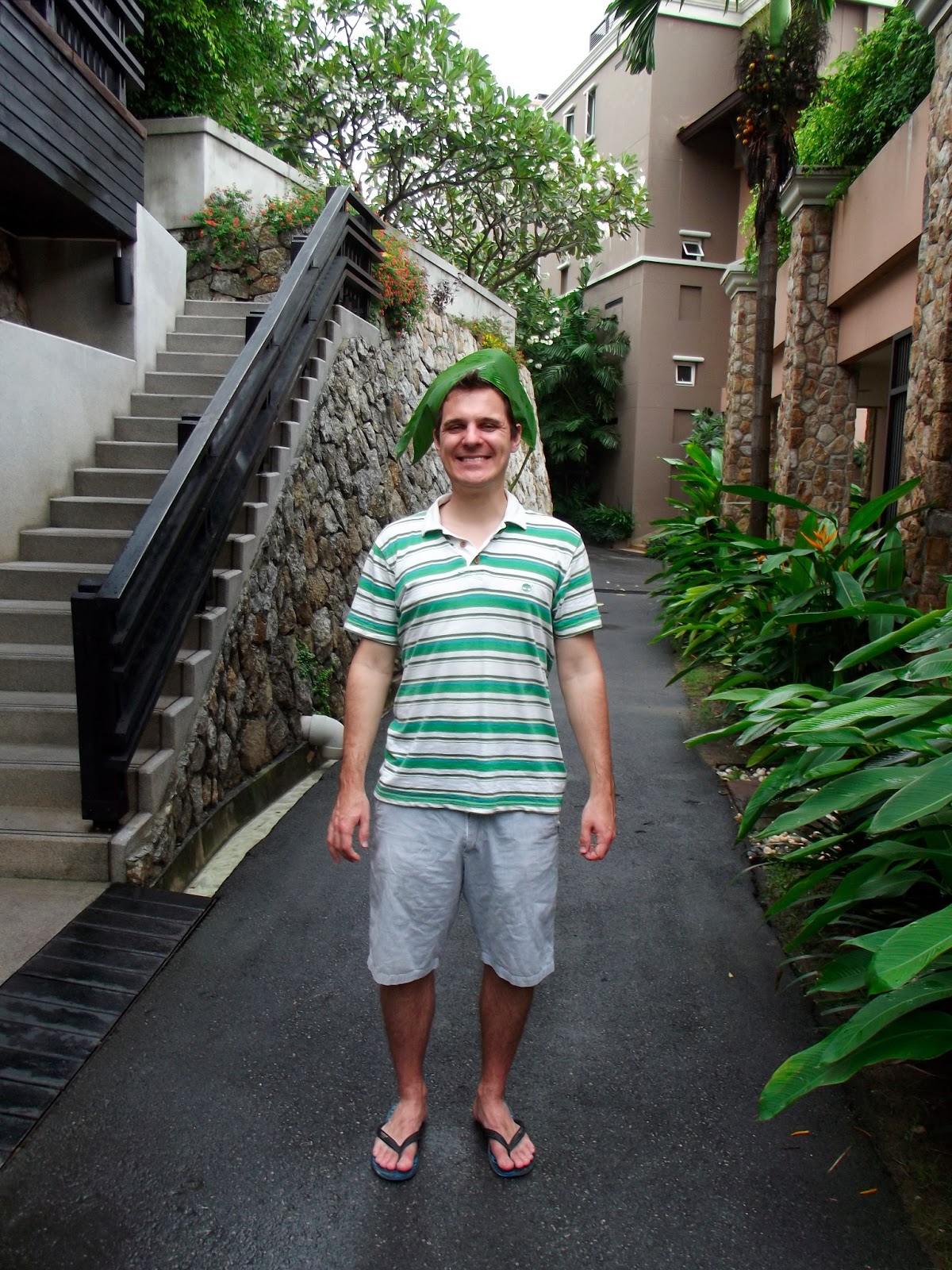 Yes, a proud Leaf King - King Maxi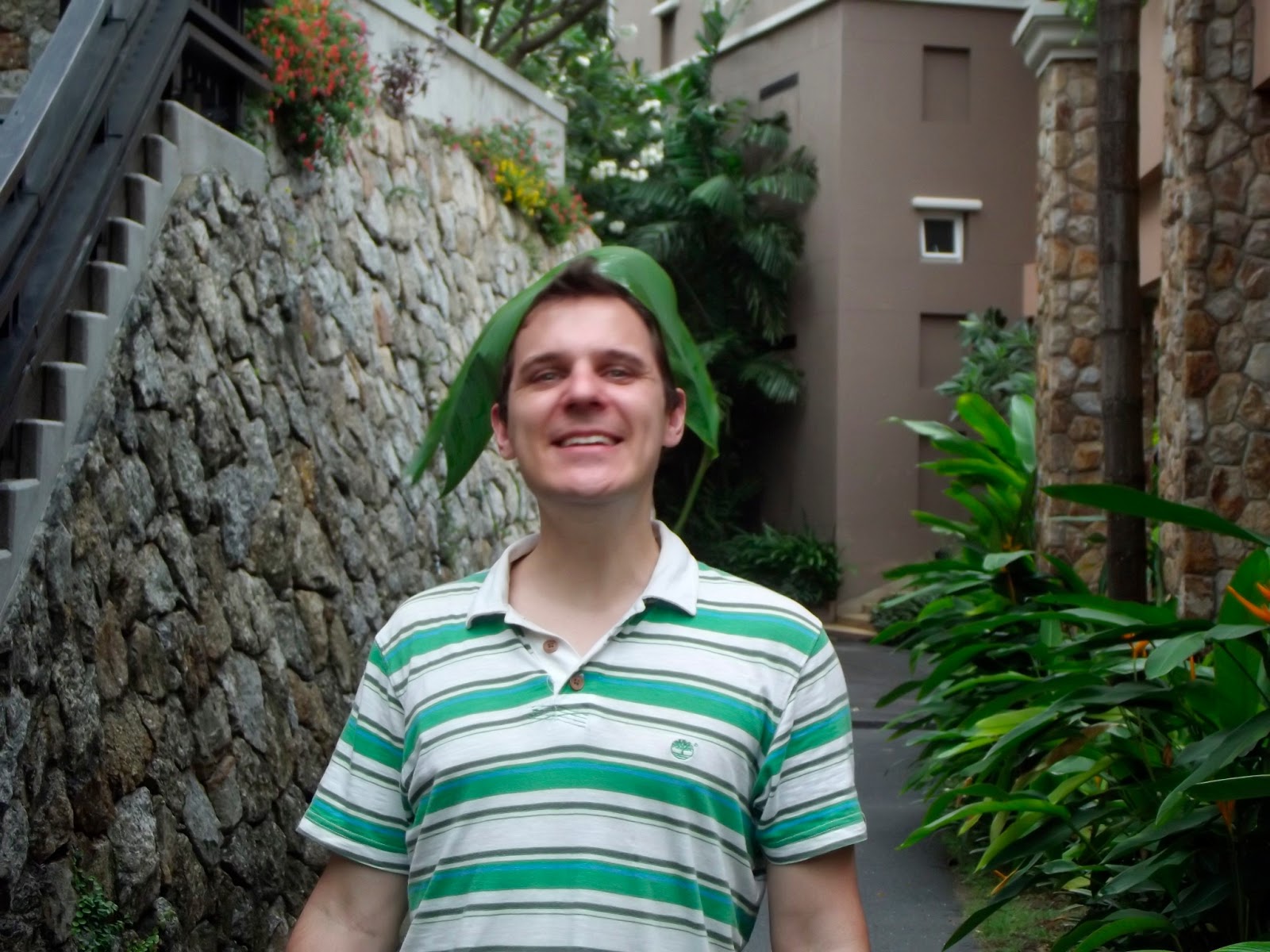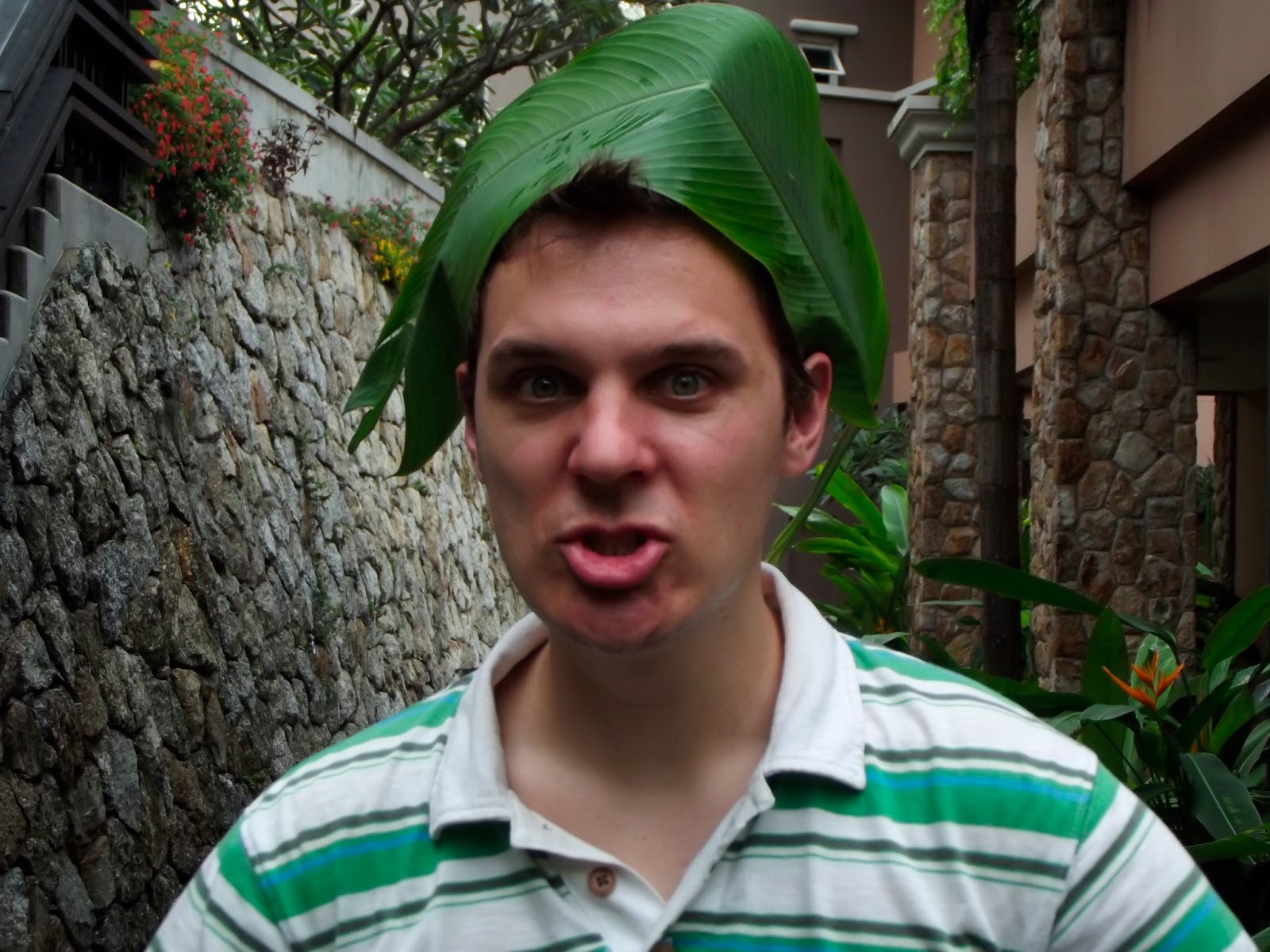 And scary too!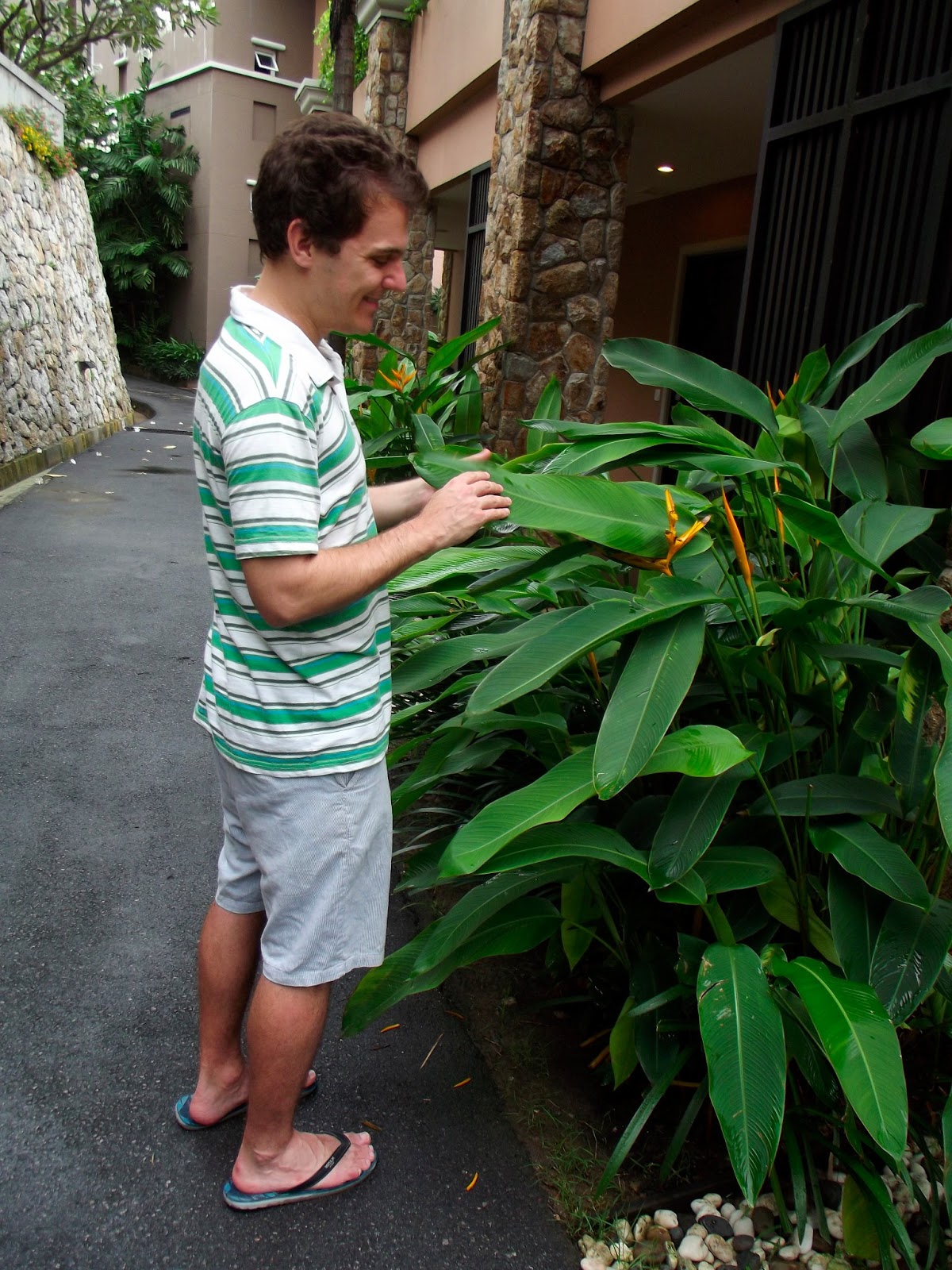 Oh, this is the leaf king again - the photo's somehow got out of order!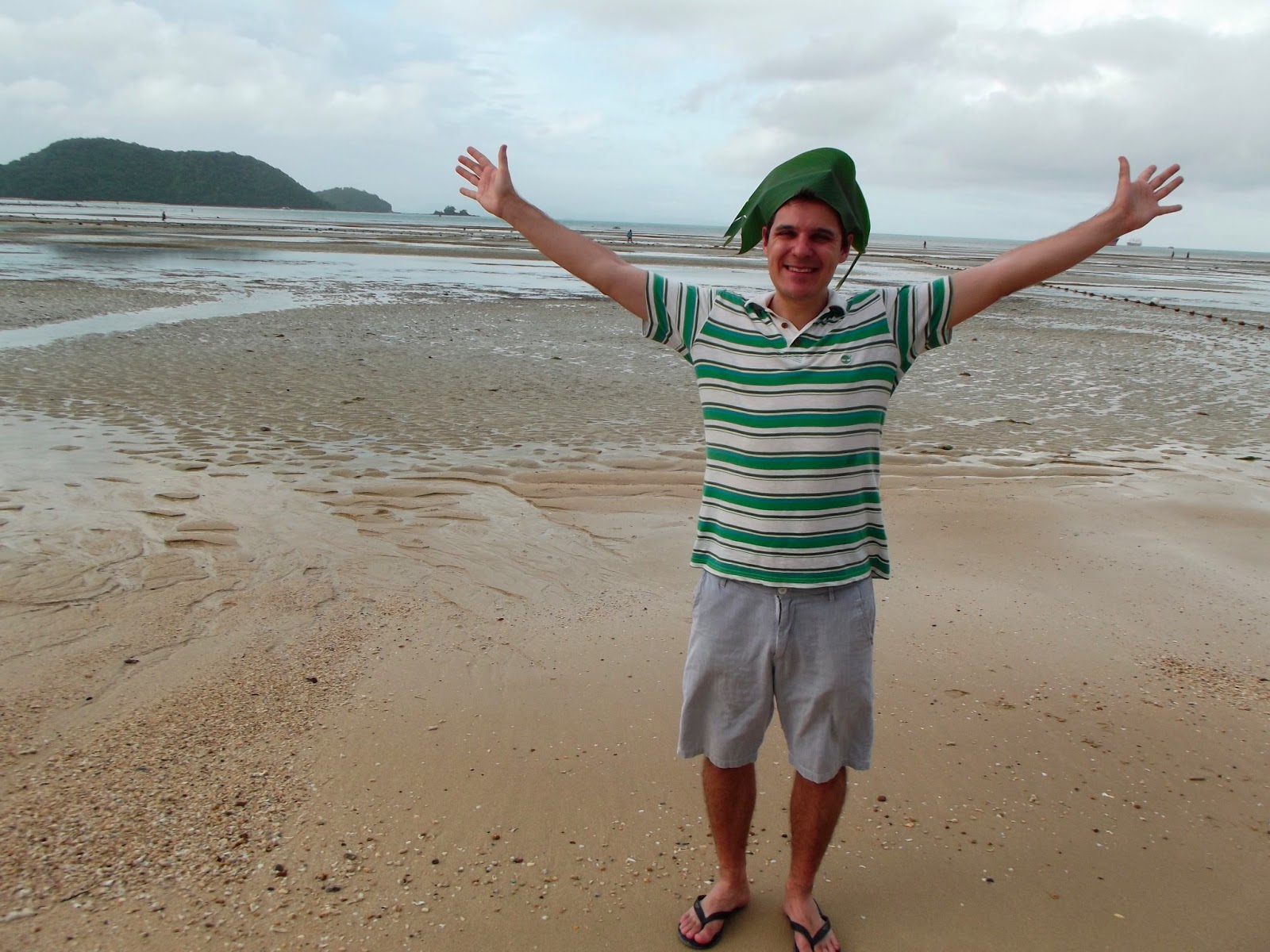 Setting a new fashion trend for beachwear
In the late afternoon, before dinner, we headed out to the beach at low tide to have a little stroll around. We saw many locals walking about, fishing and looking for things to collect on the beach. We spotted many different things - crabs that were camoflaged as sea shells - complete with a shell on their back (one even had a shell like a pebble - master camoflage!), sea snails, sea birds looking for food in the sand, Max even found a star-fish (which was very active, moving about the whole time after Max put him back into place), and even a fish-tail (we only saw the tail moving about as the fish had hidden itself head first in a whole in the sand!).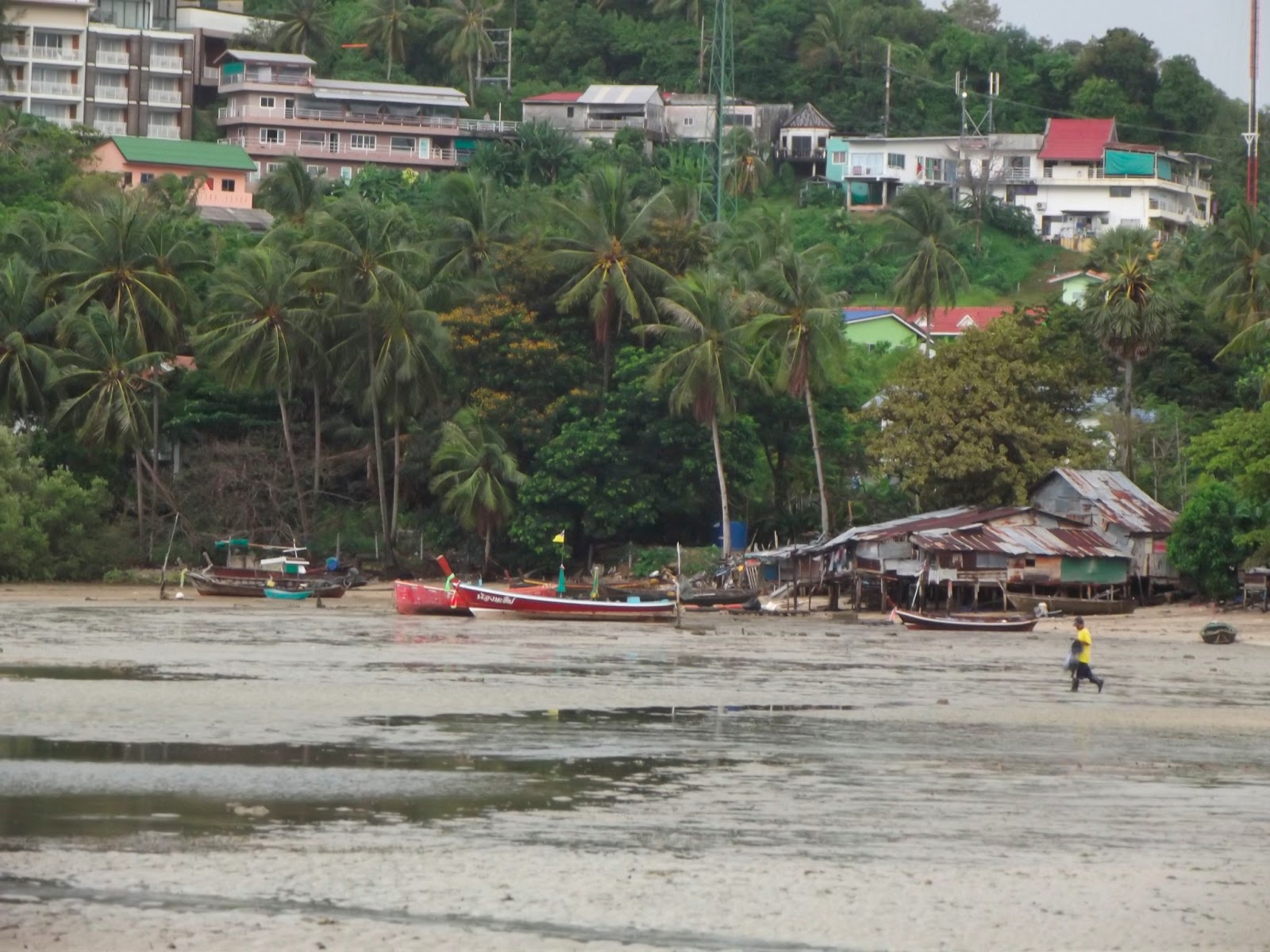 The fishing shack next to the resort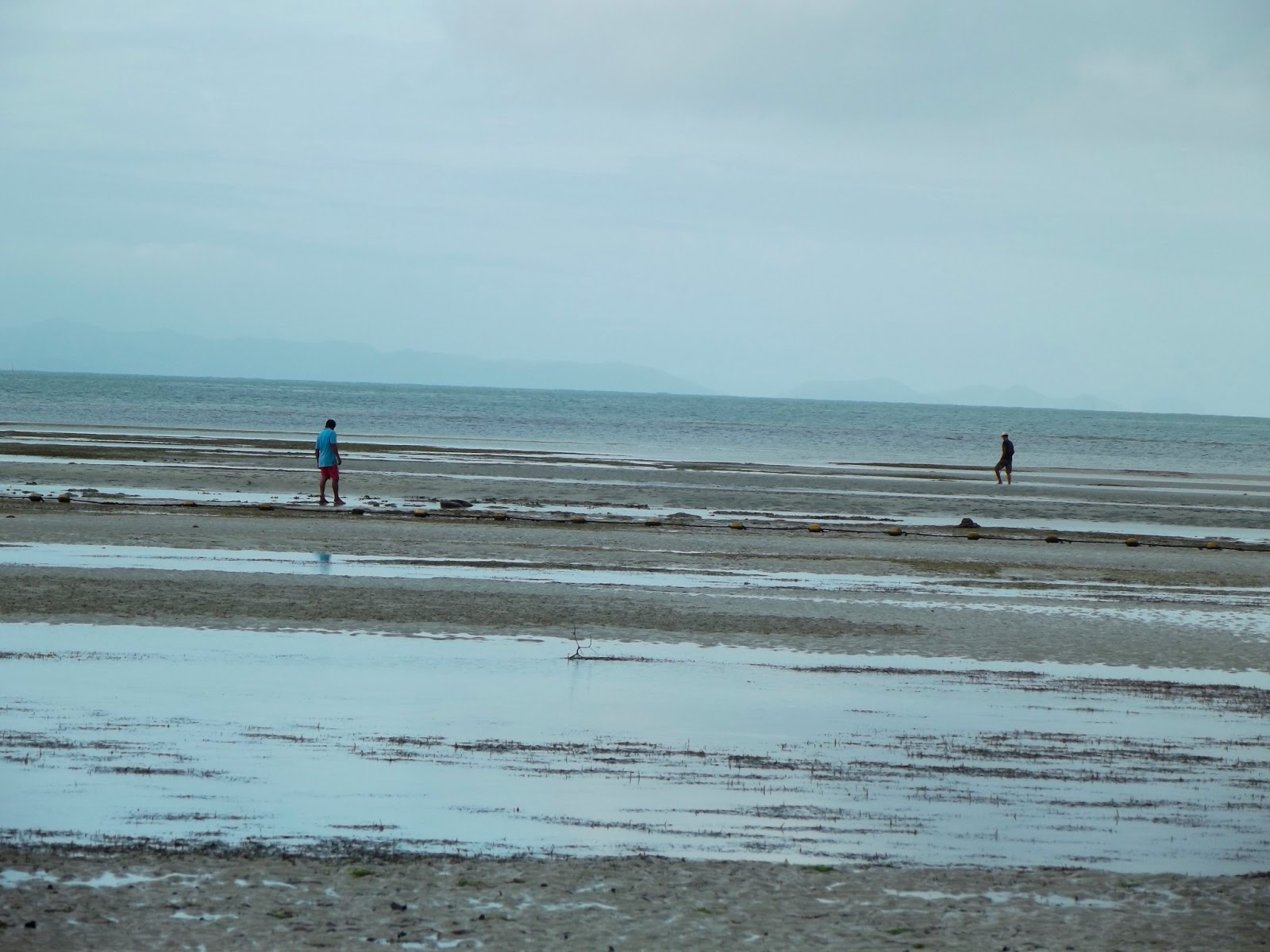 Locals looking around at the beach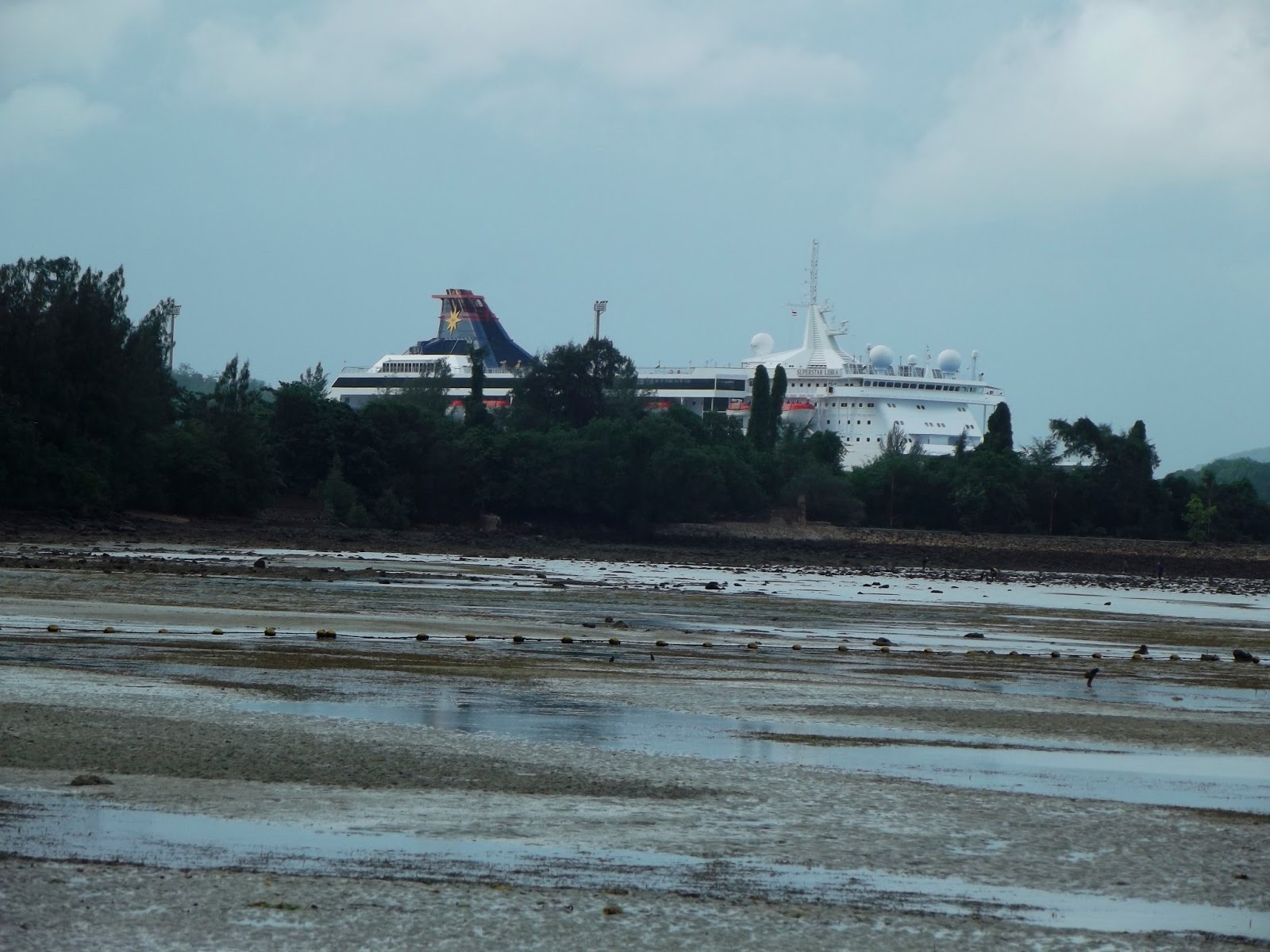 The cruise ship is still here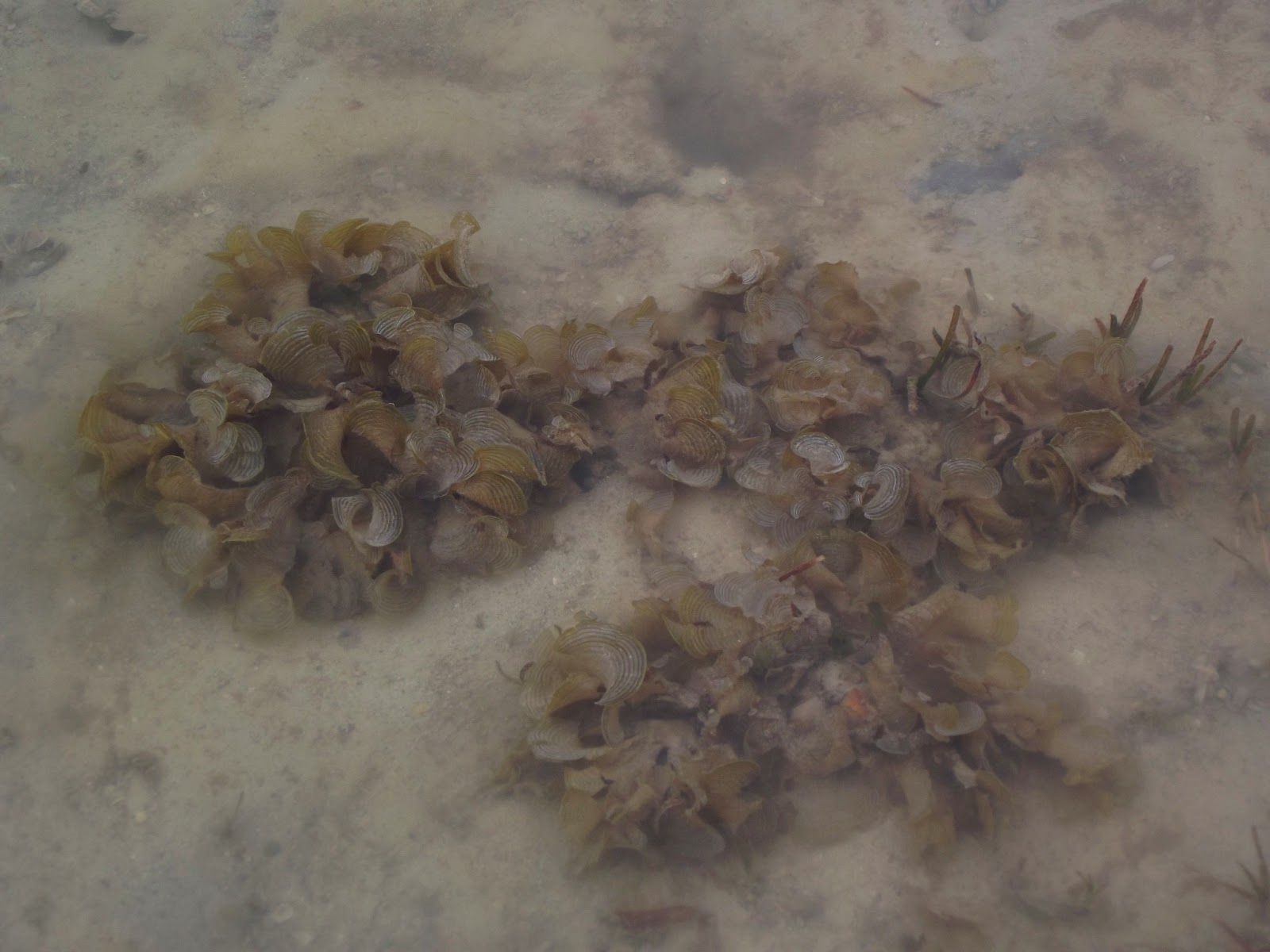 Ew-y sea grasses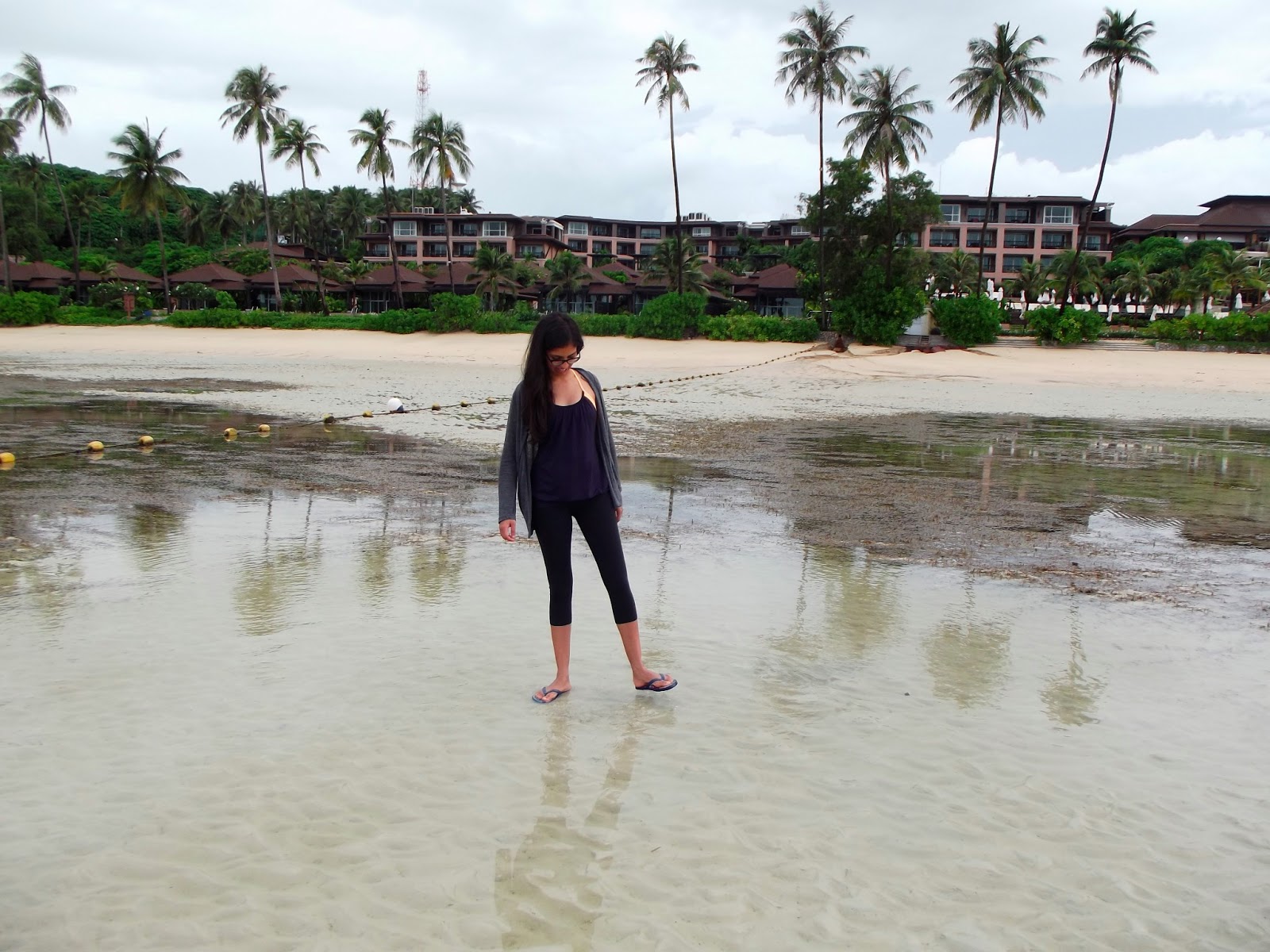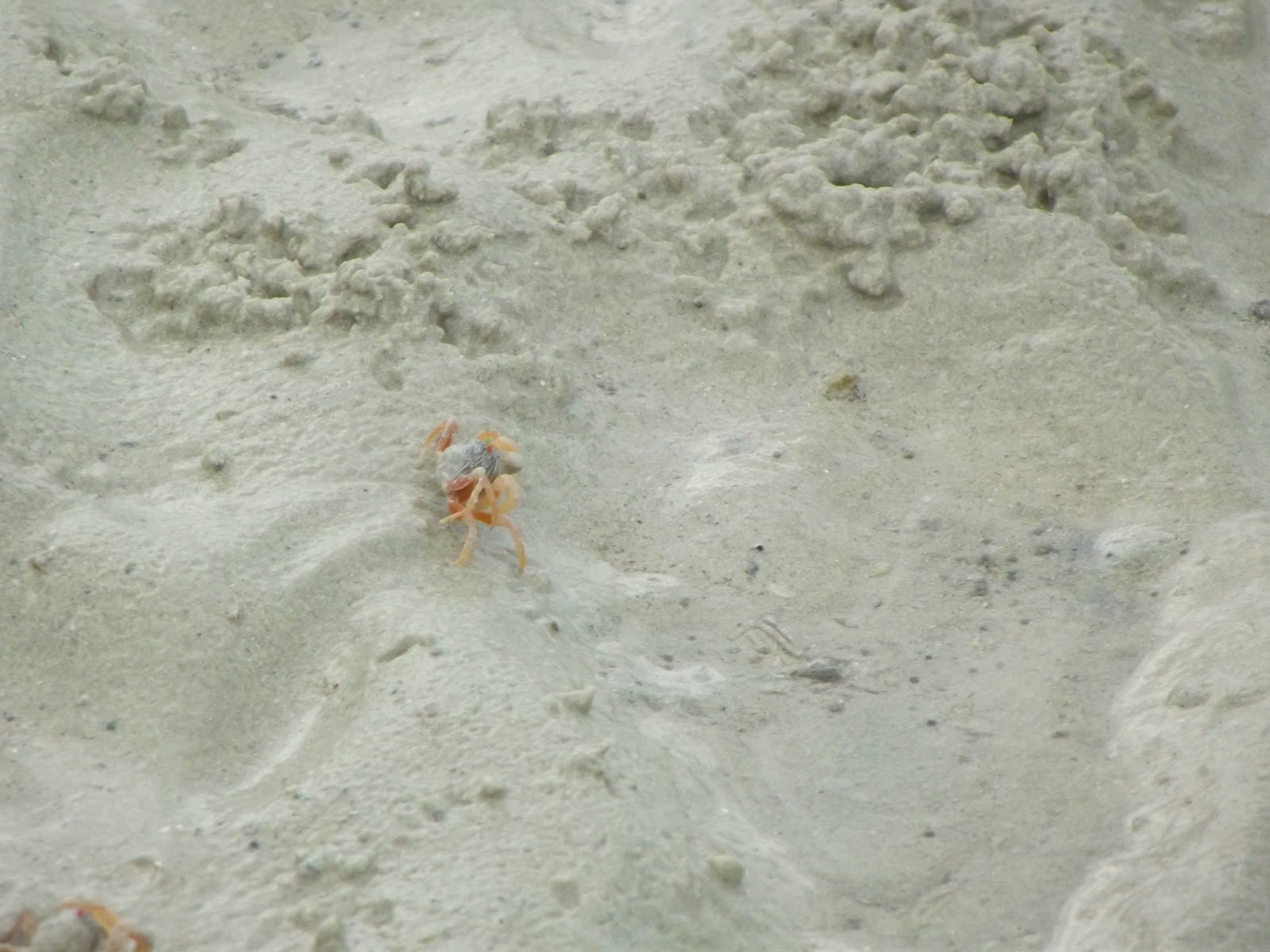 Crab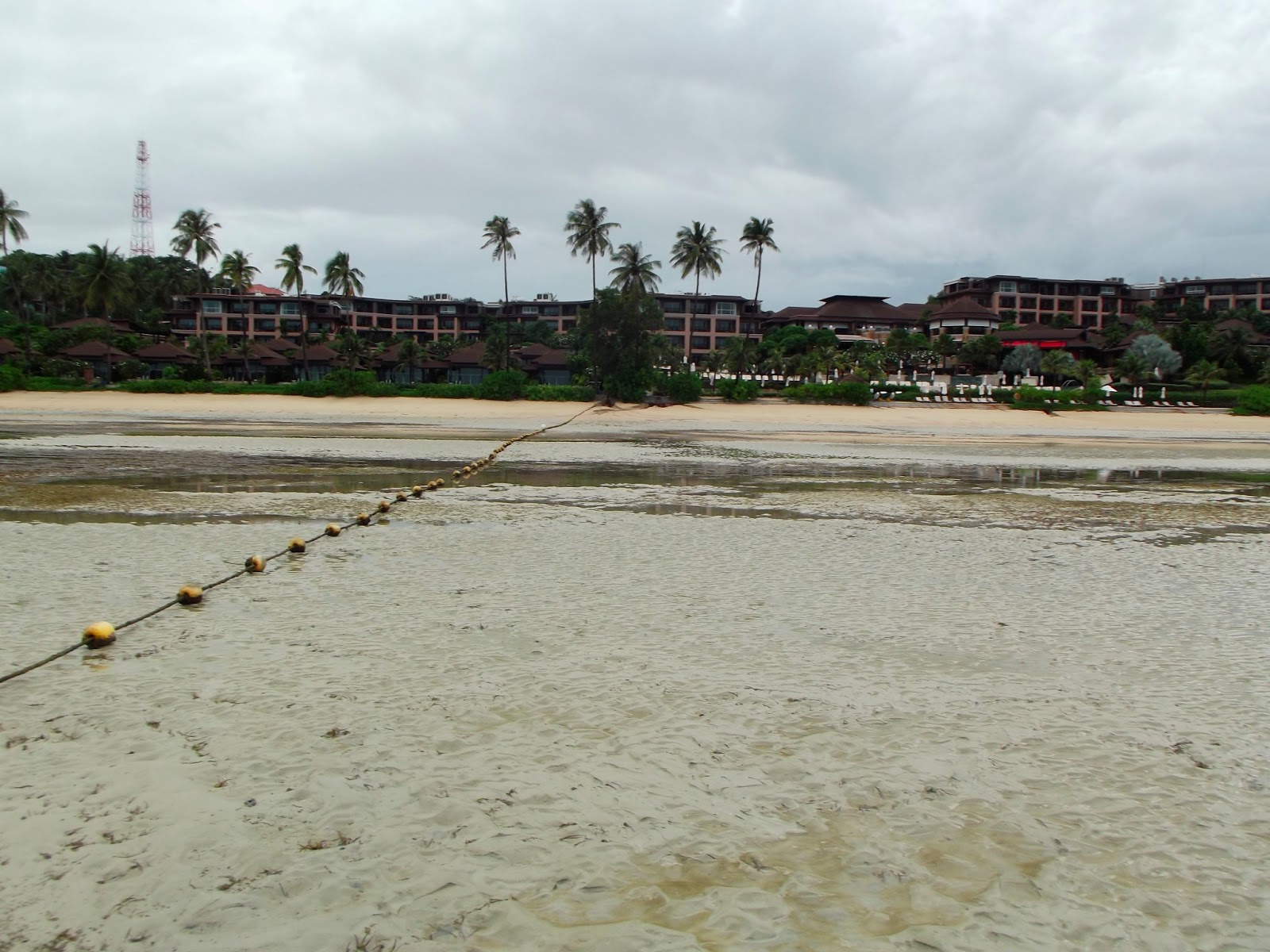 The Resort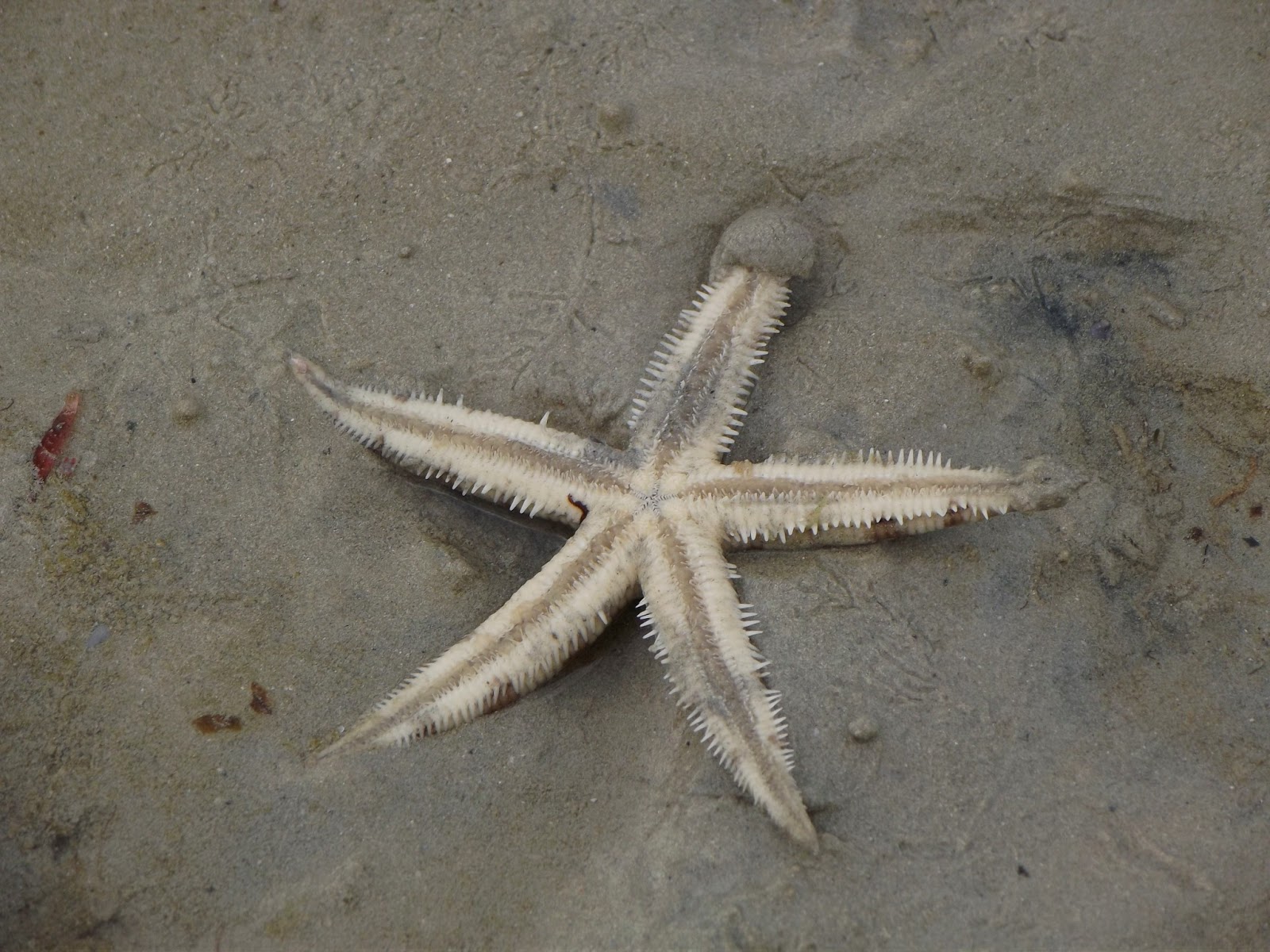 For dinner, we headed to the Indian restaurant, Curry Night, right across the road from the resort. We were not disappointed. They restaurant was open to one side, without a wall and we could sit there, looking out to the resort and enjoying the cool breezes that came by.
The food was authentic and very well priced - for 590 baht ($24 NZD) we had 2 lassis (a yoghurt drink), 2 Indian masala teas (very strong - Max couldn't sleep afterwards!), 1 garlic naan, a Chicken Roganjosh and a dish with spinach and potatoes. After his first sip of tea, Max looked much satisfied :)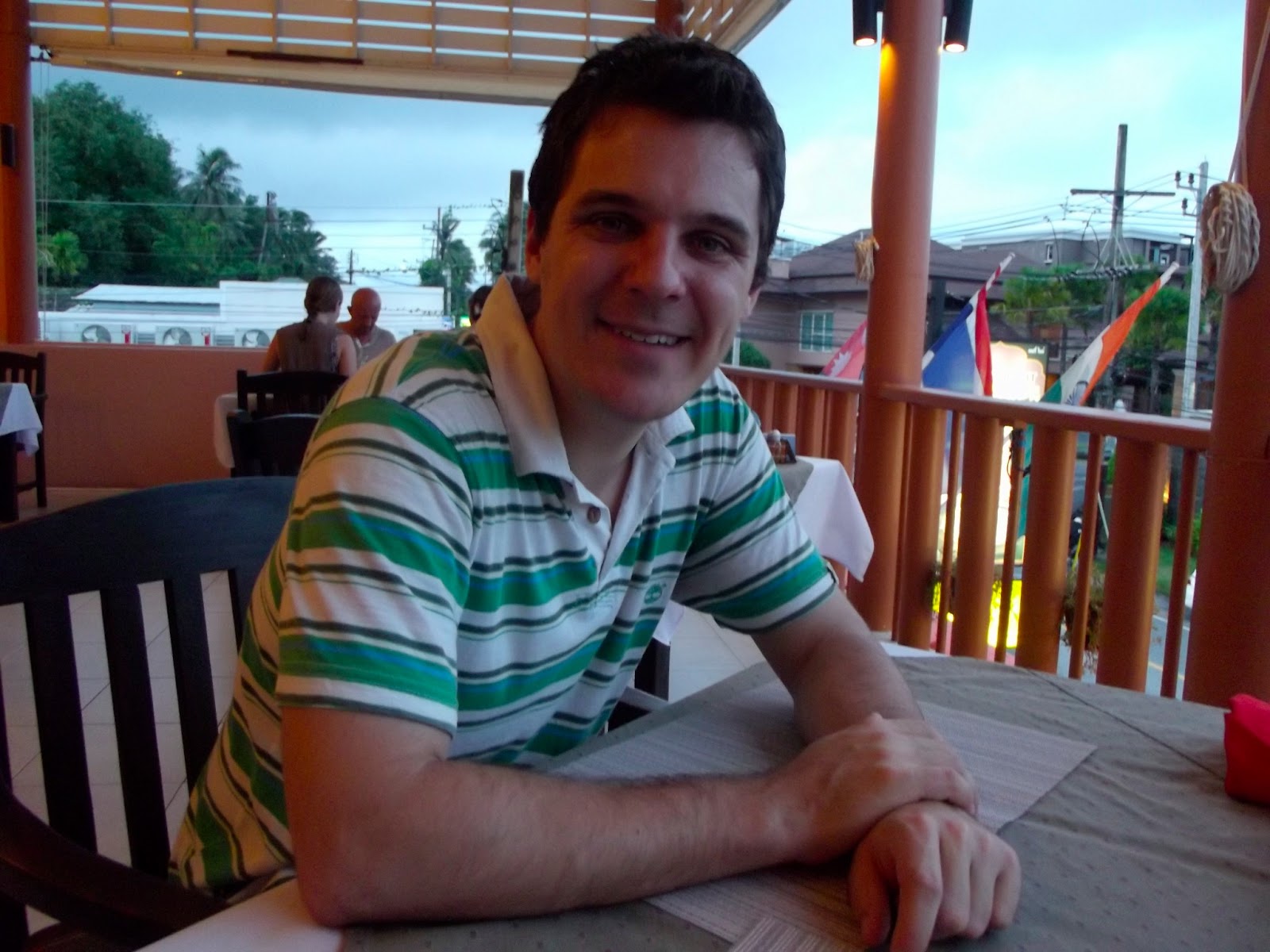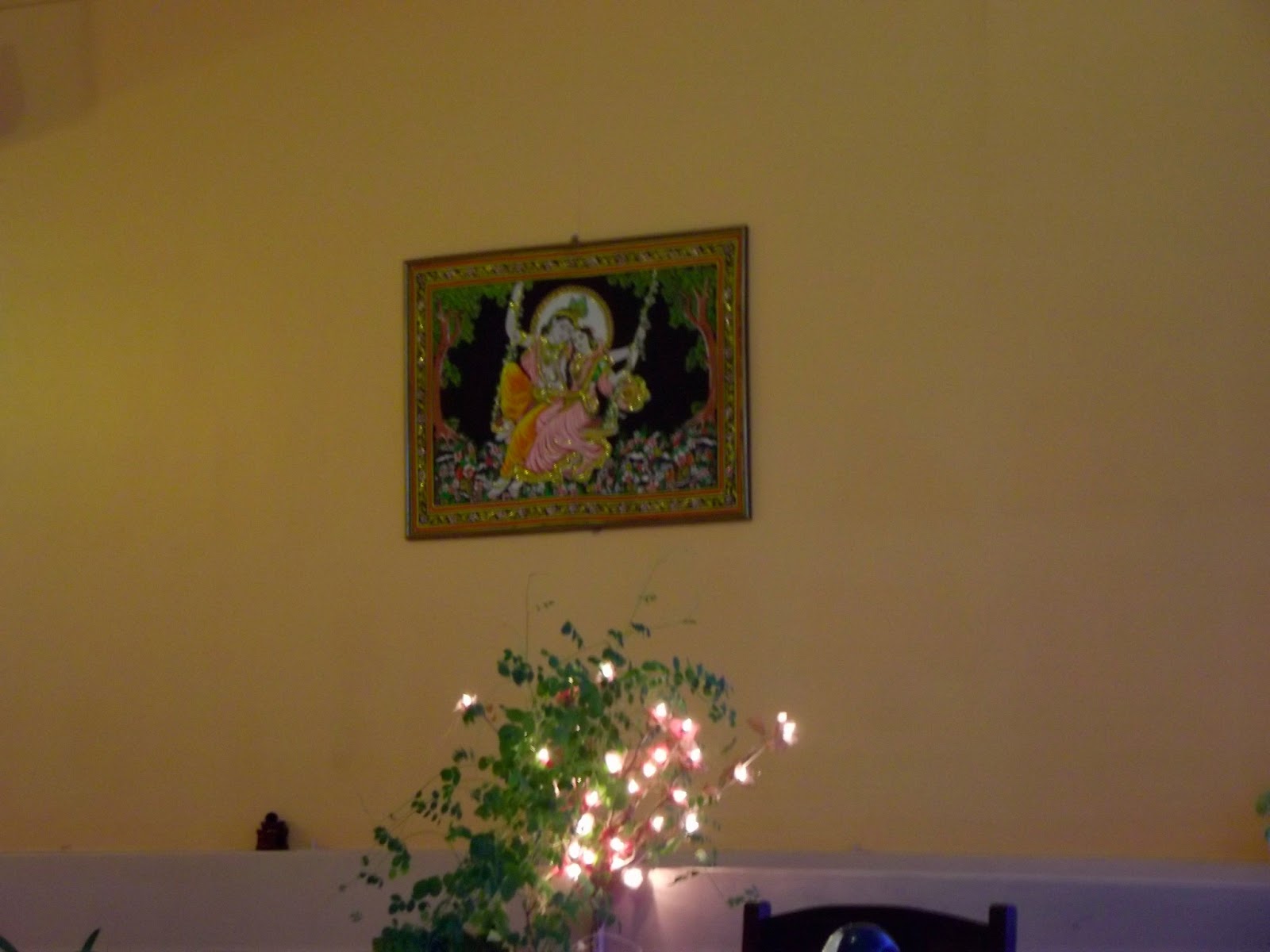 They had Hindu pictures of gods and goddesses, complete with an altar on the back wall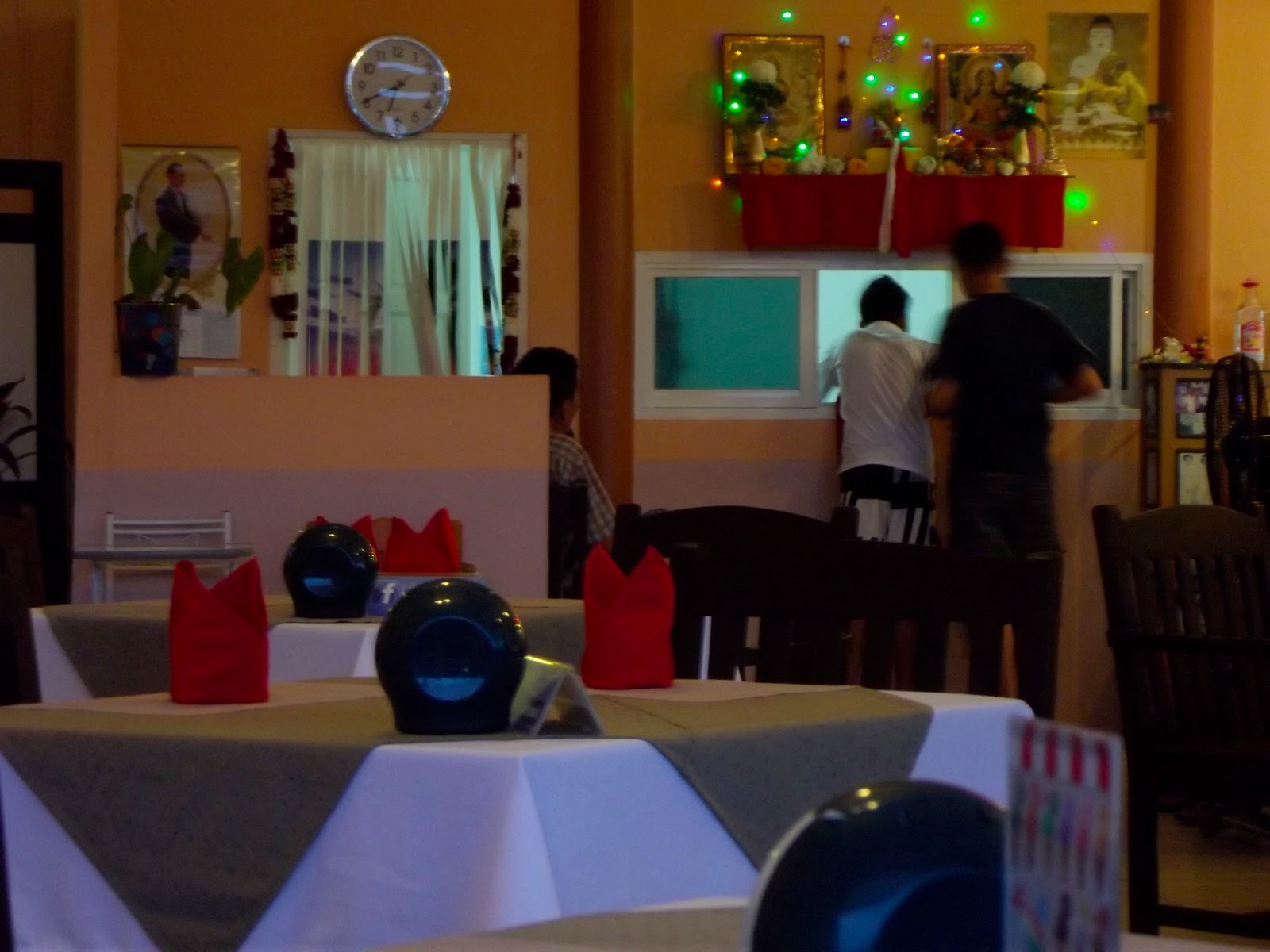 I think the place was run by an Indian family, some of who sat at the back chatting. We were attended to by an Indian boy upon arrival, who reminded me of the Best Marrigold Hotel movie!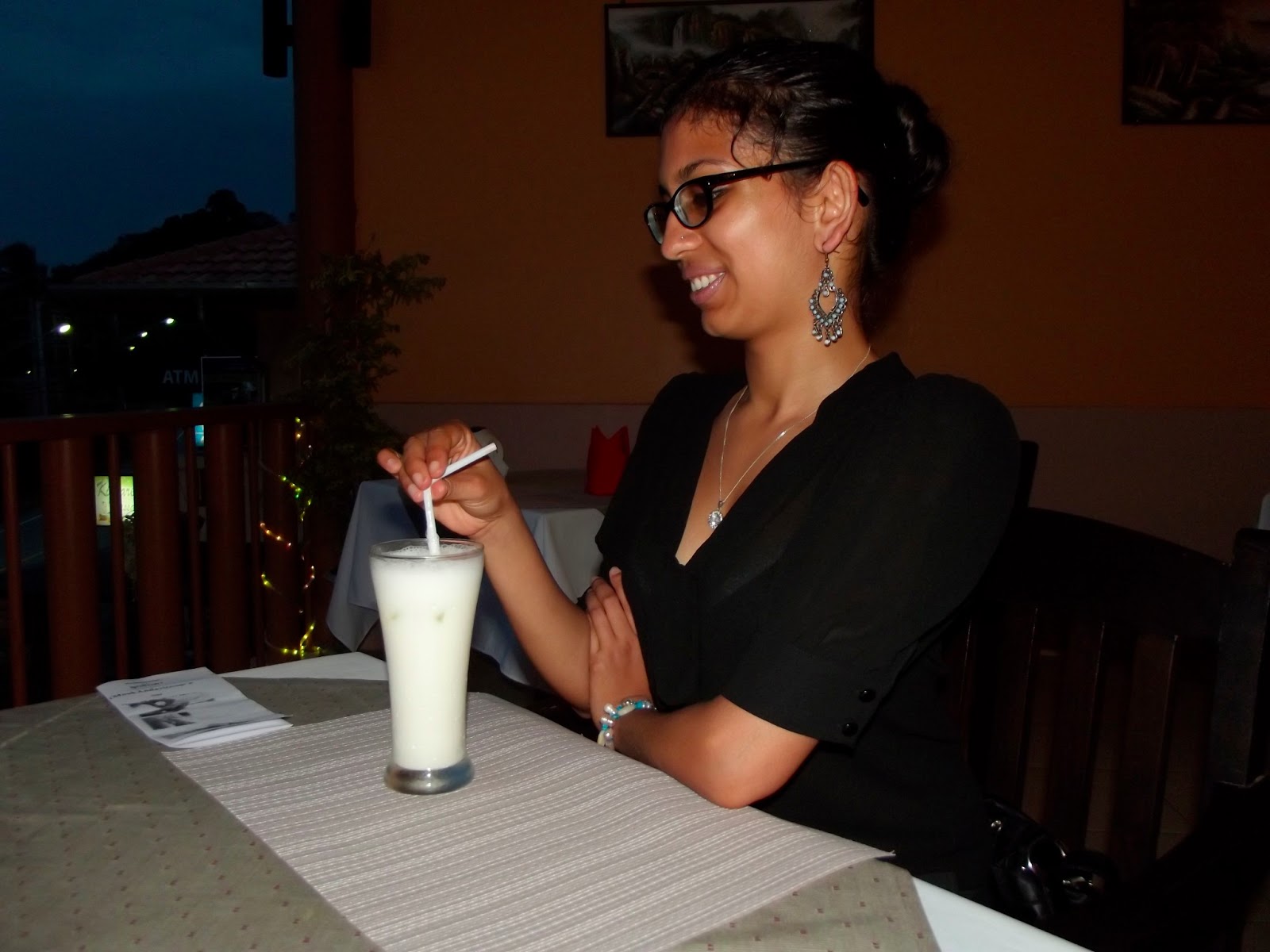 My Lassi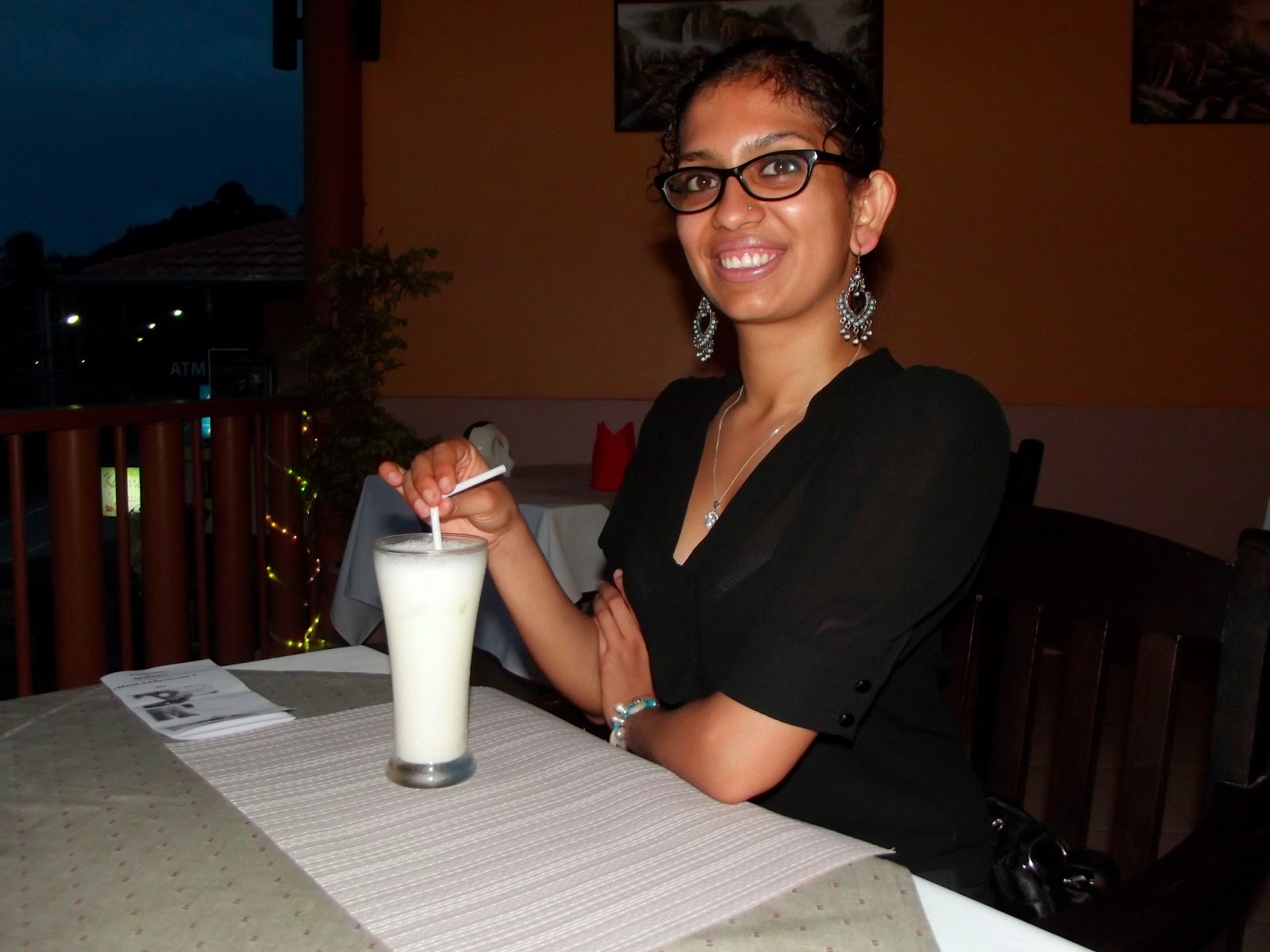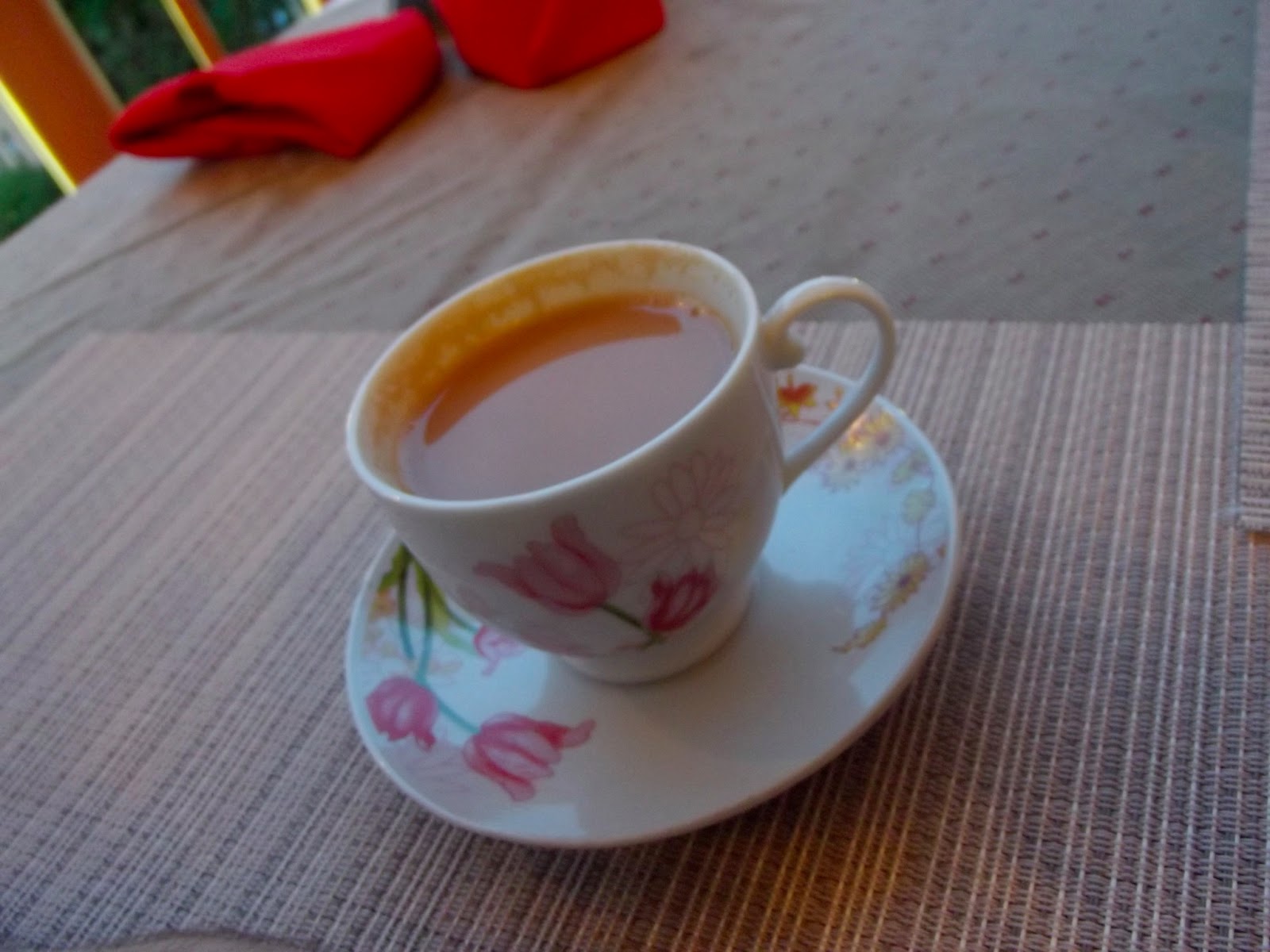 Masala Tea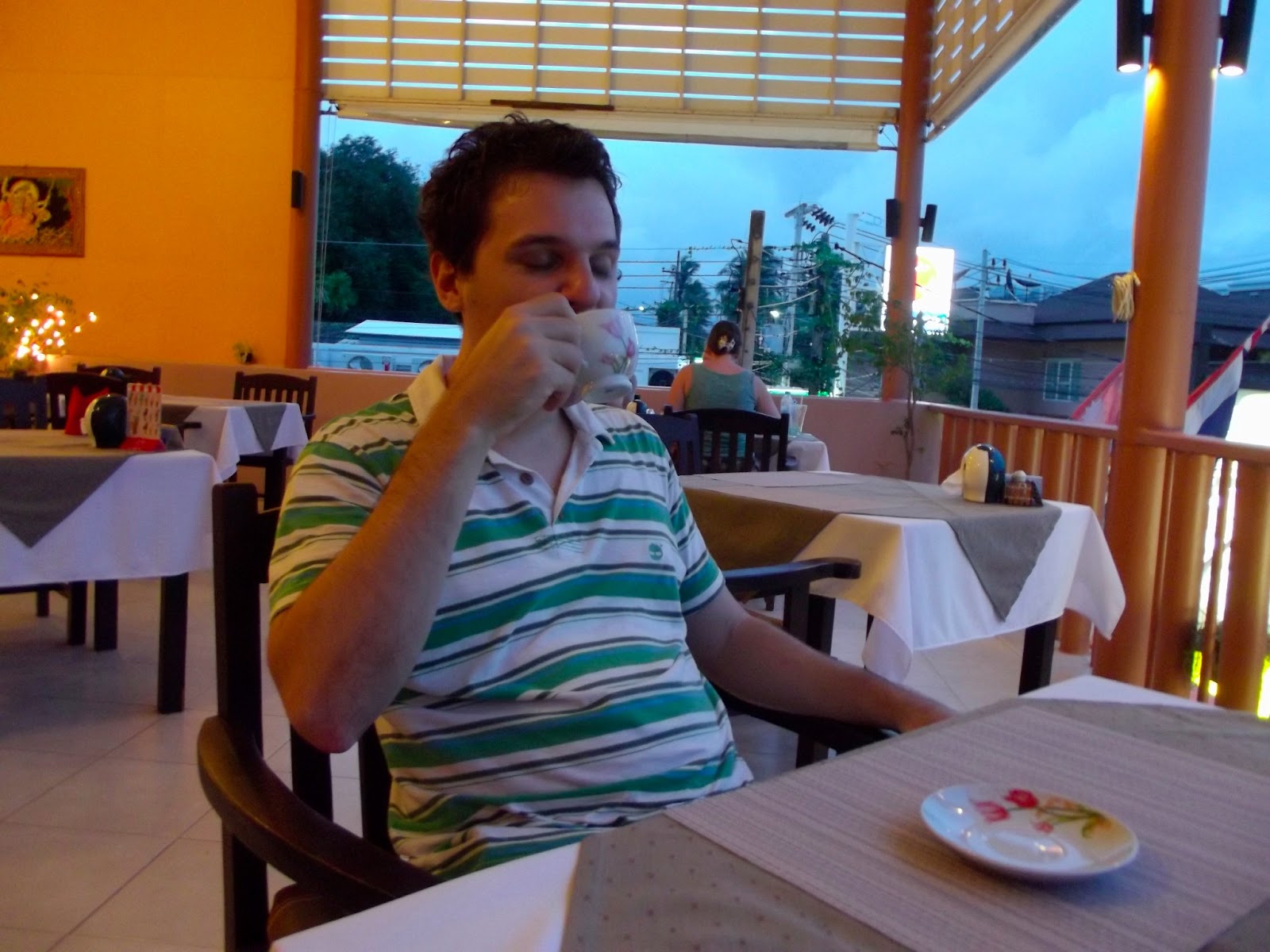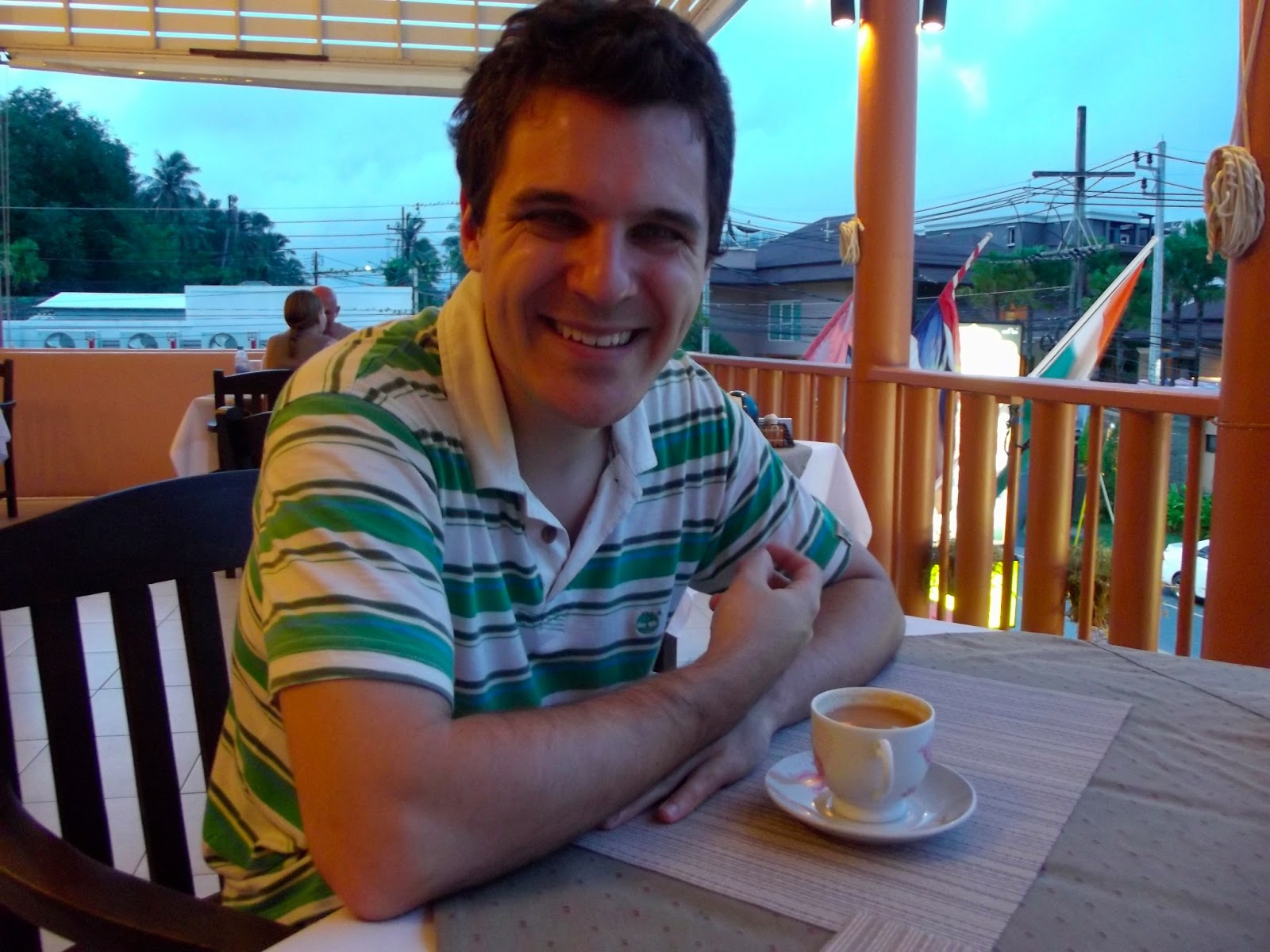 Max after a sip of his Masala tea