Mince with feta on brown rice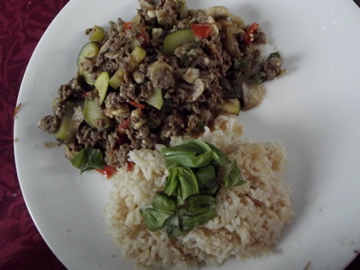 Ingredients
Beef Mince - 475 g
Feta cheese - 75 g
Garlic - 4 to 5 cloves, finely chopped
Olive oil - 1 tablespoon
Onion - half, sliced
Sugar - 1 teaspoon
Zucchini - 1, large, sliced
White button mushrooms - 5 to 6, sliced
Spring onion - 1 sprig, chopped
A dash of lemon juice
Sweet tomatoes - 3, small ones, chopped
Green chilli - 2, sliced (note: this can be substituted by chilli powder if you don't have fresh chillies)
Seasoning - dried oregano, dried thyme leaves, pepper, cayenne pepper, salt
Instructions
Heat olive oil in fry pan on medium heat. When the oil is hot, add onion and cook until the onions start getting golden. Add garlic and chilli - cook until the garlic is fragrant (until you get that nice smell that makes you hungry! Yum!). Add the mince and keep mixing to make sure that the mince is nice and crumbly (not lumpy and in large pieces). Add spring onions, sugar and lemon juice and keep cooking until the mince is golden brown. Add 1 large zucchini and cook for approximately 2 - 3 minutes. Add mushrooms and continue cooking for 1 - 2 minutes, until the mince is well cooked. Add the tomatoes and seasoning according to your taste. Cook until the tomatoes are tender.
Turn off the heat. After approximately 1 minute (when the food has cooled down slightly) add the feta (crumble it with a fork) and mix well. If there are bits of feta still visible, don't worry - you can enjoy the taste of these feta bits with the mince - yummy!
Serve with brown rice and enjoy!